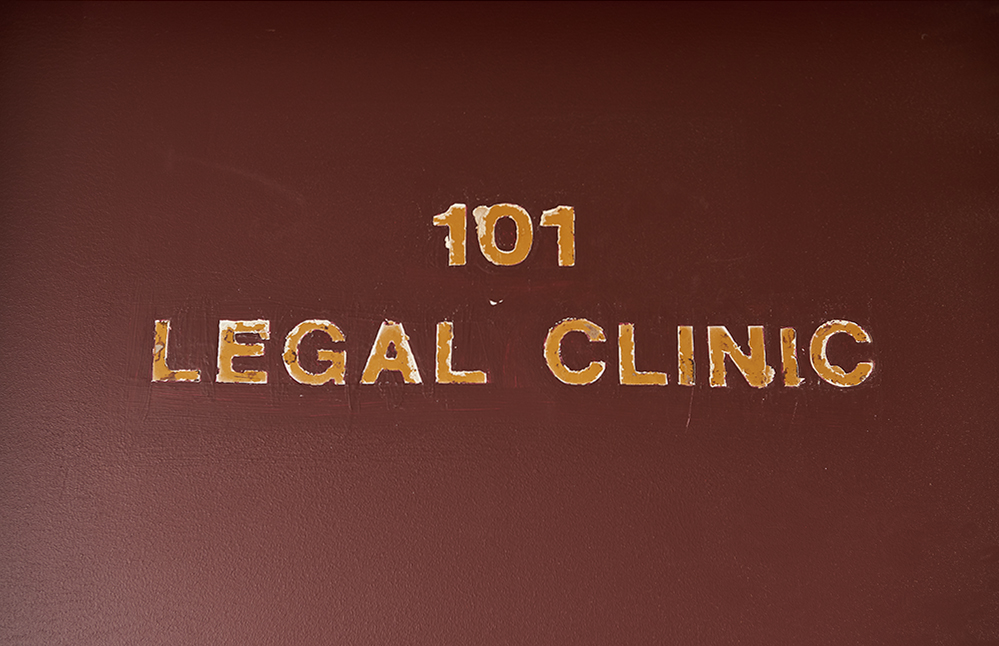 Homecoming 2022: Celebrating a 50-year partnership between Legal Aid Manitoba and Robson Hall
October 6, 2022 —
The Faculty of Law hosted its 2022 Homecoming event on September 21 in collaboration with Legal Aid Manitoba to celebrate the 50-year partnership that has existed between the two institutions. Since 1972, Legal Aid lawyers have supervised law students working at the University of Manitoba Community Law Centre (known as the Legal Aid clinic) to provide experiential learning opportunities to law students and ensure access to justice to persons who cannot afford a lawyer.
During the virtual event that was attended by more than 70 alumni from as far away as Melbourne, Australia and Victoria, British Columbia, guests heard greetings from The Honourable Judge Wanda Garreck [LLB/1990] on behalf of the Manitoba Provincial Court; Peter Kingsley, Q.C., Executive Director of Legal Aid Manitoba; Erin Wilcott, Executive Director of the Manitoba Law Foundation, and Dr. Richard Jochelson, Dean of Law. Associate Professor David Ireland [LLB/2010; LLM/2014], Director of Clinics at the law school, acted as host, and moderated two panel discussions – one of supervising lawyers, and one of former students from the clinic's past, present and future.
During her greetings, Judge Garreck shared that she and her fellow members of the bench are always pleased to see student lawyers in their courtrooms. "Judges see students as enthusiastic, well-prepared and well-supervised," she said.
Recalling her own days as a law student working at the clinic, she encouraged current students to take advantage of the opportunities the clinic offers to gain experience and make connections. "It's a good way to start your reputation," she said.
Professor David Deutscher who acted as clinic supervisor from 1977 to 2015, explained that the clinic first got started as a result of movement by the law students wanting to both help people and get hands-on experience. "It was a period of experimentation," he said. His goal as supervisor was to ensure that student representation would not be perceived as "bargain basement" but rather that it would be the same if not better than paid representation.
Legal Aid lawyer Michael Walker [LLB/1985] supervised the clinic from 2015 to current times, and saw students adapt to new technology and the expansion of services as per a new Memorandum of Understanding that was signed this past spring between Legal Aid and the Faculty. The expansion will include family law, prison law and Indigenous legal services. Walker is now poised to hand over the reins to Ireland, who was himself a clinic student. "It's a community-building clinic," Walker emphasised.
The Honourable Judge Rocky Pollack, Q.C. [BA/1969; LLB/1972] was a student at the clinic in 1971 – 72. Upon first starting law school, he didn't recall having any sense of wanting to help "the little guy," but soon became inspired by his experiences at the clinic, working with fellow student Randy McNichol and the clinic's supervisor at the time, Al McGregor, who he described as "a hot-shot criminal lawyer" who ran a strict clinic. "It was an interesting time to be a law student," he recalled. Working at the clinic inspired him to want to be a "lawyer of change," he said.
Diane (Demeule) Hartley Holley [LLB/1995] brought the unique perspective of having worked at the clinic as an administrative assistant from 1979 until 1986, during which time she helped guide many of the student volunteers. By 1990, she herself had enrolled in law school part time and was a volunteer at the clinic during her time as a student at Robson Hall. After graduating in 1995, articled at Legal Aid's Brandon-based Westman Community Law Centre before practicing primarily family and criminal law with Sims & Company in Minnedosa.
Finally, Hayley Allardyce [JD/2019], now a junior associate at criminal defence firm Campbell Gunn Inness Seib, shed light on current clinical experiences, recalling how "the clinic was a safe place to learn the practice of criminal law." She especially noted how law students had the luxury of time that practicing lawyers did not, and was thankful for the ability to call her supervising lawyer Mike Walker for help as needed. Further illustrating the supportive community surrounding the clinic and its activities, Allardyce shared that at her first trial, for which she had prepared for hours, she had forgotten to mention a critical issue in her conclusion, but the Crown graciously rose and prompted her in a supportive way.
Legal Aid Manitoba will continue to celebrate its 50th anniversary throughout 2022. Details about the new Memorandum of Understanding signed between Legal Aid and the Faculty of Law regarding expansion of services at the clinic can be found in the UM Today story "Expansion of University Law Clinic services to help more Manitobans get Access to Justice."