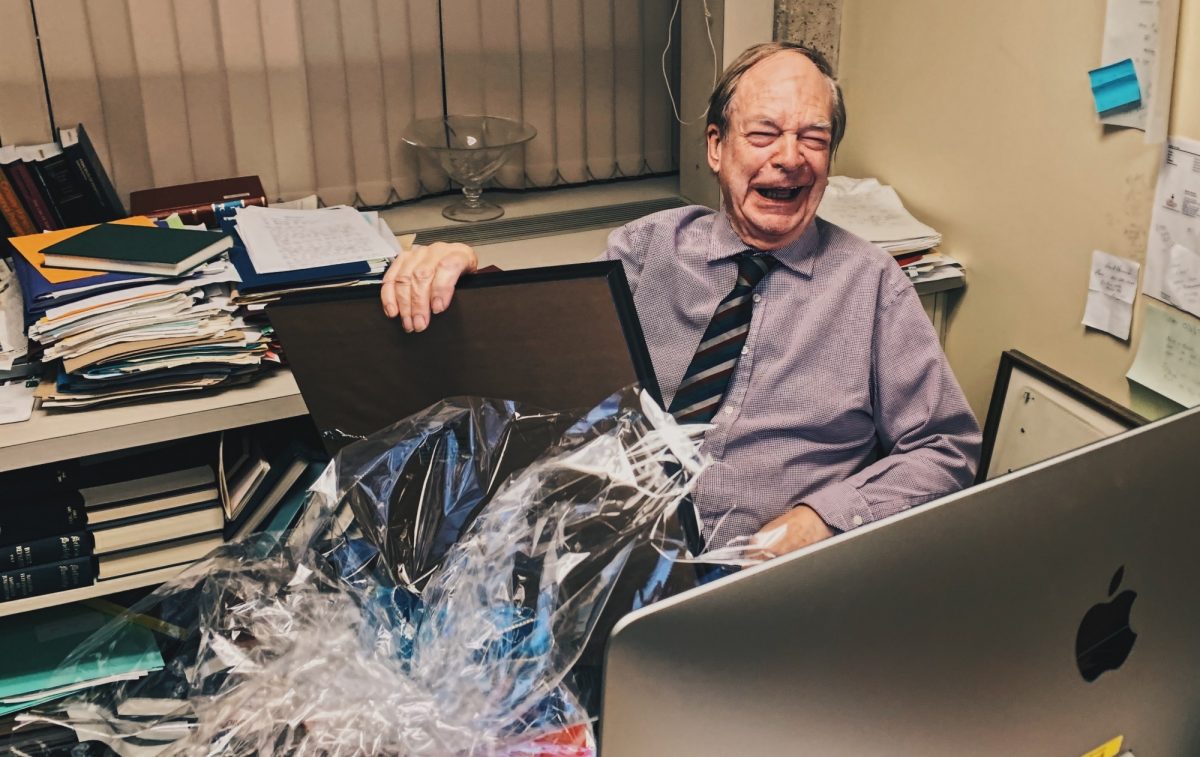 Home is where the heart is
Despite pandemic, Faculty of Law alumni celebrated beloved professors with virtual Homecoming event
November 10, 2020 —
With gathering together off the table this fall, the Faculty of Law still found a way to bring alumni "home" to celebrate two beloved professors and catch up on the latest law faculty goings-on. A 200-plus-person Zoom call held November 5th bore witness to the celebration of Professor John Irvine's 50th year of teaching at the Faculty of Law, and a fireside chat-style visit with former dean of law (1979-1984) Jack R. London, C.M., Q.C., LL.M. [LLB/66].
"It just wouldn't be fitting to let John's 50th year of teaching go by without at least some discussion of snails in ginger beer and the intersection of law and a human toe!" said Acting Dean David Asper, Q.C.. "People melted when they heard John's voice, and it was a heartwarming moment for our alumni. Equally so, with the publication of Jack London's book [Serendipity: My path through Life and Law] we were reminded of his contribution to the faculty, and more broadly, to the entire construct of how we discuss reconciliation in Canada today. It was a fantastic event!"
Irvine, who has taught Torts, Personal Property law and Legal Systems to generations of lawyers, kicked off the virtual event with a mini lecture of classic Torts law that every Canadian law student is required to learn. While actually in his office, his virtual background gave the illusion of lecturing from Robson Hall's Moot Courtroom. Irvine's manner of delivery makes each case a fascinating story that leaves the listener hanging on every word. Guests had been encouraged to use Zoom's chat function to communicate with each other throughout the event, and comments appearing during Irvine's talk shared the mutual joy of hearing his voice and the return of fond law school memories.
Having arrived in Canada from the United Kingdom in 1970 to teach at the newly-constructed Robson Hall, Irvine, still a British citizen to this day, was surprised beyond words when Manitoba Law Student Association President Nick Noonan virtually presented him with an actual Lordship certificate. The Faculty included a gift basket of celebratory goodies to accompany the gold-embossed certificate that gave Irvin the honorific title, "Lord John Irvine of Hougun Manor estate, Cumbria, England." The presentation was facilitated in a socially-distanced and COVID-safe manner with gloved and masked staff on hand near Irvine where he sat in his office.
The event concluded with a lively discussion between Asper and London, whose nickname the "Blue Jean Dean" was due to his casual dress and down-to-earth attitude during a time when most law professors were more formal. London had launched his published memoirs, Serendipity: My path through Life and Law on October 15 through McNally Robinson Booksellers. His book is still available to order from McNally's.
Throughout the presentations, alumni posted comments in the platform's chat function expressing appreciation for their former professors and requesting more such virtual events to be held in future.
Slideshow presentations shown during the event can be seen on the Faculty of Law Alumni page.
A full recording of the event can be viewed on the Robson Hall Youtube Channel.