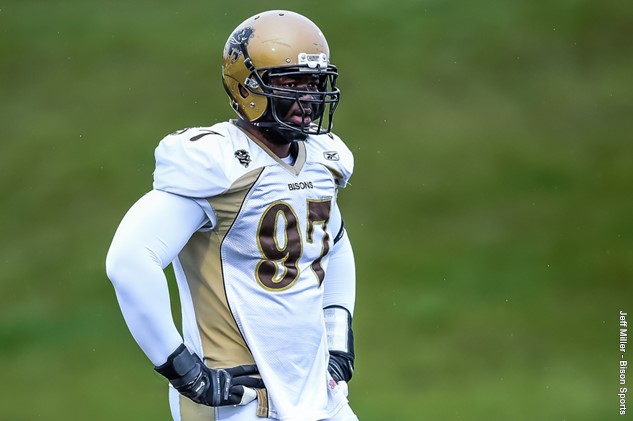 History made as Bison defensive lineman selected in NFL draft
Bison David Onyemata makes history as first-ever Manitoba Bisons football player selected in NFL draft
April 30, 2016 —
Bison defensive lineman David Onyemata made history as the first Manitoba Bisons football player selected in the NFL (National Football League) draft as he was drafted by New Orleans Saints in the 4th round (120th overall pick) in the 2016 NFL Draft on Saturday, April 30.
Onyemata, 23, is now only the 12th overall CIS (Canadian Interuniversity Sport) football player drafted into the NFL.
Onyemata commented shortly after being picked, "I am so excited to be a Saint. I am thankful to all of my Manitoba teammates and coaches for their support – this would not have been possible without their support. I am pumped to get to work."
Onyemata, a native of Lagos, Nigeria, has had an amazing journey prior to being selected in the NFL as he had never played football before moving to Canada only five short years ago from Nigeria. In the five years, Onyemata emerged as a CIS standout star as he went from being a red-shirt in his first season at the University of Manitoba to being a CIS major award winner (2015 J.P. Metras Trophy award winner, presented to the Outstanding Down Lineman of the Year in CIS Football).
"On behalf of the entire University of Manitoba community, I would like to congratulate  University of Manitoba Bisons defensive lineman David Onyemata on being drafted today by the National Football League's New Orleans Saints, the first ever Manitoban to be picked in the NFL draft." said David Barnard, president and vice-chancellor of the University of Manitoba. "What an incredible testament to Coach Brian Dobie and his program that two of his players have made it to the NFL. Good luck, David. You follow a path blazed by a great Bison and a great friend of the University of Manitoba, Israel Idonije."
See full story at gobisons.ca