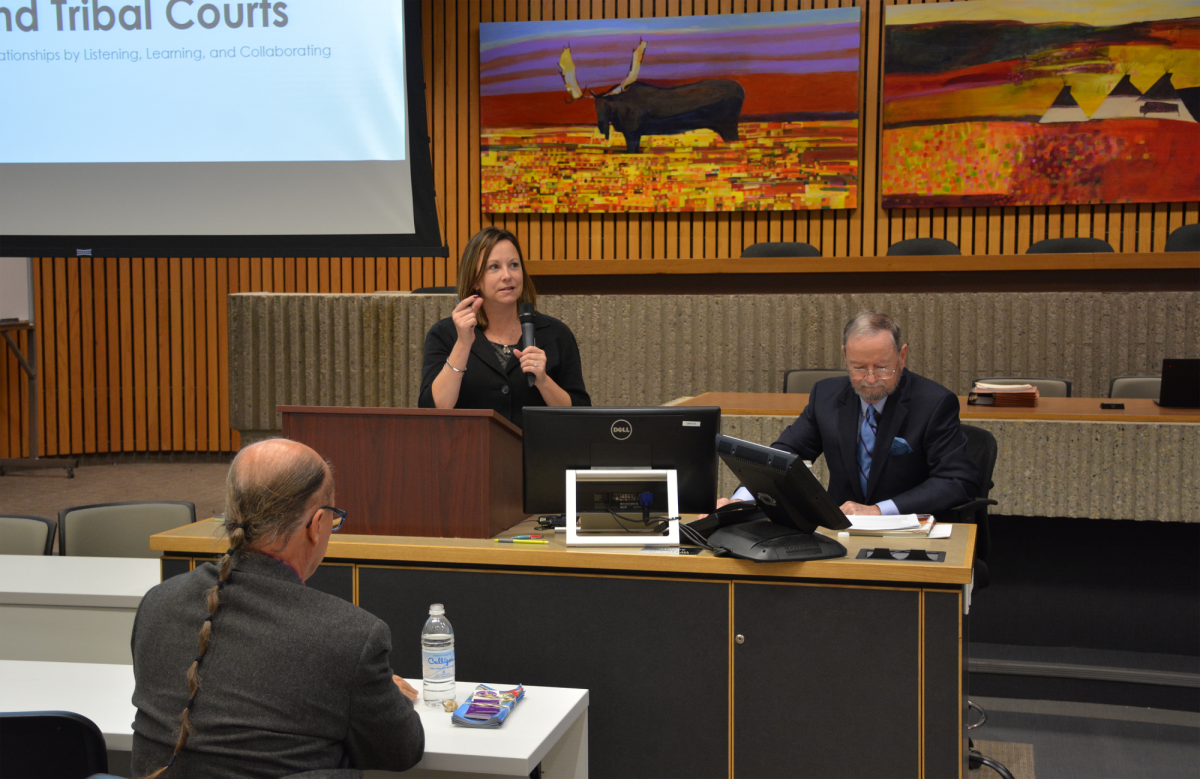 Guest speaker round-up
Law Students, Faculty, seeking to learn beyond curriculum
November 12, 2019 —
Students and faculty members have been keeping the Robson Hall Community busy this fall with an exciting roster of special guest speakers. It is not unusual in this professional faculty for professors and instructors to invite community professionals to share their experiences as part of a regular classroom lecture, but this year, more students than ever have been taking the initiative to learn outside of classroom time. Since the start of fall term, students alone organized 17 guest speaker events.
Professors have also been bringing in visitors beyond class time. Besides the long-standing annual Distinguished Visitors Lecture Series and DeLloyd J. Guth Visiting Lecture on Legal History, the new Master of Human Rights program has been instrumental in adding visiting scholars of interest to J.D., LL.M., and M.H.R. students and faculty alike. The end result has been an energetic and vibrant learning environment.
Dr. Bruce Curran, Associate Dean of the Juris Doctor program, oversees the regular curriculum of what bachelor of laws students are supposed to learn. "This year in particular has been remarkable for the Faculty of Law," he said, "and it has been great to see the students reaching out to members of the profession, forging those relationships, and creating opportunities for themselves."
Victoria Truong, a third-year law student and president of the Manitoba Law Students Association, shared insights on what motivates the students. "Before law school, I had never been exposed to opportunities where I was privy to meaningful conversations that discussed real issues through the lens of the law," she said. "Here, I have been exposed to real issues that are currently occurring in the world and am learning what lawyers are thinking and doing today to combat these issues."
She added that, because the legal system and the practice of law is so complex, "It may not be as straightforward as what we might learn in class, and so having guest speakers speak about real issues and real lives helps students realize how big the world is, to find their passion, to follow what interests them, and make connections with legal professionals who may help them onto the path they wish to pursue."
Truong emphasises that the student-organized guest speaker events held so far do not include the many charitable drives initiated by the law student Community Outreach Committee, plus volunteer initiatives driven by students running the Pro Bono Students Canada and CanU programs. The newly-formed Animal Rights Forum held a month-long drive in October to collect animal products and toys to be donated to the Humane Society and had an email drive to protest to save elephants in Tanzania. Robson Hall students also participated in Orange Shirt Day and the Manitoba Indigenous Law Students Association hosted an Entertainment Night. The Professional Development Committee hosted a successful law banquet and the student Mediators group have engaged in a new initiative called Sport Law Connect Program.
"Robson Hall students consistently amaze me with their tenacity and enthusiasm in helping to make Robson Hall a better place to be and learn," said Truong.
To illustrate how busy this fall was, below is the full list of guest speakers who visited Robson Hall. This does not include our homecoming celebration, scholarship awards ceremonies or Career Development Office workshops. Upcoming events are listed on the Faculty of Law events calendar. Unless otherwise noted, most of these events are open to alumni, faculty, staff, students, and interested members of the legal community.
Sept. 15 Cocktails by C.A.R.L. featuring the Orontes Guitar Quartet of Damascus, Syria
Sept. 24 The Runnymede Society Robson Hall section presents: "Do the Words Matter? A Conversation with Justice David Stratas, Federal Court of Appeal"
Sept. 27 Supreme Court of Canada at Robson Hall (a special meeting with law students)
Sept. 30 Orange Shirt Day – MILSA Group Photo
Sept. 29-30 International research conference: Harnessing the Winds of Change in a Shifting Nuclear World (Convened by Dr. Jonathan Black-Branch, Dean of Law)
Oct. 1 Master of Human Rights program public lecture: Dr. Vinay Lal, UCLA. This event was made possible by the support and sponsorship of Dr. K. Dakshinamurti, President of the Mahatma Gandhi Centre of Canada, and Bashir Khan, Chairperson of the Borden-King Institute.
Oct. 3 Guth Lecture 2019 Dr. Seth Rockman of Brown University on New England merchants and manufacturers' property rights in southern slaves via credit/debt.
Oct. 3 Criminal Law Group presents Stacey Soldier: What's it like to be a criminal law lawyer?
Oct. 7 "Justice for Soleiman Faqiri" – a talk by Yusuf Faqiri hosted by MLSA Student Groups, the Human Rights Collective and Level Justice
Oct. 10 C.A.R.L. Robson Hall presents a screening of the documentary film: "Inside My Heart" on Oct. 10, 2019 at noon in Room 206.
Oct. 16 Outlaws Presents: Karen Sharma – Acting Executive Director, Manitoba Human Rights Commission, speaking on Current 2SLGBTQ+ Topics in Human Rights Law
Oct. 16 MILSA Entertainment Night at the Park Theatre
Oct. 17 Guest Speakers (presented by the Law Dean's office): Michigan Supreme Court Justice Megan Cavanagh and her father, Ret. Justice Michael Cavanagh Talk title: Michigan State and Tribal Courts: Forging Relationships by Listening, Learning, and Collaborating
Oct. 19 Criminal Law Group presents Direct & Cross-examination workshop (facilitated by practicing lawyers)
Oct. 21 The Robson Hall Business Law Group presents: Dan Torbiak on Personal Finance for Young Lawyers/Professionals
Oct. 22 Women's Correctional Facilities literacy program in partnership with Frontier College Info Session
Oct. 24 Advocating for Justice and Reparations in Uganda – a conversation with Grace Acan and Evelyn Amony
Oct. 25 Adelina Iftene, Schulich Law Punished for Aging: Vulnerability, Rights and Access to Justice in Canadian Penitentiaries A pre-conference talk presented by Robson Crim Group
Oct. 26 Research Conference – Criminal Justice and Evidentiary Thresholds in Canada: The Last Ten Years (Convened by Robson Crim Group's Dr. Richard Jochelson & Mr. David Ireland)
Nov. 1 Sport & Entertainment Law Group Presents: Dan Hursch – True North Entertainment's in-house counsel