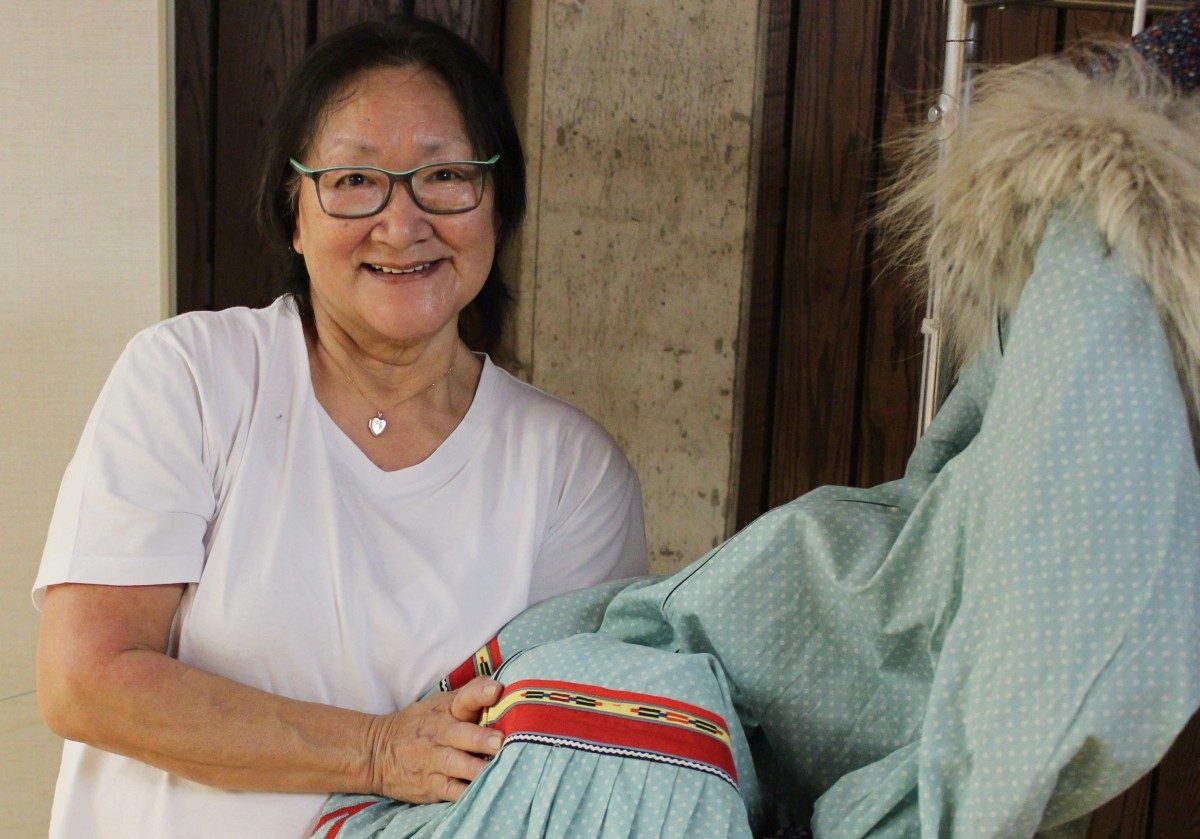 Growing up in the centre of the Arctic and carrying Inuit teachings
Elder profile with Inuk Elder Martha Peet
October 7, 2022 —
Martha Peet is an Inuit elder and storyteller originally from the center of the Arctic in Taloyaok, Nunavut, "way up in the Arctic coast", she says. These days, Elder Martha calls Winnipeg her home along with her daughter. Taloyaok means 'large caribou hunting blind' in Inuktitut. The small hamlet of approximately 1,000 people is in the northernmost part of Canada that was established in 1948 by the Hudson's Bay Company and was known as Spence Bay until 1992. Elder Martha was born in 1950, so her family has been around since the community's beginning.
She grew up on the land, lived in an igloo and lived the traditional Inuk lifestyle. When asked about her experience in school, she said "My mother didn't want to send me to residential school, so the federal day school was built in my community in 1960 and at that time I was already 10 years old."
When we asked Elder Martha about how she learned traditional knowledge, she stated that she didn't learn it in courses, but this knowledge was passed down by her parents.
"They (parents) were nomad people living in our area, so everything from the time that I was born was traditional. Anything to do with hunting and anything to do with fishing. My dad was a hunter for seals, polar bears, and caribou. He was providing for the family. My mother was a seamstress. She made clothes out of skins. What I know about my background and how I am with traditional knowledge is what I grew up with."
Elder Martha is currently working with the Manitoba Collaborative Indigenous Education Blueprint, which is an initiative that commits all the post-secondary institutions in the province work together to make Indigenous achievement a priority. When asked what advice she would want to share with Inuit students coming to Winnipeg for post-secondary education, she said, "I know it is hard coming from a community to a city, so I would like to see them being shown everything about the city life and who they can contact for help or questions they have about the city whether it's to do with healthcare or to talk to somebody about mental health because you can only get ahead if you ask questions. It can get very discouraging very quickly if you don't have any support."
You can learn more from Elder Martha Peet at the Elders and Traditional Peoples Gathering on October 13-14, 2022, at the Fort Garry Campus at the UM. She will be sharing Inuit stories and teachings along with nine other Elders and Traditional Peoples. She looks forward to meeting new people and hearing what they have to say. The two-day event is free and open to everyone.