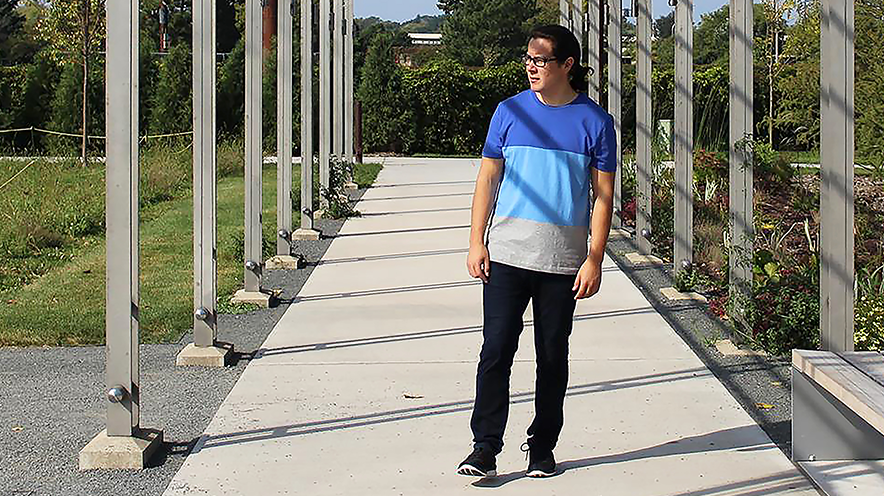 Graduation Pow Wow profile: Jeremy McKay
April 25, 2018 —
In the lead-up to the 29th Annual Traditional Graduation Pow Wow taking place on Saturday, May 5, UM Today has decided to profile a few of the Indigenous students who will be graduating. Below is the first feature on Faculty of Law student Jeremy McKay.
---
You can often find law student Jeremy McKay [BComm/14] in Migizii Agamik – Bald Eagle Lodge, providing support and guidance to other Indigenous students. But when McKay first enrolled at the University of Manitoba in 2010, First Nations advocacy wasn't on the top of his mind.
"Like most students, I started learning about the history of First Nations people in Canada through a Native Studies course," he says. "I didn't even want to take Native Studies at first. I wanted to study accounting."
But McKay needed a written requirement to graduate, so he decided to take a Native Studies course. His decision had an immense effect on his learning experience at the U of M.
"I wasn't actually that great of a student in my first year of university. I sort of just skimmed by," McKay says. "But I ended up in that [Native Studies] class in the first semester of my second year, and it just motivated me to study harder and to be a better student.
McKay is Anishinaabe, and grew up in Pine Creek First Nation. Part of his interest in the course material had to do with its Residential Schools content. His father and other members of his family are Residential School Survivors. The purpose of the schools, the last of which didn't close until 1996, was to assimilate Indigenous children into Euro-Canadian culture.
"I'd always had knowledge of the Residential Schools system growing up, but it wasn't really until that Native Studies class, where I understood fully what the overarching purpose of the Residential Schools was," he says.
"My dad is not educated in university or anything, so he was never really taught the underlying purposes of the Residential School project. But I was, so that really opened my eyes and made me think more about what it means that my dad is a Residential School Survivor. It made me reflect more on the things that happened in my earlier life."
McKay graduated from the Asper School of Business in 2014 with a Bachelor of Commerce degree. His major was Aboriginal business studies, where he learned about topics such as economic developments within First Nations bands, as well as the exploitation of natural resources.
"[Aboriginal business studies] was always really interesting for me, because of course, natural resources are a huge part of First Nation politics and First Nation businesses," he says. It's also related to his family's background: his father is an ironworker, while his mother is a band councillor in Pine Creek.
McKay is now enrolled in the Robson Hall, Faculty of Law at the U of M, with a focus on corporate commercial law. He's set to graduate this year, and hopes to give back to his community with the knowledge he has learned while at the university.
"I've looked at education as a way of obtaining skills that I think are needed in First Nations advocacy," he says. "That led me into business, because, watching my mom be in politics, I recognized very quickly that you need a basic understanding of business to operate effectively, but I also understood that law was a big part.
"I hope that together with those backgrounds, I'll have a good understanding of how to advocate for First Nations people in an effective way."
This year's Indigenous graduating students will be honoured at the 29th Annual Traditional Graduation Pow Wow on May 5, 2018 at the University of Manitoba Investors Group Athletic Centre. The event is free and everyone is welcome.