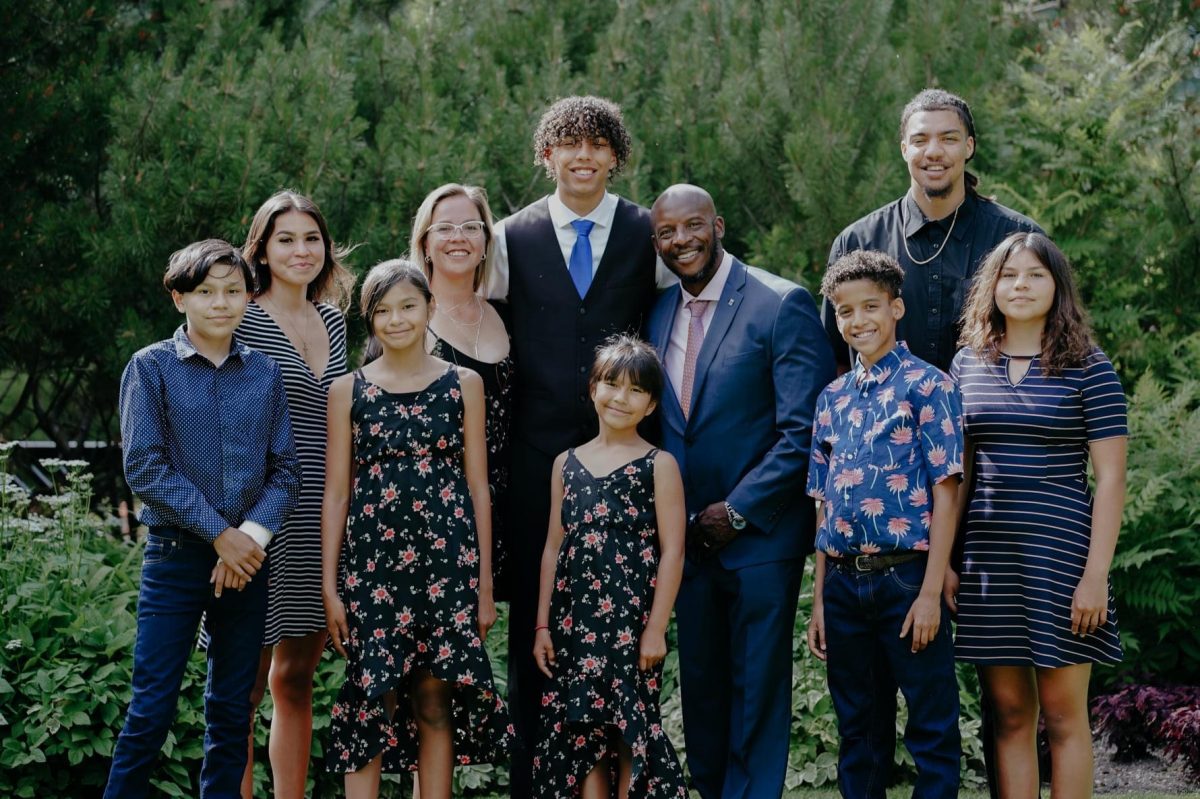 Graduates celebrate at Access Program Graduation 2022-2023
Earned degrees in Social Work, Respiratory Therapy, Education, and more
May 23, 2023 —
On May 18, the Access Program celebrated the achievements of 16 Access Program graduates at the Access Program 2022-2023 Graduation. The celebration was in addition to each graduate's convocation from their respective UM faculty. Students from Winnipeg, Northern Manitoba, and Indigenous communities and their families and supporters enjoyed the evening together.
Rachel Simpson, Bachelor of Social Work
As Rachel Simpson graduates with her Bachelor of Social Work degree, she is a role model for her children and she honours her late grandmother and uncle who always encouraged her to pursue her education and be the best she could be.
In her career, the Ojibway and Icelandic student from Rolling River First Nation also continues to tackle intergenerational trauma and help people to move forward, creating a positive difference.
Simpson was working for Child and Family Services when a supervisor suggested she join the Access Program to go to university and advance her career. The Access Program provides holistic support to students choosing to begin an academic journey. She returned to school for the first time in 17 years. "For me, I am showing my children no matter what age you are, just go out and do it. I am very proud of myself. Now I can do some good work in the community."
On her first day on the UM campus, Simpson says she found her culture and her home away from home with the Access Program in Migizii Agamik (Bald Eagle Lodge). "I felt like this was my space, my home base on campus."
With Access, she enjoyed the smaller classes, Indigenous-based programming and cultural support. "I could speak to Grandfather Wanbdi as needed. It was nice to smudge, to attend teachings with other Indigenous students in that space."
Balancing her studies with her own blended family including 10 children ages 10 to 27, Simpson says, "has been quite the journey. Access, my kids, and my husband, Ian, have been very supportive."
Simpson recommends the Access Program, and her own daughter is already in it.
"Access provides the support you need, no matter your age. Once you jump over fear, the sky is the limit. For me, it means so much to celebrate with my community that supported me throughout."
As Simpson graduates, her daughter, Jasmine completes her first year of university studies with the Access Program.
Jarrod Seman, Bachelor of Respiratory Therapy
For Jarrod Seman, who graduated with his Bachelor of Respiratory Therapy in Fall 2022, the Access Graduation was a chance to return to the Fort Garry campus of his early university years and catch up with those he knew during his time there.
The First Nations student from Winnipeg started university right out of high school, encouraged by the many women in his family who are university graduates. He joined Access in his second year. "The Access Program was invaluable," he says. "A lot of students come to university and feel alone. Access provides a sense of community, smaller classes, a place to study. I recommend it 100 percent, even if you don't think you need it. There are tutors, counselling services… My U1 would have been better with Access."
As a high school student, Seman volunteered at Concordia Hospital and now he is working there as a respiratory therapist. "I enjoyed doing what I could for people then, and that joy has come with me to this profession. I try my best to make people feel cared for."
While he originally thought about pursuing paramedicine or nursing, Seman says he found his current career by chance. "I job shadowed at Concordia and got to explore some jobs I knew little about. I heard about respiratory therapy, and shadowing let me see what it was all about. I loved it and decided to apply."
And now he is enjoying this career. "We are qualified to work in many settings. We are specialists, supporting a patient's breathing. I like knowing what to do when things go wrong. I enjoy patient interaction. This is not a desk job, it's more hands-on and practical. There are so many interesting jobs in healthcare people never hear about and respiratory therapy is one of them."
Seman plans to go into critical care where he will see the sickest of the sick. "It's very challenging but also very rewarding."
Chasity Spade, Bachelor of Education
When Chasity Spade graduated with her BA in 2021, she was unable to celebrate grad in person due to the pandemic restrictions. Now, as she graduates with her Bachelor of Education degree, she says the celebrations including the Access Graduation are that much more special for her.
"It is the most amazing feeling to graduate," says the First Nations student from Nisichawayasihk Cree Nation. "When I started my BA, this degree seemed so far off. So many struggles made me that much stronger. I gained a whole new vision of myself. I have really evolved and grown."
As a little girl, Spade dreamed of being a teacher. First, she worked as an educational assistant in inner-city schools for over 10 years. She recently completed her teaching practicum and is now looking at her job options. "It is a lot more work than I imagined. Although I have always had respect for teachers, I now have a deeper understanding of how hard they have worked to get where they are today. I prefer working with the senior years because I think I can go more in-depth with topics. I majored in Indigenous Studies and minored in History. I am starting to see where I belong."
Her three children, ages 9 to 24, and all the other people who supported her on her academic journey including the Access Program, are very happy for her. "At Migizii, I liked having a place to go, to eat lunch, to congregate with other Indigenous students. I didn't feel so alone. I used tutoring, and personal counselling services helped me through the hardest time in my life, as my younger brother passed away from cancer. The support was always there, no matter what."
To anyone considering going back to school to accomplish their dream, Spade says, "You can be a lifelong learner, no matter what stage you are in. Be strong. Be proud. Continue with the life you envision for yourself. Seek out support and friendships to help and welcome and take care of you. During my studies, Access was always my home base."