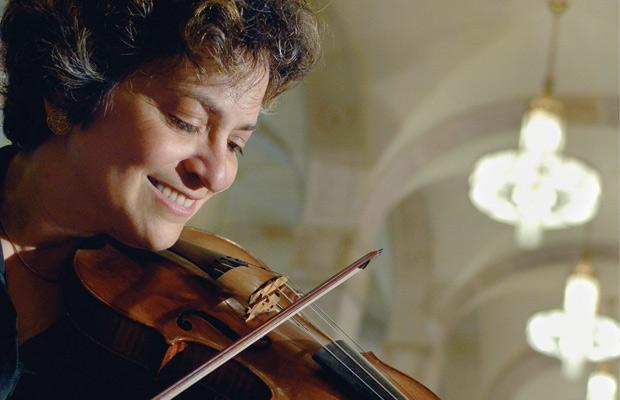 Get a deal on Winnipeg Symphony Orchestra tickets
January 9, 2015 —
The Winnipeg Symphony Orchestra has invited U of M faculty and staff to enjoy 25% off regular tickets to Mozart and Haydn with Tafelmusik's Jeanne Lamon on Friday, January 16 and and Saturday, January 17.
Lamon will direct the WSO from her violin in a program of baroque and classical masters including Mozart, Haydn, Bach and Corelli. For more information visit wso.ca or call 204-949-3999. Find tickets here.
>>Use code XFND to save.
Mozart & Haydn with Jeanne Lamon
January 16 and 17, 2015 8:00 PM
Centennial Concert Hall
555 Main St
Winnipeg, MB
---
Bach: Symphony in G Minor
Mozart: Clarinet Concerto in A major
Corelli: Concerto grosso in B-flat major
Haydn: Symphony No.101 in D major, "The Clock"
---
Jeanne Lamon – violin, conductor
Micah Heilbrunn – clarinet
---
Violinist Jeanne Lamon has been praised throughout the world for her stunning performances of music from the Baroque and Classical periods. Since 1981 she has been music director of Toronto's world- renowned period instrument orchestra, Tafelmusik. Directing from the violin, Jeanne will lead an exquisite program that features WSO principal clarinetist Micah Heilbrunn in Mozart's unforgettable Clarinet Concerto.
---
JAN. 14 >>FREE TICKET GIVEAWAY: The WSO is giving away two pairs of free tickets to to this Friday's evening concert (Jan. 16). All U of M staff and faculty are eligible. To have your name entered into the draw, tell us why you'd like to go in the comment section below, using your U of M email address (it won't show up online) so that we can respond to you once the draw has been made. The draw will be made on Friday at noon.
Winning tickets will be held under name at the door.
JAN. 16 >> THE WINNERS ARE ANNOUNCED
(Drumroll please!)
The two winners of the pairs of WSO tickets are:
Vanessa Ahing
Sylvia Backman
The contest is now closed. Thanks to everyone who entered and made the it a little more exciting! For those of you who weren't lucky this time, remember that the faculty and staff discount is still available for the concert, which takes place this Friday and Saturday.