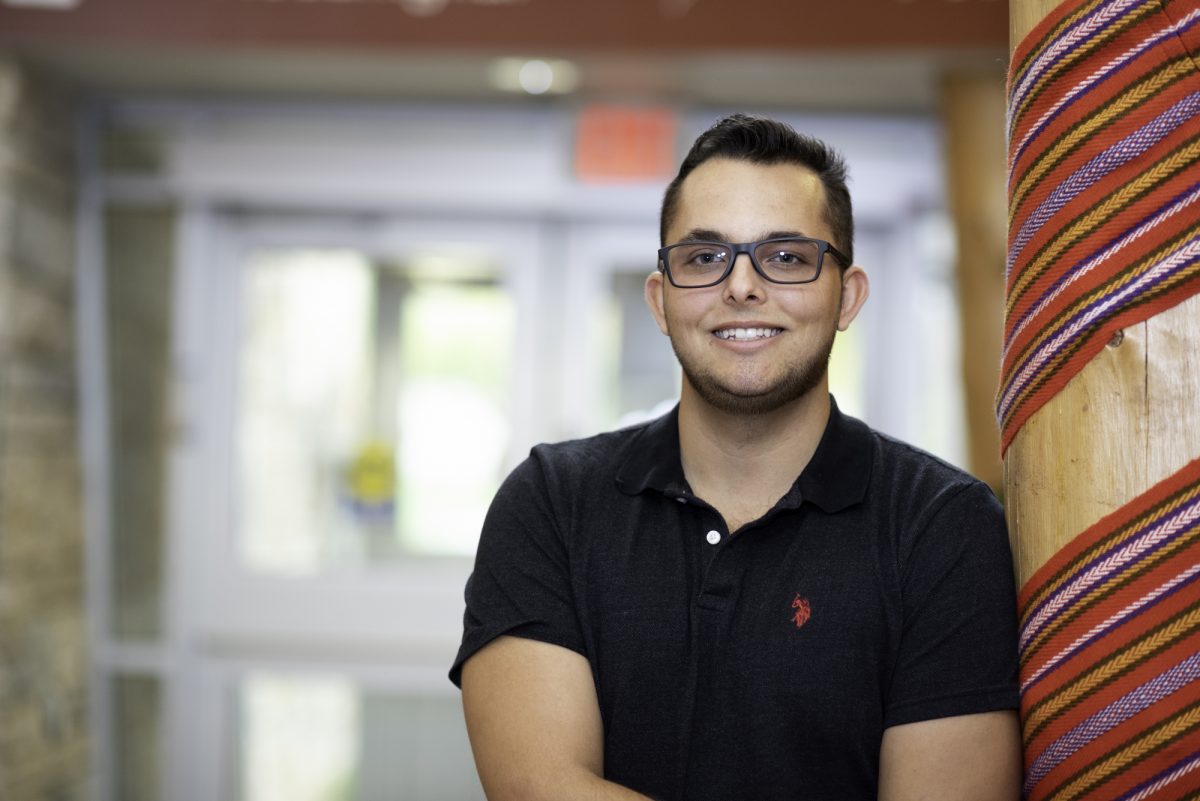 From chemistry to medicine and helping others succeed
Join the Access community at U of M
October 18, 2019 —
Brandon Wozniak is pursuing his love of chemistry and plans to go into medicine, with the support of the Access Program.
"I would like to help people who are dealing with mental health-related issues," says the Métis honours biochemistry student born in Fort McMurray and living in Winnipeg.
The Access Program at the University of Manitoba provides holistic support to Indigenous, newcomer, and other U of M students, empowering them on their path to success.
"Access is really good because it really establishes a community within a larger whole," he says, noting how it helps alleviate the stress and anxiety of coming to a big campus where you don't know anyone, and having to figure out and maintain your schedule.
"I find I share a lot of the same values as different students attending Access. So with that, I'm able to create cultural relationships, make friends, and it gives me a sense of purpose on campus."
A third year honours biochemistry student, Wozniak plans to apply to medicine next year. "Chemistry is just amazing, how you can turn anything into something else."
He is also quite involved at the U of M. Among other things, he's a co-president of the Métis University Student Association, and the Indigenous student rep for the Arts student body council.
"I encourage students to get involved on campus, and to not just get involved but to get involved in something that you care about."
After graduating from high school in Gimli, Wozniak came to university to study chemistry. At first, the experience was overwhelming but after taking a break, he returned to university with the support of Access. "I started doing chemistry research and I thought I need to be in a job where I am communicating with people and helping others succeed so I want to do medicine."
Wozniak's aunt told him about Access. "She said it was a really good program that provides supports for students coming from rural communities and that it would help me succeed in post-secondary. Under the Access Program, I was able to succeed."
He appreciates many aspects of the program.
"Having a smaller classroom really helps you establish a relationship with both the professor and the other students. The Access Program has been there with a variety of holistic supports pertaining to academic, mental health, course planning, and immersing myself in the Indigenous cultures on campus."
Through speaking with the Elder, he learned about Indigenous teachings. "These teachings will contribute to my learning and to my future."
He notes the value of the tutoring provided. "The one-on-one tutoring is very beneficial. The first year workshops, they really teach you how to time manage and plan your schedule, and without those, I'd be an absolute mess."
Wozniak encourages students to go to university and pursue a career in something they are passionate about, and to develop themselves as a person. "University is a place to holistically develop yourself. I find that every year, I grow so much and the advice I would give would be to put your best foot forward, learn through trial and error, and to seek out additional resources when you need help."
That's where the program comes in.
"And I would tell students to sign up for the Access Prorgam."
Wozniak encourages Indigenous residents of Manitoba to apply to the Access Program, and attend the University of Manitoba this fall. Application deadline is May 1. Apply now.