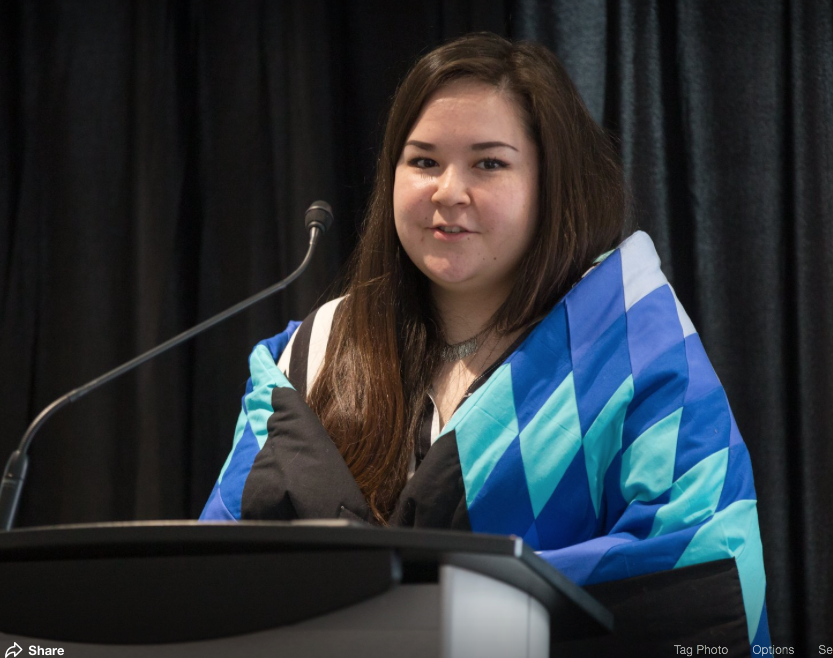 Fredlund represents Manitoba at Indigenize the Senate 2018
June 12, 2018 —
Last week, as part of Indigenize the Senate, members of the Standing Committee on Aboriginal Peoples welcomed nine Indigenous youth from across Canada to share their experiences and thoughts during an official hearing in Ottawa.
Representing Manitoba was U of M student Amanda Fredlund (First Nations), the outgoing co-president of the University of Manitoba Aboriginal Students Association (UMASA). During her time as co-president, she aided in many initiatives, including the creation of the Women's Council, which offers support to Indigenous women on campus and also helps to establish positive relationships with allies on campus.
Indigenous Student Centre student advisor Justin Rasmussen recently approached Fredlund to ask if he could nominate her for the event. On May 2, she found out her nomination was accepted and she would be flying out on June 5 to "testify" in front of the senate the following day.
"I felt really honoured when I was chosen, because I was under the impression at first that there would be 150 students from across Canada attending," Fredlund says. "But when I arrived, I found out it was only nine people chosen from 150 nominations, which of course made me feel even more honoured."
Fredlund, along with the other youth leaders, arrived in Ottawa on June 5. The following morning, the group went to Parliament Hill, and in the area just outside the senate chambers, there was an opening ceremony where a Mik-maq Elder did a smudge and prayer. An Inuk elder also lit a kudlik (oil lamp) and said a prayer, followed by a few welcoming words from a Métis Nation Youth Advisory Council representative.
"I was especially moved and appreciative of the Inuit Elder being a part of the event and once I spoke with her, we realized we have connections through my home community of Churchill," Fredlund says.
After the opening ceremonies, the youth leaders had a chance to speak with Senators Joseph Day, Larry Smith, Yuen Pau Woo and Deputy Government Representative Diane Bellemare.
"We had a chance to discuss various hot topics like what our views were on the pipeline issues, the current cannabis bill being discussed and what we hoped to accomplish in the coming years," Fredlund says.
"I felt that the senators were all genuinely curious to hear our perspective and that it was valued. What all of us youth made sure to say was that we hope our perspectives would be used to inform policy in a good way. Many senators were very excited to hear what we were saying and were willing to share contact (information) for possible collaboration on projects."
Fredlund says there are many different pieces of knowledge she can take home and apply from her experience.
"This experience has taught me to be confident in our role as student leaders, and that there are many senators and politicians who do care and who do want to hear what we have to say as Indigenous youth. It is encouraging to know that many senators are very willing to help us succeed.
"Ways in which I can take what I learned and apply it to my life here on campus would be to pass on that encouragement to other students to keep working hard to accomplish great things, to build up our communities and to be an example for others," she continues. "It is important as youth leaders that we work hard and make change but also think of the next generation."