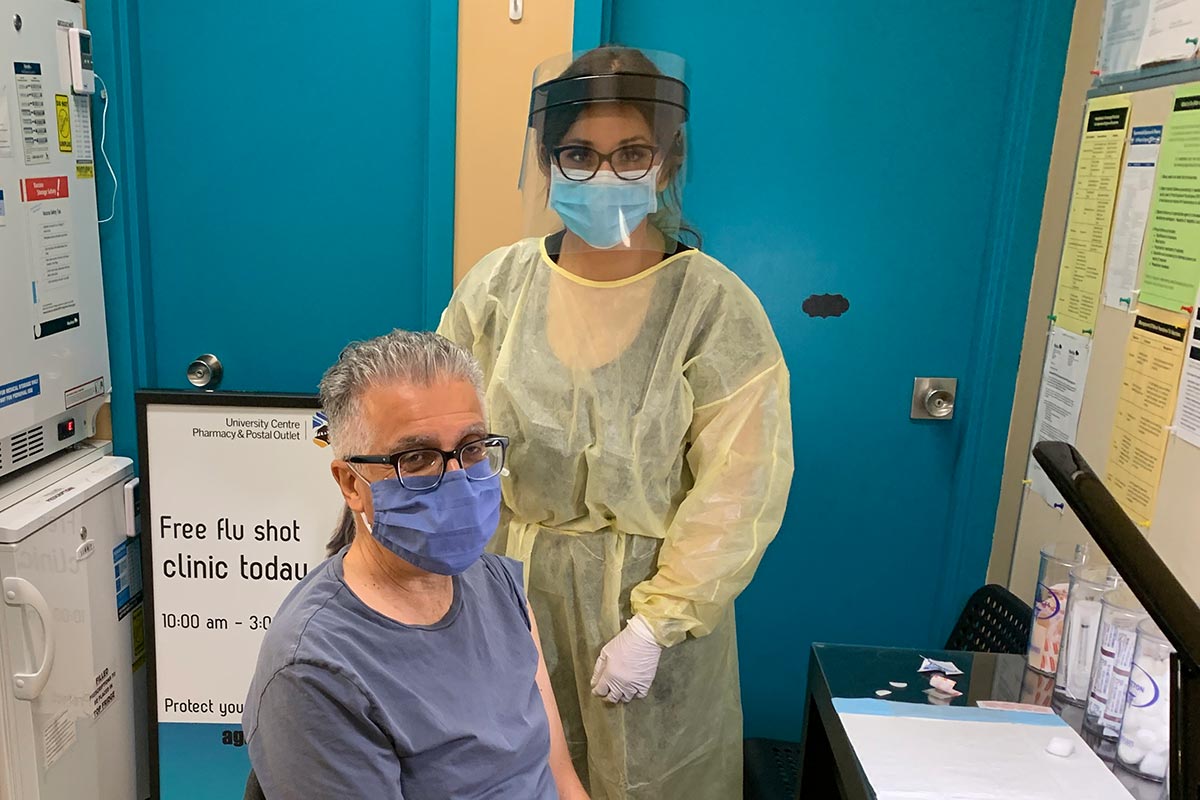 UM influenza immunization clinics begin Nov. 5
November 2, 2020 —
You have several options to get an influenza immunization at the UM this season.
University Centre Pharmacy Flu Clinic
Starting Thursday Nov 5, the University Centre Pharmacy* will be offering flu shots for the campus community Tuesdays and Thursdays only between 10am and 3pm. While supplies last.
No appointment is necessary.
PROCEDURE ON FLU CLINIC DAYS
When arriving for your flu shot, please expect the following:
You will be required to wear a mask* and sanitize your hands
You will be required to abide by physical distancing guidelines
You will be asked a series of questions to ensure you are not symptomatic for COVID-19
Your temperature will be taken
You will be required to fill out and sign a Manitoba Health Influenza Injection Consent Form
After receiving your flu shot, you will be required to wait an additional 15 minutes to monitor for adverse reactions
See the pharmacy website for more information.
*The UCentre Pharmacy on Fort Garry campus remains open as an essential service.
University Health Service (UHS) influenza immunization clinics
Open to students, faculty and staff.
Two days: November 13 and 30, 2020; 8:45 a.m. to 4 p.m.
Location: Fort Garry campus in the multi-purpose (MPR) rooms, second floor University Centre
These clinics are by appointment only (no walk-ins); appointments can be booked by calling UHS at 204-474-8411.
At home the day of your appointment you must complete the online Shared Health COVID-19 self-assessment tool. If any of your responses are "Yes" please stay home, do not arrive for your appointment. If anyone at home is self-isolating due to symptoms, you must self-isolate as well, even if you do not have symptoms.
Please bring your provincial or territorial health card with you (International Students please bring your Guard Me or Blue Cross card). Please wear a shirt that allows you to expose your upper arm, and plan to stick around 15 minutes after being immunized.
You must wear a mask* at all times while on campus. Physical distancing and hand-washing will be strictly adhered to at the clinic.
Please read the Manitoba Public Health Seasonal Influenza Vaccine Fact Sheet in advance of visiting the clinic.
*You should wear a personal cloth mask when you come to campus. When you enter your classroom, lab or study space you will be given a 3-ply mask to put on immediately. When you leave, you will remove the 3-ply mask and put on your personal cloth mask. Your 3-ply mask should be disposed of. You may see people wearing cloth masks on campus prior to arriving at their destination.