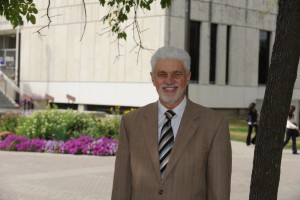 Former education dean named Professor Emeritus
A 'valued member of the Faculty of Education and a highly respected scholar in educational administration'
May 10, 2015 —
John Stapleton, former dean of the U of M's Faculty of Education, received his Professor Emeritus award from the U of M on April 28 during this year's ceremony honouring eight professors emeriti.
"Throughout his 51 years of distinguished and extensive service to the profession, he taught thousands of students and maintained a robust research program that transformed our educational systems," said Joanne Keselman, Vice-President (Academic) & Provost in prepared remarks during the ceremony in University Centre.
Stapleton has had a long and distinguished academic career, including a decade spent as the dean of education at U of M. He was also dean of education at Lakehead University.
He was given the title of Dean Emeritus at the U of M in 2002.
"True to his Jesuit ideals, Dr. John J. Stapleton is a man for others," said Keselman.
Stapleton served as Rector of St. Paul's College from 1995 until 2006. He also did a two-year term as Principal pro tem of St. Mark's College and Corpus Christi College on the University of British Columbia campus.
Additionally, he helped get several programs up and running at St. Paul's during his tenure there, including the B.A. in Catholic Studies and the PhD in Peace and Conflict Studies for the Arthur V. Mauro Centre for Peace and Justice. He has also served as President of the Canadian Association of Deans of Education.
"Dr. Stapleton is a valued member of the Faculty of Education and a highly respected scholar in educational administration," Keselman noted.
His contributions are extensive, including 34 scholarly articles, 48 technical reports, 85 scholarly presentations, "as well as being awarded 25 grants for research and teaching," Keselman noted.
Additionally, he has supervised and mentored 26 Master's and 13 PhD students.
"Dr. Stapleton has established a distinguished record of exceptional teaching, high-quality research, and extensive community service," Keselman said.
Born in and raised in Newfoundland and Labrador, he received his BSc from Iona University in New York, an MTS degree from the Catholic University of American in Washington, D.C. and MA and PhD degrees from the University of Toronto.