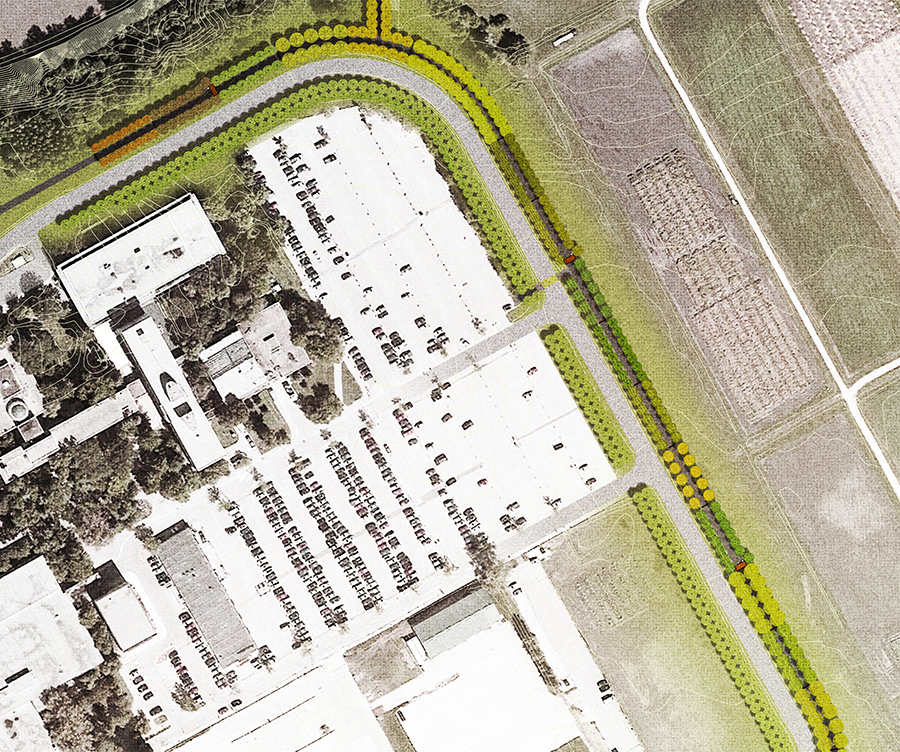 FAQs on Eastern campus redevelopment
More about trees at the university
June 10, 2018 —
Enhancements to the Saunderson Street and Dysart Road area on Fort Garry campus began in May, with area improvements to be phased in over five years. The area will see native prairie revegetation, tree planting, road renewal and a multi-use path with seating, signage and wayfinding.
The significant redevelopment, communicated in the UM Today story published on April 17, included the arborist-recommended removal of the rows of post-mature golden willow (Salix alba 'Vitellina') along the transportation corridor. The trees, a species with a lifespan of 50 to 60 years, were in late-life decay and had been marked for removal for over a decade upon exhibiting these signs, aggravated by their site conditions, having been planted in the 1960s on steep slopes of the dike road built to prevent area flooding. Assessment and monitoring of the willows goes back nearly 20 years, beginning with a tree inventory completed in 2000 by an ISA certified arborist.
The University and its community greatly value tree life and our urban forest and riparian corridor (lands along river) as living organisms and evolving aspects of campus life. Trees are removed or pruned only after serious consideration and in consultation with internal and external experts. The university practices responsible tree succession planting that prioritizes tree diversification and ecological sustainability.
Internal and external experts are consulted in planning for tree maintenance, removals and tree succession. These experts include Physical Plant employees and members of our University community from various units and faculties, as well as external consultants. The internal and external experts, including employees, are certified arborists and horticulturalists, landscape architects, LEED© accredited professionals, architects, engineers and space planning experts.
Tree inventories and assessments are conducted over time to plan for the future of our campus and to keep our campus ecosystem and landscape beautiful, healthy, diverse and sustainable. The U of M will introduce recommended varieties and species of trees on campus in order to further enhance and diversify our urban forest to protect from disease and pests.
Read more in these FAQs about the reasons for the tree removal and about the tree assessment process and university guidelines, including sustainability principles and Indigenous planning and design principles, informing decisions. An Urban Forest Management Strategy is in development and will be shared with the campus community in a public engagement open house this summer.