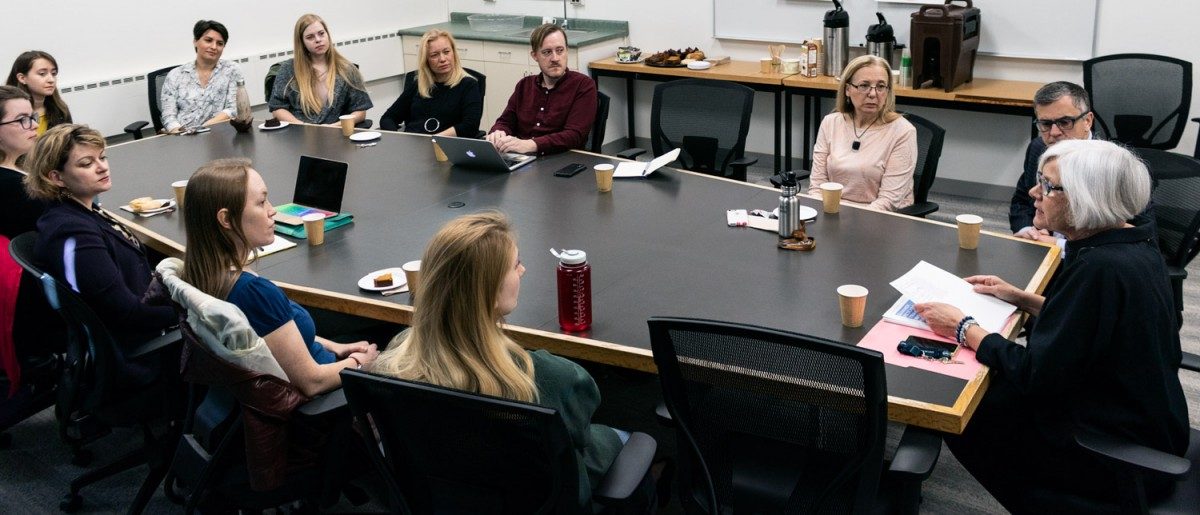 Faculty celebrates most undergrad research awards
16-week mentorship program supports nine students
May 8, 2018 —
With grants supporting nine students, the Faculty of Education has seen its most ever Undergraduate Research Awards (URA) this year.
"Supporting URAs is an important function of the faculty," David Mandzuk, Dean of the Faculty of Education. "At a U15 university, we all have a responsibility to foster high-quality research and scholarly work, and one way we can do this is by developing opportunities for undergraduate students to learn research skills first hand by working with active researchers."
The $7,000-awards allow students to be mentored full time with a professor of their choice for 16 weeks, gaining experience in their fields of interest.
This year's awards include the following:
Adrienne Sande (Prof. Joanna Black)—Examining artwork from the National Truth and Reconciliation Commission through the research lens of art therapy and psychology to understand the experiences of residential-school survivors, and explore ways that artwork can help the healing process.
Aira Miraflor (Assistant Prof. Nadine Bartlett)—Assessing the strengths and weaknesses of the wraparound method in specific cases involving children, youth, caregivers and support workers. As an individualized planning process for children and youth with emotional and behavioural needs, the wraparound approach is being implemented by schools provincewide.
Amanda Krouse (Assistant Prof. Graham Lea)—Preparing some 600 letters exchanged between Canada and Kenya during the 1960s for publication in a book that will also include a literature review of Canadian University Service Overseas volunteering. Krouse will also use the letters as reference for visual arts-based research project in sculpture.
Elizabeth Paulson and Laura Blunden (Assistant Prof. Ee-Seul Yoon)—Mapping choice schools and census data, as well as researching factors that include demographic and school-program information influencing high-school choice in Montreal and Vancouver.
Elvina Mukhamedshina (Lilian Pozzer)—Researching how verbal and nonverbal communication in Grade-9 science classrooms affects teaching in Canada and Winnipeg. Intended research outcomes include discovering ways to better communicate research concepts and improving retention.
Hana McVicar (Prof. Clea Schmidt)—Processing and analysing anonymous data exploring the diversity of the BEd student population. Also examining how social-justice concepts are put into action in the classroom across the curriculum.
Kelvin Au (Richard Hechter) —Exploring post-secondary physics student rationale for not pursuing physics as a focus of study in higher education despite being enrolled in first-year physics classes.
Melissa Guenter (Assistant Prof. Merli Tamtik)—Now eight weeks into their study of diversity, equity and inclusion policies of universities, their research finds that the policies do not speak to the diversity of international students. Tamtik and Guenter find that two parallel discourses have developed—one where universities focus on attracting more international students, however their policies do not address the diversity of international students and their needs. "It's mainly focused on Indigenous students and racial backgrounds," Tamtik says. "But this unique group of students who are coming from abroad … are not represented in these policies at all. So, we are looking at why this is happening … and what are some ways to build bridges between these discourses."
Eligibility for an undergraduate research awards extends to full-time students enrolled in 24 credit hours over the fall-winter terms, who have maintained a competitive GPA.