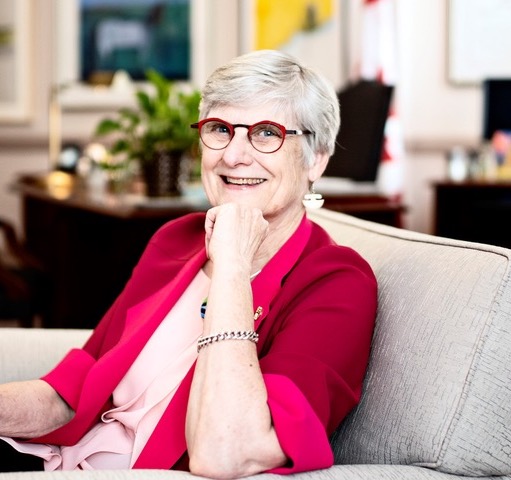 Exploring Art, Policy, and Senate Insights: An Evening with Patricia Bovey
Date: Thursday, November 23, 2023
Time: 7:00 PM – 8:30 PM CST
Location: 136 ARTlab, 180 Dafoe Road W. University of Manitoba
Registration (FREE event) : www.eventbrite.ca/e/patricia-bovey-my-senate-reflections-tickets-753280210387
The School of Art is thrilled to invite the public to a captivating event featuring The Honourable Patricia Bovey. Join us on Thursday, November 23, 2023, from 7:00 PM to 8:30 PM, as Patricia shares her invaluable reflections on her tenure as a Senator. This evening promises an insightful exploration of various topics, including the arts, legislative processes, and cultural policy.
Patricia Bovey: A Remarkable Journey
Patricia Bovey's journey to the Senate of Canada is a testament to her commitment to the arts, culture, and the well-being of her community. Appointed as an Independent Senator from Manitoba in November 2016, Patricia's remarkable contributions have left an indelible mark on Canadian society.
During her time as a Senator, Patricia served on various committees, including the Foreign Affairs & International Trade Committee, Rules, Procedures, and the Rights of Parliament Committee, and the Official Languages Committee. She also took on significant roles such as Deputy-Chair of the Special Senate Committee on the Arctic and the Transport and Communications Committee. Notably, Patricia chaired the Senate Artwork and Heritage Advisory Working Group, emphasizing the importance of art and culture in the Senate and throughout society.
As the first art historian and museologist to be appointed to the Senate, Patricia Bovey approached her duties through the lens of arts and culture. She passionately advocated for the arts' positive impact, particularly in areas such as health and crime prevention. Her dedication to showcasing the work of Black Canadian Artists in the Senate, for the first time since 1867, is a testament to her commitment to promoting diversity and inclusion in the arts.
A Distinguished Career in the Arts
Patricia Bovey's influence extends beyond the Senate chamber. With a background as a gallery director, art historian, professor, and arts and culture management consultant, she has made significant contributions to the arts and culture sector. Notably, Patricia served as the Director of the Winnipeg Art Gallery (1999-2004) and the Art Gallery of Greater Victoria (1980-1999). She was also the Founder of St. Boniface Hospital's Buhler Gallery and played a pivotal role in establishing the University of Winnipeg's Arts and Culture Management Program and MA in Curatorial Practice.
An author and lecturer on Western Canadian art, Patricia's publications include works like "Don Proch: Masking and Mapping" and "Pat Martin Bates: Balancing on a Thread," among others. Her ongoing work on "Impacts and Turning Points: The Western Voice in Canadian Art" promises to be a valuable addition to the field.
Awards and Recognitions
Patricia Bovey's dedication to the arts and culture sector has earned her numerous accolades and honors, including the 2015 Winnipeg Arts Council Investors Making a Difference Award. She is also a Fellow of the UK's Royal Society for the Arts and a Fellow of the Canadian Museums Association. Her commitment to public service has been recognized with awards such as the Canada 125 Medal, the Queen's Golden Jubilee Medal, and the Canadian Museums Association Distinguished Service Award, among others.
Join Us for an Engaging Evening
We invite you to join us on November 23, 2023, at 180 Dafoe Road West Room 136 in Winnipeg for an enriching evening with Patricia Bovey. Her insights into the Senate, the arts, and cultural policy are sure to inspire and inform. Following her presentation, you'll have the opportunity to engage in a question and answer session and connect with fellow attendees during a reception.
Don't miss this unique opportunity to hear from a distinguished Senator and arts advocate. Register today to secure your spot for this thought-provoking event: Register Here.
We look forward to welcoming you to an evening of inspiration and dialogue.