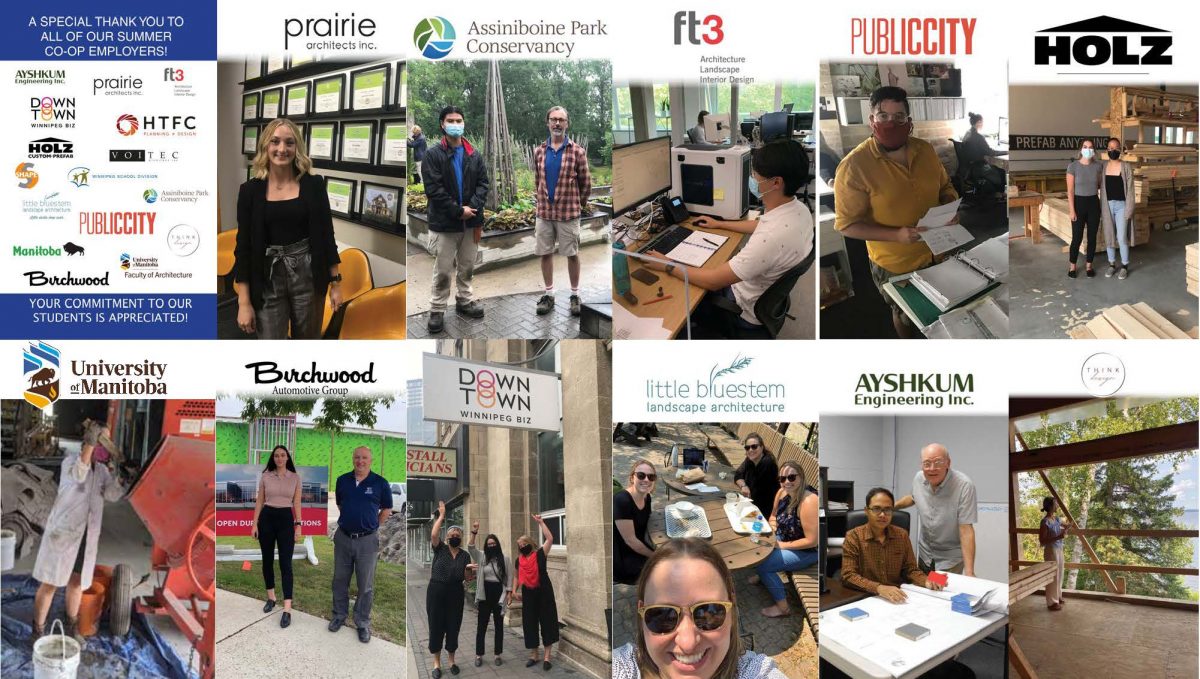 Experiential learning thrives in the Faculty of Architecture
October 22, 2021 —
Thanks to the support of regional professionals, several students in the Cooperative Education / Integrated work program earned full-time work placements in Summer 2021.
These eighteen Co-op/I work terms contributed to the rejuvenation of public programming and to the design of more inclusive, healthy and inspiring built environments. Opportunities ranged from hands-on building and gardening, to full-on city dreaming and comprehensive planning.
Students contributed to important civic and provincial initiatives, including the Downtown Recovery Strategy and the Our Winnipeg 2045 Development plan. Co-op/I students also assisted with proposals to make communities more self-sufficient and interconnected; helped create accessible and sustainable features for schools and hospitals; and collaborated on designing a variety of facilities, from daycares and playgrounds, to commercial and multi-family housing projects.
For one student, a summer Co-op placement enabled a deep dive into technical production of transformative cultural hubs, including bike labs and bus shelters. Read more about Sean Vandekerkhove's experience working with Public City here.
In another case, two students gained immersive fast-paced design-build experience with an award-winning prefabrication company. Read more about Carmen Huang and Brooke de Rocquigny's placement with Holz Construction here.
Building Skills, Launching Careers
While all students enrolled in Co-op in 2020-2021 did not secure work terms, everyone benefited from participating in career-development workshops, including sessions on interview skills, resumé composition and cover letter writing. The annual portfolio workshop enabled students to network with potential employers and gain instructive and inspirational feedback.
Thank you to the twenty professionals who dedicated time to this valuable mentorship opportunity. A special shout out to landscape architect Monica Giesbrecht of HTFC and architect Karen Shanski of BLDG for sharing opening words of wisdom at this event.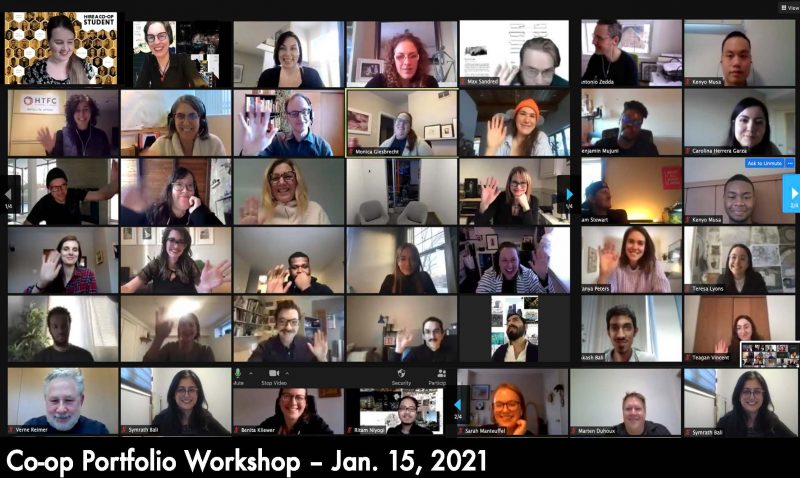 Cooperating with Partners near and far
Launched in 2018, the Faculty of Architecture's Cooperative Education/Integrated Work Program option is designed to complement academic study with paid work experience, enabling students to sharpen skills, apply knowledge, broaden perspectives, and consider future career specialization. Our Co-op students have worked internationally, across Canada and in the north, helping businesses and communities prosper.
Co-op/I is open to undergraduate and graduate students in all streams of the Environmental Design program (ED3-level and higher) and Master's programs (Architecture, City Planning, Interior Design and Landscape Architecture).
Ready to hire a Co-op student in 2022?
We welcome opportunities in government, not-for-profit and commercial sectors, and in all design and planning fields. Four, eight, twelve and sixteen-month work terms are available, typically beginning in May. Hiring incentives for employers, including Manitoba tax credits, are available. Find out more here.
Thank you to the all 2021 participating Co-op employers:
Assiniboine Park Conservancy
Ayshkum Engineering Inc.
Birchwood Automotive Group
Downtown Winnipeg BIZ
ft3 Architecture Landscape Interior Design
HTFC Planning & Design
Prairie Architects
Public City Architecture
Holz Construction
Little Bluestem Landscape Architecture + Design
Manitoba Government, Municipal Relations
Shape Industries Inc.
Think Design
Winnipeg School Division
University of Manitoba – FABLab
University of Manitoba – Partners Program
Voitec Architect Inc.