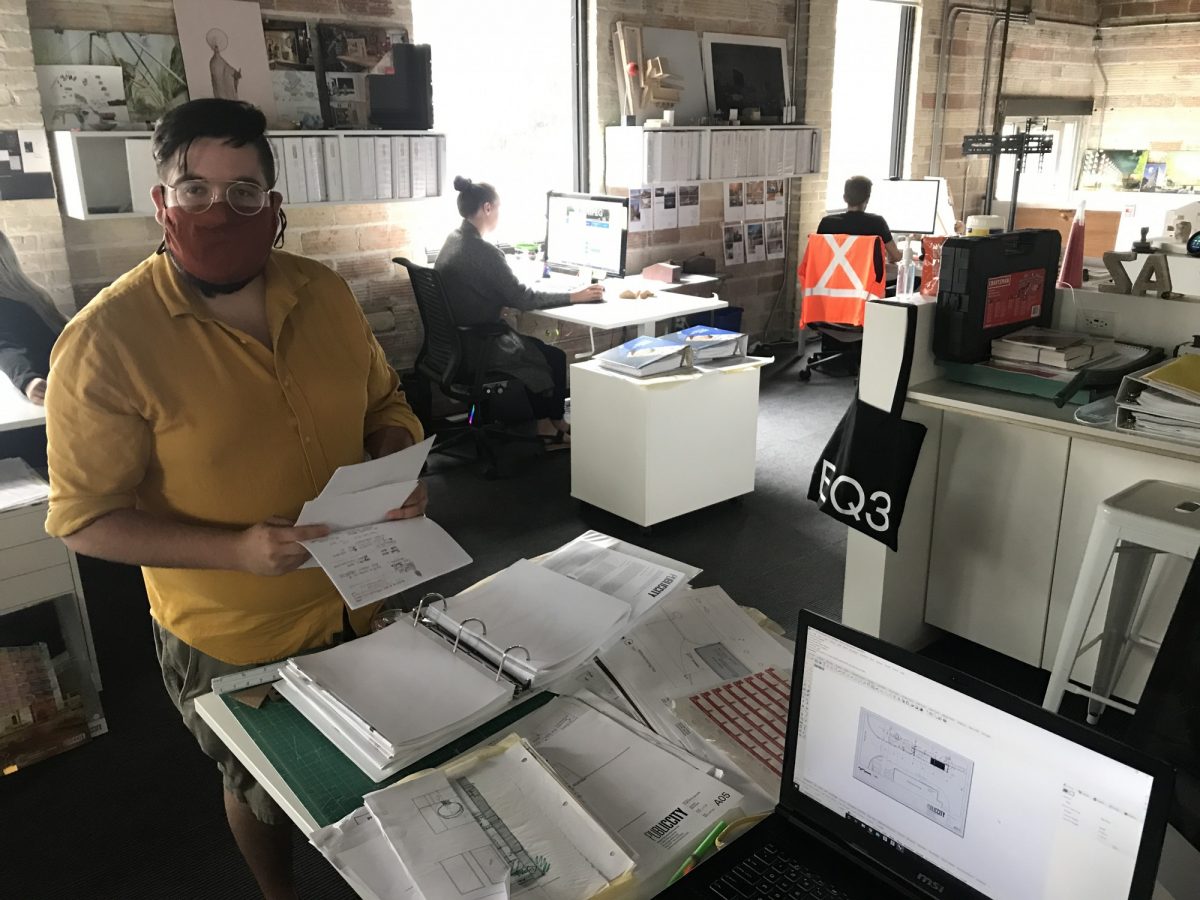 Detailing a more Public City: Interview with Co-op Student Sean Vandekerkhove
September 28, 2021 —
While the pandemic forced many people to retreat to private domains over the last two summers, some design students and professionals have been working extra hard to keep the city and city life more inclusively and beautifully public.
During the summer of 2021, Master of Architecture student Sean Vandekerkhove did just that.
With a Cooperative Education work term, Sean teamed up with Public City, a Winnipeg-based architecture and landscape practice, to collaboratively design, detail and support various social infrastructure interventions.
Lisa Landrum, Associate Dean Research and Academic Liaison for the Co-op/I Program, recently checked-in with Sean to find out more about his experience.
Tell us what you did this summer.
Over the summer I worked with Public City Architecture as a design and technical production assistant. Moving around to help with many different projects, I was primarily focused on three. The first was an interior commercial renovation which I started in the schematic design phase and followed all the way through to the construction drawing set. The second was a shipping container design to be converted into a bike lab, which Public City has a great deal of experience with. Lastly, I did a lot of schematic design work for a bus shelter to be included in one of the master plans that Public City's landscape architects are currently working on. My time between these projects was filled with various assistance roles, such as organizing files, taking site photos, etc.
What did you find most exciting?
I was really excited to work on the shipping container project, since I knew Public City had done such great work with both the University of Winnipeg and University of Manitoba Bike Labs. It was such a great experience to go from schematic design all the way to construction documents for that project, using the previous projects as study guides. I really enjoyed altering similar details and drawing up new ones. It was also nice to be able to work in the office in-person with everyone. This allowed us to have spontaneous critiques and design reviews whenever needed. Questions could be posed at any moment and sketches could quickly explain how something might come together or how a new design direction could be explored.
What did you find most challenging?
At first, it was difficult to get used to all the graphic standards used in the professional setting. As a student I feel like it is a constant struggle to be developing a unique style to stand out. I really appreciate the detail and identity that Public City has created, and it was very important within the first month to develop a strong understanding of the drawing conventions and design standards that the firm had set in order to keep all our work looking like it came from the same office instead of individual students. On another note, I had anticipated the most challenging thing about the co-op term to be conversing, questioning, and developing designs with a new group of people. As a typically introverted person, I have a hard time conveying my ideas properly and participating as much as I'd like to. I have to say that my time studying in the Faculty of Architecture has really prepared me to feel confident in tackling these types of challenges. This is something I hadn't realized until starting my co-op term and working with the Public City team for a couple weeks.
How is your Co-op experience influencing ideas for future studies and/or career goals?
I have always been very technically focused in all my design work in school; those technical aspects were my favorite parts of the work with Public City. This experience will definitely help me to push my current thesis on the technical side of things, to dive into the details, and to design with that constant desire to produce beautiful technical drawings. On the other hand, I've also developed a great workflow for producing schematic design work through 3D modelling and rendering. This has really taught me to think about framing views and working on specific stories instead of trying to convey every little detail in every piece of work that I produce. In a way, it's a little more about efficiency than nit-picky detailing.
Is there anything else you'd like to add?
Collaborating with other facilities and other students have always been my favorite projects while in school, and it was amazing to get the opportunity to work with the landscape architects and architects at Public City. It really helped to expose me to a different way of working together, and I was able to develop my confidence in myself to continually question things, to develop that inquiring mind.
_
Find out more about the Cooperative Education / Integrated Work program here.