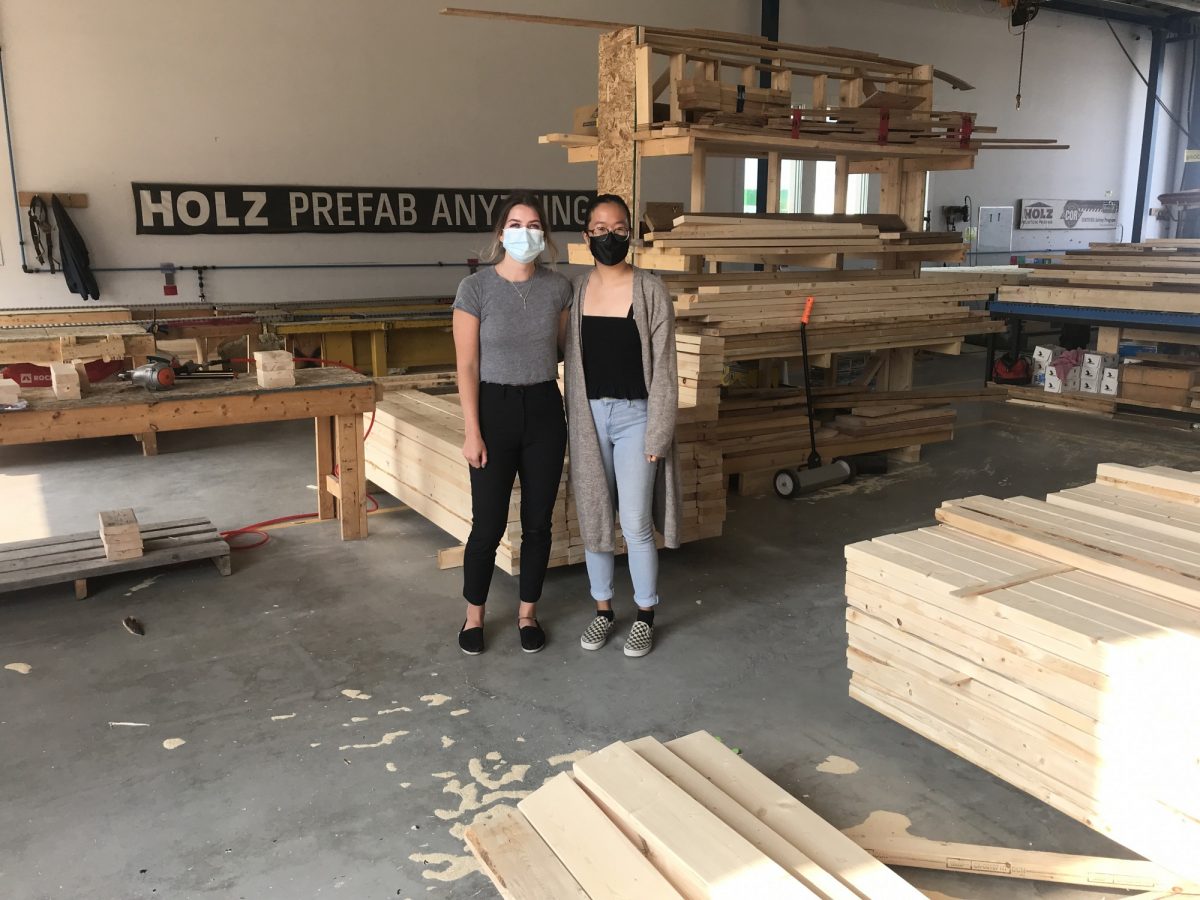 From School to Site and Workshop: Summer Co-op with Holz Construction
October 1, 2021 —
Transitioning from design school to design practice just got a whole lot easier for Cooperative Education students Brooke de Rocquigny and Carmen Huang.
During summer 2021, Brooke and Carmen benefited from Co-op work term placements with the Winnipeg-based construction company Holz Custom Prefab. Brooke, an Environmental Design – Architecture option student, and Carmen, a Master of Interior Design candidate, expanded their academic studies with hands-on opportunities in the Holz workshop, design offices and on-site with clients.
After a thrilling site visit this summer to tour Holz facilities with owner Ted Geddert, and to see Brooke and Carmen in action, we wanted to learn even more! Lisa Landrum, Associate Dean Research and Academic Liaison for the Co-op/I Program, caught up with Brooke and Carmen recently to ask about their experience.
Tell us what you did this summer.
Brooke: I was able to work on various residential projects at Holz this summer from drafting structural drawings to floor plans, elevations, and sections for a new home being built, and a few additions. Then making drawing sets for the engineer to review and eventually for the permit office to approve. I also worked on a lighting and ceiling plan for a local church in which we replaced existing lighting with new LED lights that will save the church hundreds of dollars a year. I was also able to do some graphic design work in design an advertisement for the Victoria Beach Herald for Holz Hutz. I could go on about the many other things I was able to work on but that would be a huge paragraph! I was able to have the opportunity to work on many amazing projects this summer.
Carmen: This summer we have had a wide range of assignments and projects. I worked on projects that will be constructed in the next year or so. With most projects being custom prefab homes, I had the opportunity and responsibility of communicating with clients via email and making sure their ideas and needs have been met. We have also been able to go on site visits of past projects and current ones to see them be built and photograph them for the website. From getting drawings packaged and ready for permits, to creating additions for cottages, to the Holz Hutz I was completely given the freedom to be able to create custom floor plans, residential reflected ceiling plans, and so much more.
What did you find most exciting?
Brooke: The most exciting thing about the experience was having the ability to help design some of the projects while also learning what makes good design and how thoughtful you need to be as a designer. Imagining how people are going to live in these spaces and how as designers we can make their daily life better with simple moves, like putting the laundry room next to the master bedroom. Such a design choice is often avoided; yet, in conversation, a previous client expressed how convenient it was. I also found it very inspiring working with so many talented people including Carmen! We were really able to bounce ideas off one another and work as a team.
Carmen: Since Holz is such a small but growing business, Brooke and I were able to be involved and lead a lot of big projects. I think compared to a bigger firm, this was a very exciting experience since we had the opportunity to be able to voice our opinions, without feeling invalid or just a student. I truly felt a part of the team, which was rewarding. Ted Geddert, our supervisor and Holz owner, really trusted Brooke and I. He gave us freedom and responsibilities that allowed us to generate creative work that has, in turn, created revenue for the company. I am so excited to see Holz grow!
What did you find most challenging?
Brooke: The thing I found most challenging at first was understanding the full construction of one of the projects I was working on. In the beginning, there were a couple of details that I had not seen before in school. I had trouble understanding the overall vision and how It would come together in the end. Yet, with multiple conversations with Ted, he was able to guide and explain the details and why the work was meant to be built that way.
Carmen: The biggest challenge for me was detailing. Understanding how walls are built and what it takes to make them efficient and protected from weather was difficult. None of my classes prepared me for the level of detailing I would take on, but I have acquired a lot more knowledge in understanding detailing than when I first started.
How is your Co-op experience influencing ideas for future studies and/or career goals?
Brooke: My Co-op experience will greatly influence my ideas for future studies as pre-fabrication greatly aligns with my interests in architecture that has a low environmental impact and improves the daily life of inhabitants. Pre-fabrication offers less construction waste and is more economical than traditional on-site construction. It also better maintains the quality of the material by being built in the shop, rather than being exposed to the elements. The opportunities in pre-fabrication are exciting as it challenges norms in construction and architecture. This experience will allow me to take what I have learned and further it in my future studies and career.
Carmen: My co-op experience helped me realize that I really enjoy working with clients and more specifically working on residential custom design. I think the experience of being so included in an office culture makes me want to work in a smaller scale company. I never considered prefab construction prior; but it has changed my perspective on building and construction. With regards to my studies, this experience has me considering my master's thesis this term and I think focusing on residential design. The relationship the company has built with all their clients through design has inspired me. I will strive for similar goals of creating quality homes.
Is there anything else you'd like to add?
Brooke: I highly recommend the Co-op program to students that are interested. I am so grateful for the opportunity to work with an amazing team, projects, and I have learned so much more than I thought would ever be possible. I look forward to taking what I have learned at Holz and including it in studio projects and other future endeavours!
Carmen: This Co-op/I opportunity has made me more confident in my design abilities and has allowed me to reflect on my future career goals and where I want to take them. I have always highly recommended Co-op/I to my classmates and peers and will continue to do so!
_
Find out more about the Cooperative Education / Integrated Work program here.