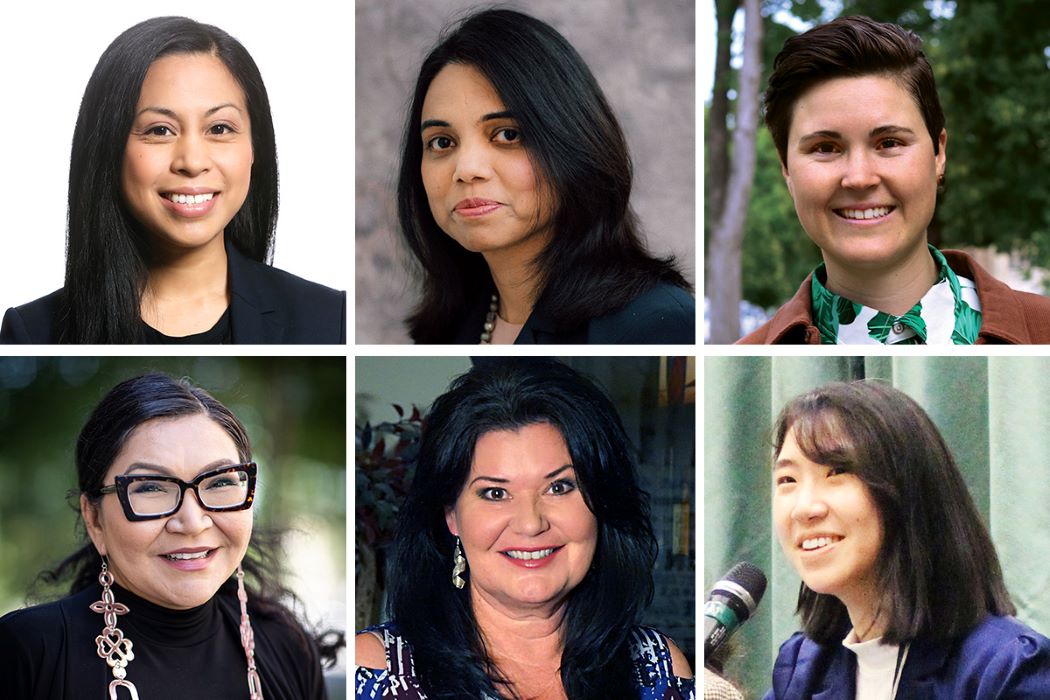 Embracing 'the beauty of diversity' on International Women's Day
March 8, 2023 —
Today is International Women's Day – a worldwide day dedicated to highlighting women's progress and taking action to drive gender equity.
"It's a day to celebrate women's achievements and the beauty of diversity," said Dr. Janilyn Arsenio, assistant professor of internal medicine and immunology.
"It's an opportunity to educate ourselves about what equity means, why it matters, and how we can each do our part to achieve it."
This year's global theme for International Women's Day is #EmbraceEquity. We asked several students and faculty members in the Rady Faculty of Health Sciences to reflect on this theme.
Yeyoung Won is a second-year medical student. Born in South Korea, she identifies as a queer immigrant Asian woman. She is an active member of the Max Rady College of Medicine's 2SLGBTQIA+ student interest group and student curriculum working group.
"Embracing equity means ensuring that the population of the Rady Faculty reflects the population we will serve as future health-care professionals," Won said. "This requires representation from all communities, not just to meet an equity, diversity and inclusion quota, but because it will improve our health-care system and the quality of care our patients receive.
"The incredible work being done by the student curriculum working groups and the recent EDI/Global Health Conference organized by the Manitoba Medical Students' Association show that we can have a positive impact even at this stage of our training. I'm excited to see my generation carry our passion for equity and diversity into our future careers."
Jess Crawford is a white settler, non-binary master's student in the College of Nursing. They are researching the experiences of Canadian nursing educators and students in teaching and learning about gender-affirming health care.
"Embracing equity within the Rady Faculty means equitable opportunities for people of all genders and diverse identities – for example, people who are racialized, fat, queer and/or disabled," Crawford said.
"Embracing equity calls upon the Rady Faculty to move beyond improving diversity within the formal curriculum by actively addressing and promoting equity within the informal and hidden curriculum – the structure and processes that shape experiences and decisions."
Dr. Devi Atukorallaya is an assistant professor of oral biology in the Dr. Gerald Niznick College of Dentistry and a researcher at the Children's Hospital Research Institute of Manitoba.
"We live in an era of global inequity challenges like poverty, climate change and access to basic human rights," said Atukorallaya, who was educated as a dentist in her home country of Sri Lanka. "Women are particularly susceptible to these challenges. It's very important to educate, empower and increase awareness about equal opportunities for women.
"In the Rady Faculty, this means equal and fair opportunities in research, teaching and administration, as well as a respectful learning and work environment. It means providing more leadership opportunities to women, including students and academic and support staff. Only when we respect and value the voices, concerns and ideas of women can we create a place that embraces equity."
Melanie MacKinnon is head of Ongomiizwin, the Indigenous Institute of Health and Healing in the Rady Faculty of Health Sciences. A nurse and health-care executive leader, she is a member of Misipawistik Cree Nation with paternal roots in Pimicikamak Cree Nation and Wabowden, Man.
"Embracing equity means embracing the often-uncomfortable truth of individual and collective histories, cultural constructs and structural issues that impact or impede fairness and justice," MacKinnon said.
"As contemporary health professionals, we have the power and influence to embrace those truths and to be and do better for all the communities we serve."
Dr. Janilyn Arsenio is an assistant professor of internal medicine and immunology in the Max Rady College of Medicine and Canada Research Chair in systems biology of chronic inflammation.
Arsenio, who is of Filipino heritage, is vice-chair of Women in Science: Development, Outreach and Mentoring (WISDOM), a Manitoba organization that works to address the under-representation of women in science.
"The theme 'embrace equity' celebrates individuality while recognizing and addressing fairness and inclusion," Arsenio said.
"I'm seeing increased awareness and enthusiasm by students, trainees and colleagues wanting to engage in conversations about gender equity and how to foster allyship. Meaningful, impactful conversations can lead to actionable ways to contribute to positive change."
Margaret Hart is the recently appointed Ininiw scholar in the College of Rehabilitation Sciences. She is from Pimicikamak Cree Nation, with kinship ties to Nisichawayasihk Cree Nation. She is pursuing her doctorate in the Faculty of Education.
"The Rady Faculty is embracing equity by creating a community that is fair, inclusive and supportive of all peoples," Hart said. "It is important to create a diverse workplace where all people can flourish and thrive.
"As an Ininiw Iskwew (Cree woman) working to rebuild the UM occupational therapy curriculum to incorporate Indigenous ways of knowing, being and doing, my main driver is changing the narrative. Working in a space that honours my voice, authenticity and wholeness is equity in action."
In recognition of International Women's Day, the Institute for Global Public Health in the Rady Faculty collaborated with its country partners to create a gallery of #EmbraceEquity photo messages.
In these messages, partners across the globe express how they #EmbraceEquity and what it means to them.