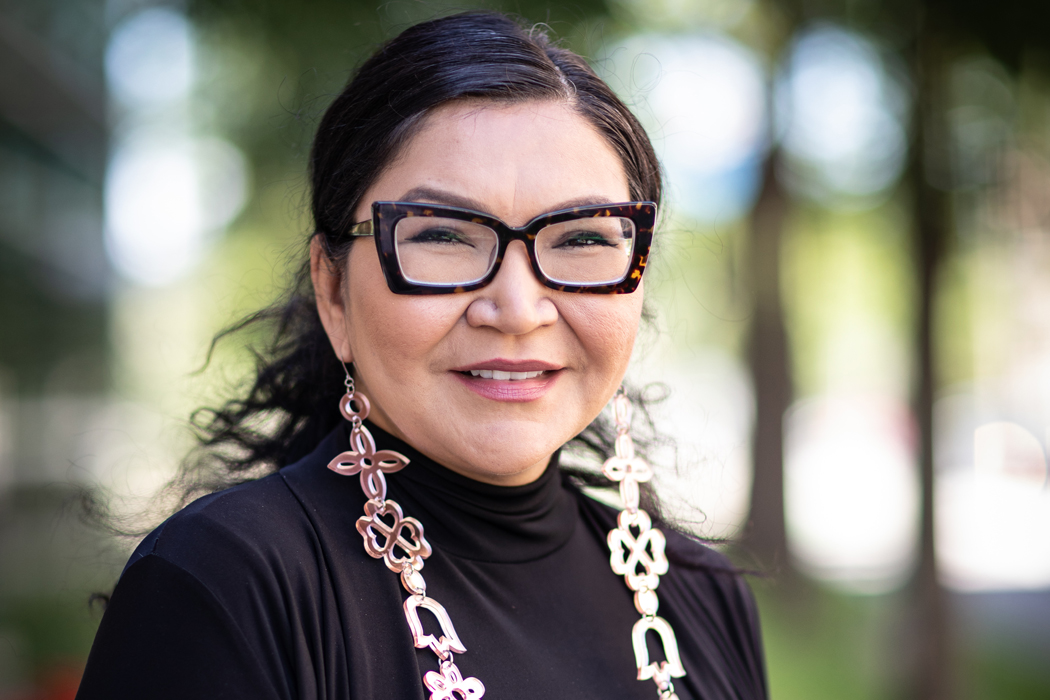 Ininiw scholar bringing Indigenous curriculum to occupational therapy
January 27, 2023 —
Since joining the College of Rehabilitation Sciences, Rady Faculty of Health Sciences in the role of Ininiw scholar, Margaret Hart has been working toward a complete rebuild of the occupational therapy program to incorporate Indigenous ways of knowing, being and doing.
In this emerging role, Hart said she is giving significance to a knowledge system called Ininimowin, originally from Pimicikamak Cree Nation – where she grew up – with kinship ties to Nisichawayasihk Cree Nation.
"Ininiw is a reclamation and revitalization of a peoples' worldview," she said.
A doctoral student in the Faculty of Education, Hart joined the occupational therapy department in January 2022. She said the college's goal is to have the Indigenous curriculum in place in 2024.
Occupational therapy department head Leanne Leclair said Hart's position as the college's first Indigenous scholar is a critical step on its path to Reconciliation.
"With a focus on decentering whiteness and decolonizing the curriculum, the Indigenous curriculum framework will be woven throughout the master of occupational therapy curriculum in a process of co-creation with the Indigenous community and occupational therapy faculty members," Leclair said.
"The goal is to have a broad and lasting impact on faculty, students and the Indigenous people that occupational therapists serve."
Hart comes with over 20 years teaching experience at various levels regionally, provincially and federally.
Prior to joining UM, she spent a decade involved in the development of the Manitoba First Nation School System. As a researcher, she worked with a multi-disciplinary team of educators to create a First Nations-led system that is culturally relevant for First Nation students.
"I've worked in Indigenous education at a classroom and executive level, providing me with the lived experience to understand the importance of curriculum transformation in academia," she said.
Hart worked directly with communities to draft recommendations for the First Nation school system. After the school system was launched in 2017, she served as a consultant, continuing to work relationally with communities to determine their individual needs.
This approach of working with and listening to those in different First Nations communities is a deep part of her outlook and plays a major role in how she is developing the occupational therapy curriculum.
She calls this "striving for mino-pimatisiwin" – citing an Indigenous philosophy that is based on what an individual or community is striving for to live a good life.
"Mino-pimatisiwin is a dynamic philosophy," Hart said. "The vision and mission of each community vary. At the end of the day, we are all striving for the same thing: self-determination."
She said academia in Canada is historically Euro-centric, making her work to dismantle curriculum structures to include First Nation philosophies in rehabilitation sciences "uncharted territory." Much of the work is modelled on the Truth and Reconciliation calls-to-action, as well as consultations with community.
Hart is collaborating with an advisory committee that includes Elder Margaret Lavallee, Chantel Daniels and Debra Beach-Ducharme from Ongomiizwin – Indigenous Institute of Health and Healing, Cree political advocate Ovide Mercredi, and Crystal Ross, a community representative from Pimicikamak. Representing the occupational therapy department are Leclair and faculty members Lisa Diamond-Burchuk and Leslie Johnson.
She also visits First Nation communities regularly to seek feedback from community members, including health directors and executive leadership.
"You really need that discourse and dialogue, so we are not perpetuating erasure. We're breaking new ground and I want to do this in an authentic way," Hart said.
"The goal is to reclaim Indigenous ontologies, working to provide holistic, plant-based, culturally grounded solutions for Indigenous people when it comes to Indigenous health and well-being."