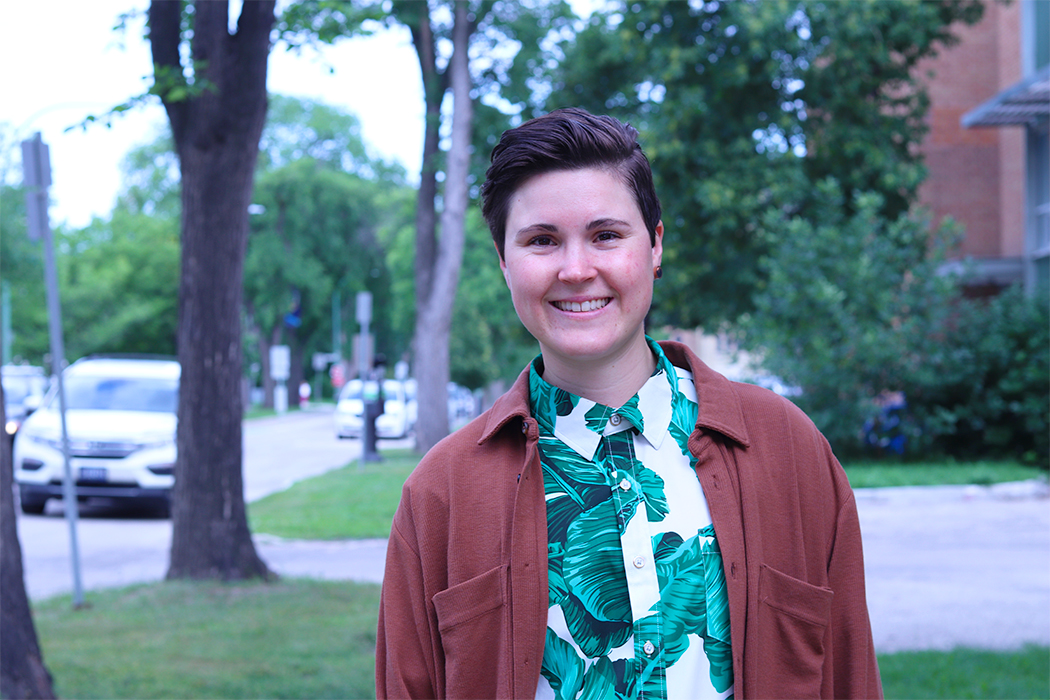 MN student researches trans health education, teaching: 'Gender-affirming care is beneficial for everyone'
August 19, 2022 —
The year Jess Crawford graduated from their bachelor's of nursing, gender identity and expression was added as protected from discrimination under the Canadian Charter of Rights and Freedoms. However, during their entire bachelor of nursing degree, students only had one hour of discussion about trans health and gender identity.
"A white, transgender woman came in and spoke to our class. It was awesome to hear her lived experience, but there was no other education around trans health," they say. "She was framed as an expert on the topic, but we know that intersectionality impacts people differently. We can still include and amplify lived experiences in the classroom, but there needs to be a lot more information on trans people massaged throughout the curriculum."
Now a master's student at the College of Nursing in the Rady Faculty of Health Sciences, they are researching the experiences of nursing educators and nursing students learning and teaching trans health. They will use data from nursing programs in Manitoba to better understand what nursing students know about trans health and how educators approach the topic.
While working as a community care and mental health nurse in a rural Northwestern Ontario high school, they came out as trans non-binary. Even as a nurse, Jess struggled to navigate the health-care system both for themselves and for the 2SLGBTQIA+ youth they were serving. They are hoping their master's thesis research will lead to more comprehensive education around intersectional gender -affirming care and trans health in health-care programs.
"I didn't have the language to describe how I am, my identity, and so how are other people supposed to know?" they say. "I'm just one trans, white settler nurse trying to learn as much as I can to amplify trans people's voices so that care can be way better for us and so we can walk into health-care places feeling safe."
They point out that gender-affirming care is beneficial for everyone, not just trans patients.
"There are cisgender women who are more masculine. There are women without uteruses or breasts. There are cis-men with low testosterone. Intersex people are as common as people with red hair. The idea of gender-affirming care is dropping assumptions about people, accepting those who deviate from the norms," they say,
Not only does Jess believe that gender affirming care should be accessible to every patient, but they point out how the health-care system currently pathologizes transness, and how that is harmful. Most jurisdictions require a diagnosis of gender dysphoria (meaning distress due to one's biological sex not aligning with their gender identity) in order for people to medically and surgically transition, and in some instances, to change their sex designation on their ID
"When we categorize gender dysphoria as a disorder in the diagnostic and statistical manual (DSM) and require a diagnosis of gender dysphoria to get access to services, we are saying that there has to be something wrong about somebody's body to access gender-affirming care. Not all trans people experience dysphoria. Some people might feel okay in their body as it is, but they might know that they will feel more themselves if they had access to this care," they say. "I'd like to see the discussion shift towards gender euphoria instead."
On top of their academic work, Jess is developing an education module of 2SLGBTQ+ resources for Nurses Specialized in Wound, Ostomy, and Continence Canada including information from Klinic, Trans Care BC, Fenway Health and Rainbow Health Ontario.