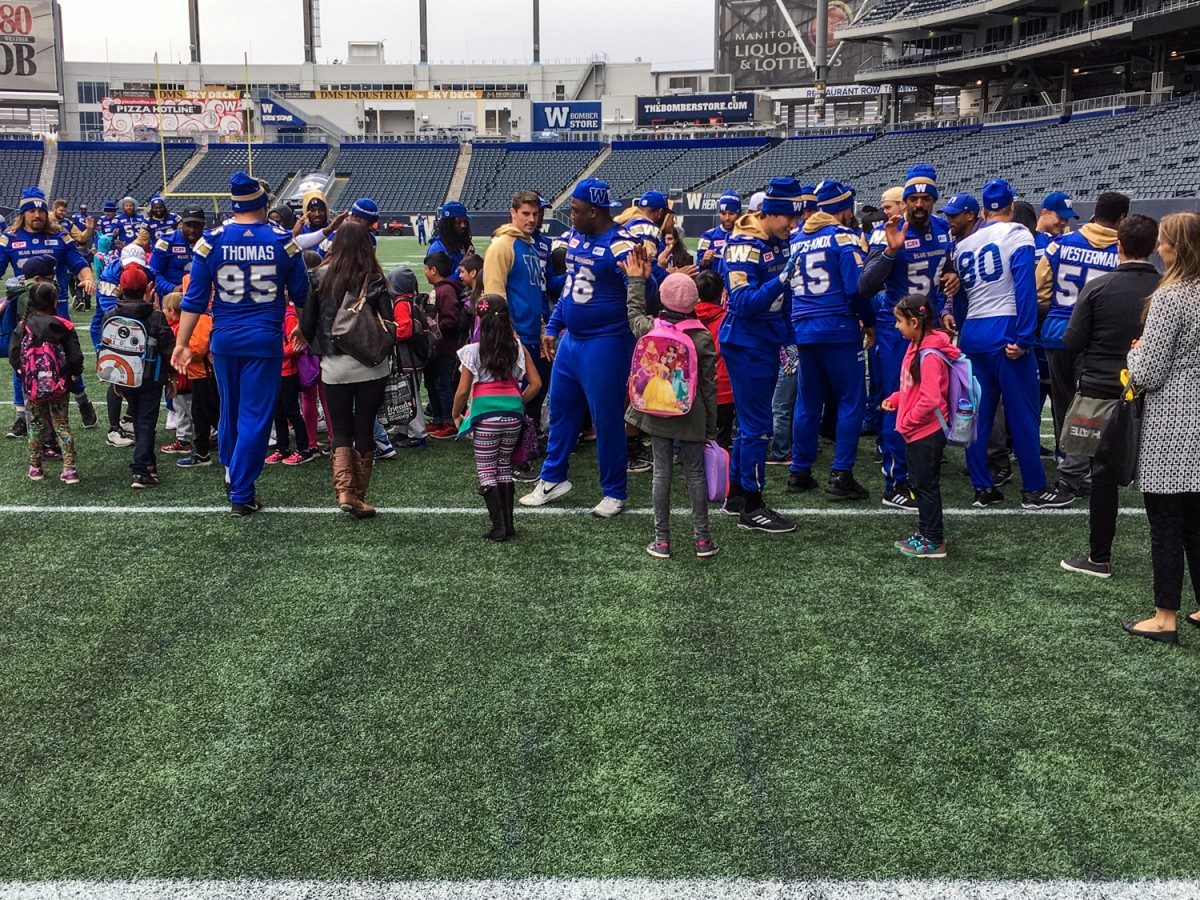 Elementary school students get taste of university
October 26, 2017 —
From meeting the Blue Bombers on the stadium field, to learning about a lighting project for growing vegetables and fruits in the North at the Engineering Building, and touring the geology exhibits at Ed Leith Cretaceous Menagerie, some 120 wide-eyed elementary school students got a taste of university student life this fall.
The visit was part of a five-year partnership-schools agreement between Seven Oaks School Division and the Faculty of Education. Associate Professor Wayne Serebrin, a leading faculty in the program, says the experience was aimed at the children seeing themselves as potential university students.
"They were absolutely amazed … seeing different aspects of the campus, but really it was about planting the seed of an idea that this could be a future school for you," Serebrin says.
Under the collaborative schools program, teacher candidates spend two weeks in the faculty, six weeks in a Seven Oaks School, and then one week back on campus. During the six weeks in school, faculty are teaching their courses in the school.
"Everybody is the learner in this setting—teachers in the school, administration in the school, faculty members, teacher candidates, children—are all in there learning together," says Serebrin, who notes that the intent of the program is to bridge teaching theory and practice in both university and school settings.
For teacher candidates, that means that part of the course is spent in an onsite-school classroom with faculty, but moreover, they spend a substantial part of the course in a classroom, collaborating with children and teachers.
"This program, unlike practicum, really tries to foreground the relationships between the teaching philosophy and your image of who children are and how they learn," Serebrin says.
Informally, Serebrin has been instructing teacher candidates in Manitoba schools since the mid-1990s, with other professors participating over the years, including professors Charlotte Enns, Barbara McMillan, Francine Morin, Thomas Falkenberg, Jon Young, Gary Babiuk, and Clea Schmidt, among others.
Then three years ago, the Faculty of Education signed a formal partnership agreement with Seven Oaks School Division as a part of a new BEd program.
"We were doing it all those years because we felt it was good pedagogy. And now it's an established part of the Early Years program," Serebrin says, adding that current research supports the program's residency-model approach to educating teachers.
This semester, instructors Neil Dempsey and Betty Klassen are teaching a course called Pedagogy for Sustainable Well-Being: Science, Mathematics and Social Studies at Amber Trails School and R. F. Morrison, respectively, and Serebrin and Assistant Professor Melanie Janzen are delivering the course Pedagogies in Multiple Literacies: Children as Meaning-Makers at Ecole James Nesbitt and Ecole Riverbend community school, respectively.
Serebrin says that the on-site courses offer an opportunity for professors to build stronger relationships between teacher, teacher candidates and students.
"We're theorizing together, we're researching together, we are practising together," Serebrin says.  "We are all in this together as teachers and learners with different strengths and experiences we can offer one another. I am as vulnerable as my students are because I go in and co-teach with teachers, and they say this is such a good experience in collaboration."