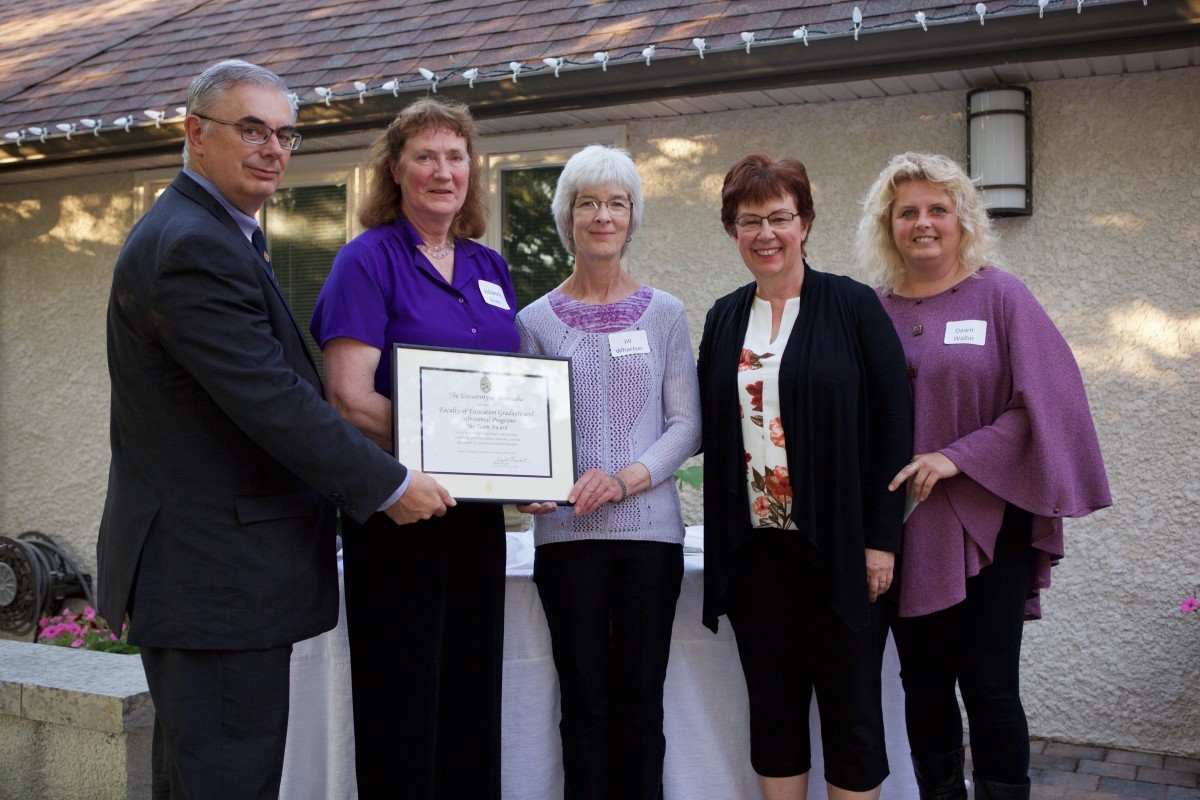 Education support staff honoured for 'going above and beyond expectations'
Four employees from graduate department won the Team Award category in this year's Awards of Excellence
July 10, 2015 —
Four support staff in the Faculty of Education were honoured recently in the Team Award category during the Awards of Excellence.
These awards celebrate outstanding work done by members of the university's support staff.
The awards, which are in their ninth year, were handed out on the evening of June 25 to individual and team winners. The Faculty of Education team (affectionately known as the "dream team") included Julianna Enns, assistant to the associate dean (Research, Graduate and PBDE Programs) Louise Graham, coordinator of student services (Graduate and PBDE Programs), Trish Graham, student services assistant (Graduate and Post-Baccalaureate Diploma in Education), and Jill Wharton, student services assistant (Graduate and PBDE).
The team was nominated by Dawn Wallin, associate dean of graduate programs for the Faculty of Education, because of their focus on going "above and beyond expectations," among other positive attributes.
In her nomination letter, Wallin said the women in the group often stay late to finish projects, present "the utmost sense of professionalism when working with others," and were adaptable to new ideas and policy changes when Wallin came into the role.
The team was often called upon to deal with challenges and conflicts that come with working with 1,000 post-baccalaureate students, 400 Masters students and 60 PhD students. The team has a strong sense of respect and understanding of diversity, said Wallin.
On a personal level, the associate dean said she appreciated the team's warmth.
"I walk into work every day knowing that I will receive smiles of welcome, and that although our work by its nature comes with challenges along the way, I have the privilege of working with a team that supports each other, and our faculty, in ways of which we can be very proud."
See their team description below:
The Dream Team: Graduate and Professional Programs
The team is called the Dream Team for a reason. The team is extremely service focused, and makes a point of exceeding the expectations that have been placed on them. This goes as far as hand delivering important documents to various faculties and departments, truly going above and beyond expectations. They have created an environment built on mutual respect and collaboration, to the point that it can be hard to tell by looking who the "boss" actually is. This respect also carries to those they have helped and supported over the years, in fact they have even earned formal recognition from doctoral students in the acknowledgement section of their dissertations. Their attitudes toward change and adversity should be modeled across the University campus. As they go navigate through the ever-growing changes and room displacements their attitude remains positive as they look for the best in every situation.
To be eligible in the Team Award category, a team or working group must have between three and 20 people and at least half the team must be support staff. Other criteria include working collaboratively and "encouraging participation and openness while sharing ideas, responsibilities, skills, resources and credit" and promoting a "positive work environment."