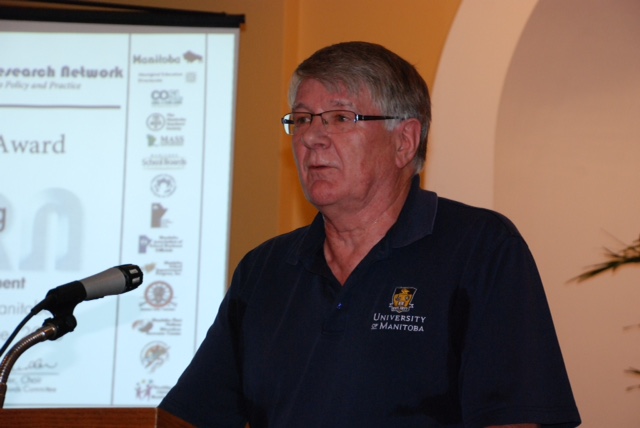 Education professor celebrated for Manitoba-based research in education
Recipient of MERN 2015 Research Achievement Award
July 13, 2015 —
Education professor Jon Young has recently been honoured for his extensive work in education research in the province.
Young, who is also the faculty's acting head of Educational Administration, Foundations & Psychology, was named the recipient of the MERN 2015 Research Achievement Award by the Manitoba Education Research Network at a recent banquet.
The award is given annually to "recognize innovative, excellent, effective and participatory Manitoba-based education research."
"It was a humbling and pleasant experience. I was honoured and happy to receive it," says Young.
He has been the editor of The MERN Monograph Series–a series of 80-page monographs on a variety of Manitoba education research topics–for the past five years.
Six of the monographs have already been released, on topics as varied as initiatives to identify and develop the talents of at-risk students in the province to a study of arts education in Manitoba schools.
Two more monographs are currently in the works, which once published will complete series 1, says Young. He will step down as editor once the new series begins, he says.
In his speech at the award ceremony, Ken Klassen, executive director of the Manitoba Association of School Superintendents, said Young has been an inspiration to many in the Manitoba educational community.
"Dr. Young's leadership in research has resulted in the publication of six English and French issues in The MERN Monograph Series. His efforts represent an outstanding contribution to the field of education research in our province."
One of Young's areas of research interest is the importance of school boards to public education along with the governance of initial teacher education.
Additionally, Young has written several books, including Understanding Canadian Schools: An Introduction to Educational Administration and Breaking the Mosaic: Ethnic Identities and Canadian Schooling. He is also the editor of the Canadian Journal of Education Administration and Policy.
Current Research
He's now working on "career paths research" with several colleagues in the educational administration area.
"We've got a large data set from Manitoba Education on year-by-year career information and academic background on the 2001, 2006 and 20011 cohorts of Manitoba graduates out of all of the faculties of education [U of M, University of Winnipeg and Brandon University]," says Young.
"We can do a whole bunch of analysis—we are just starting," says Young. He says the group will examine retention rates, attrition rates, where people teach, whether they teach in the areas they are prepared for, etc.
Generally, they will examine what a 10-year career path looks like for teachers in Manitoba.
The project is "fairly new" in terms of a collaborative effort with Manitoba Education and Advanced Learning, adds Young. The group hopes to have an initial report out by early fall which will hopefully lead to more research on the data and potentially some SSHRC (Social Sciences and Humanities Research Council) grants which could help compare the data to that of other provinces.
Another area they might look at examining at a later date is people who have left the teaching fields. "We have data on people not in the system [anymore] but we don't have data on why they dropped out, whether they're coming back, what they are doing, etc."
Klassen said Young has been "more than a teacher, he became a mentor and a model to aspire to."
Research at the University of Manitoba is partially supported by funding from the Government of Canada Research Support Fund.