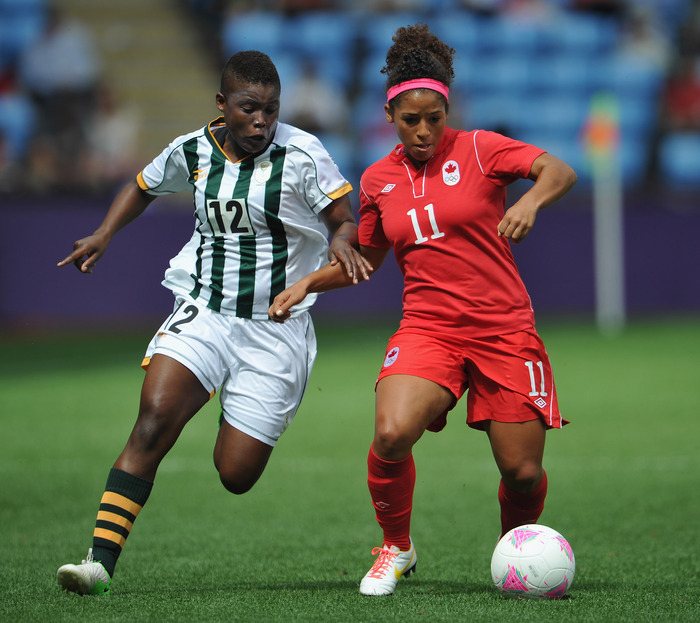 Desiree Scott returns for international friendly with Canadian squad
Canada hosts Costa Rica at Investors Group Field on June 8
May 9, 2017 —
The University of Manitoba welcomes Canada Soccer's women's national team back to campus when they face Costa Rica in the first of a two-match friendly series.
The last time Canada played in Winnipeg was in a friendly against USA in 2014 just ahead of the 2015 FIFA Women's World Cup event. Over 28,000 soccer fans attended the friendly match.
Leading the two-time Olympic bronze medal squad is U of M alumna Desiree "The Destroyer" Scott. Scott was recently honoured as the recipient of the Outstanding Young Alumni at the Distinguished Alumni Awards Evening of Excellence for her achievements on the field and dedication to her community off the field.
Now a veteran, Scott and team superstar captain, Christine Sinclair look to boost Team Canada and continue the climb up the FIFA world rankings where they currently sit in the number five spot.
Canada Soccer is offering the U of M community the opportunity to come and cheer on their own with a great offer. Regular tickets start at $25 will be available to the University for 30% off tickets using promo code BISON by clicking here.
Canada vs. Costa Rica, June 8 at 7:30 p.m.