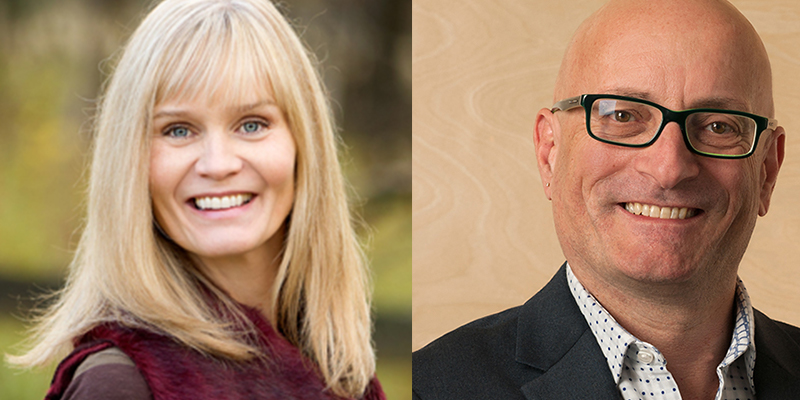 Dedication to students, passion for sharing knowledge drives law faculty instructors
2019 Barney Sneiderman, Dean's Award for teaching announced
June 14, 2019 —
The Barney Sneiderman Award for Teaching Excellence
To win a teaching award named for someone who taught you, makes receiving the award even more meaningful. Professor Jennifer Schulz [LL.B./94], who was named this year's recipient of the Barney Sneiderman Award for Teaching Excellence at the Faculty of Law's 2019 Grad Dinner, is, like her former professor, a dedicated and passionate teacher.
She is known for teaching in a student-centred, engaged way, and as Dean Jonathan Black-Branch noted when presenting Schulz with the award, "employs active learning strategies, respects diverse ways of learning, communicates her objectives and high expectations, teaches and evaluates based upon those objectives, and provides prompt feedback."
In reaction to receiving the award, Dr. Schulz focused on her students, saying, "Barney Sneiderman was my professor and it is an honour to win an award that bears his name. Winning 'The Barney' is especially great because it acknowledges one of the most fun aspects of my career: teaching and interacting with my Torts, ADR and Law & Popular Culture Students. A big thank you to all the students who nominated me!"
The Barney Sneiderman Award was named in memory of the much-loved Robson Hall professor who taught from 1969 to 2006, and was a devoted educator both in the classroom and beyond. His family and friends thought it fitting to start a fund to honour one faculty member annually who demonstrates excellence in teaching.
---

Dean's Award for Excellence in Teaching
The Dean's Award is presented each year to a practicing professional who has taught at Robson Hall and made great contributions through commitment beyond the call of duty to the student experience. A graduate of Robson Hall, Greg Evans [LL.B./97], has taught the Clinical Family law class for the past 13 years, and brings to the classroom more than 20 years' experience of an exclusively family law practice.
According to Dr. Jonathan Black-Branch, Dean of Law who presented the award, Evans "has developed innovative teaching methods and materials to teach clinical skills and knowledge; and has contributed in a very meaningful way to student development outside the classroom."
"Practising family law," Evans said, "requires a broader skill set than some areas of law as you are constantly dealing with the human dynamic. Navigating the interplay between the social, emotional and psychological effects of the breakdown of a family relationship with the laws that impact upon these families is a constant challenge and it has been exciting to see students embracing this challenge in a way that is focused on the needs of the family. I believe students are in a better position now than ever to understand that we are not just dealing with clients, we are dealing with the needs of a family."
The founder of Evans Family Law Corporation in Winnipeg's West End, Evans has been in a position to give back to the Robson Hall community in a major way: "I have thoroughly enjoyed working with the students," he said, "and, in fact, have hired three of the students I have taught, to work in my firm. This is a positive comment on the strength of the Robson Hall students as half of my lawyers were students in my clinical family course."