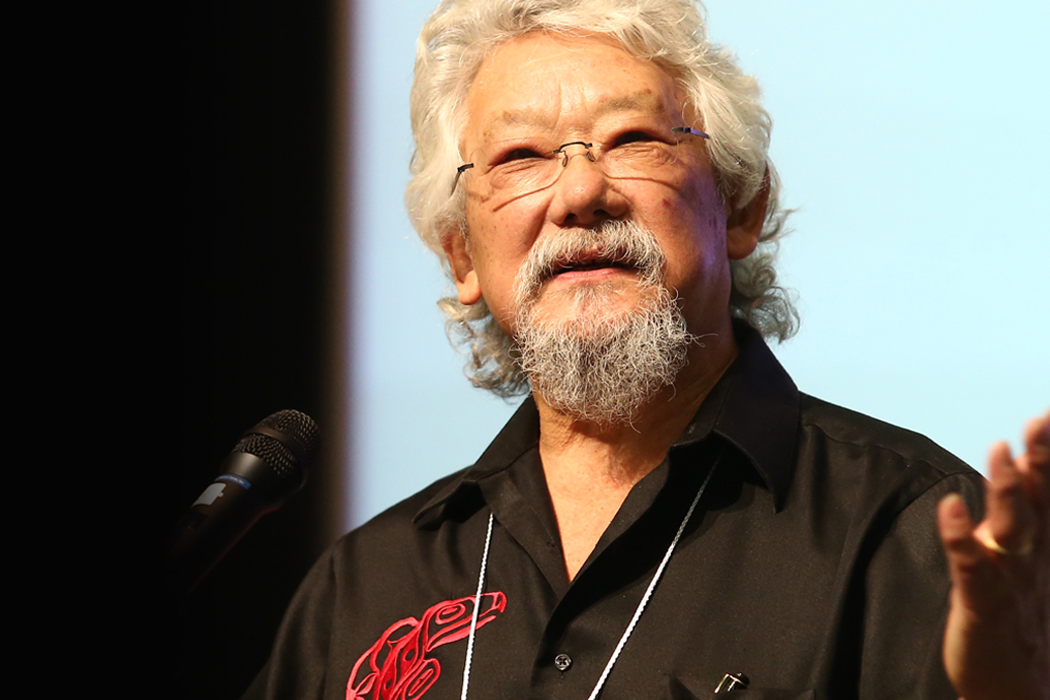 David Suzuki to visit U of M
Renowned environmentalist discusses Indigenous environmental stewardship and Treaty rights
October 23, 2014 —
On Friday, October 24 David Suzuki returns to the University of Manitoba as part of his Blue Dot Tour. This will be Suzuki's last national tour in what has been an inspiring and prolific career.
The renowned Canadian scientist and environmental activist will take part in a panel discussion on Indigenous environmental stewardship and treaty rights.
"This is something I feel very passionate about. It has been the Indigenous sense of rootedness to place that has been a critical lesson for me in my life," explained Suzuki. "When people have a long standing connection to the land, air and water around them, the world becomes so much more than just resources. They become a deep part of self. Indigenous people have known this for millennia – that everything on this small blue planet is interconnected and interdependent. If we are to truly make the shift that's necessary in order to recognize everyone's right to live in a healthy environment, we must bring this Indigenous world view into focus for all Canadians."
For Suzuki, the Indigenous world view is what will lead to better stewardship. "Recognition of these rights and a broader understanding amongst all Canadians of how we can live in better balance with the world around us will lead to healthy communities for everyone."
This is not Suzuki's first visit to the U of M. One of his earliest visits to campus was in 1972 when the environmentalist spoke to a large group of students.
Suzuki recognizes the important role that universities play in creating a sustainable environment.
"You cannot claim credibility on sustainability issues unless you are taking steps on sustainability yourself first," said Suzuki. "Universities are perfect places to put in place strong sustainability plans."
Suzuki believes that by taking a lead in creating sustainability plans, universities can serve as an example for the rest of society. "This type of serious investment is a model, not just for other institutions or governments, but a model for students as well."
Taking the next steps is the difficult part; the Blue Dot Tour places a major emphasis on taking action. "We need to come together and join in this movement that has been building across the country. What we've been seeing on the Blue Dot Tour is a hunger for grassroots change. Change doesn't happen from the top down, it happens because ordinary people come together to take extraordinary action. It is my hope that this tour is just the beginning. The more people who unite behind the idea that every Canadian has the right to live in a healthy environment, the faster we can bring about the change we need to see, but it starts with individuals standing up and joining in."
David Suzuki's visit on October 24
Sacred Pipe and Water Ceremonies and Blanket Ceremony
9:00am to 10:15am
Sharing Dialogue on Treaties
10:30am to 11:30am
Panel Discussion: Indigenous Environmental Stewardship and Treaty Rights in the 21st Century – A Manitoba Perspective
1:00pm to 2:30pm, doors open at 12:30pm
Please Note: These are free events and attendance is open to the University of Manitoba community. All events have rush seating available on a first come, first seated basis. All events take place in The Great Hall, University College.

For more information on these events visit umanitoba.ca/indigenous.