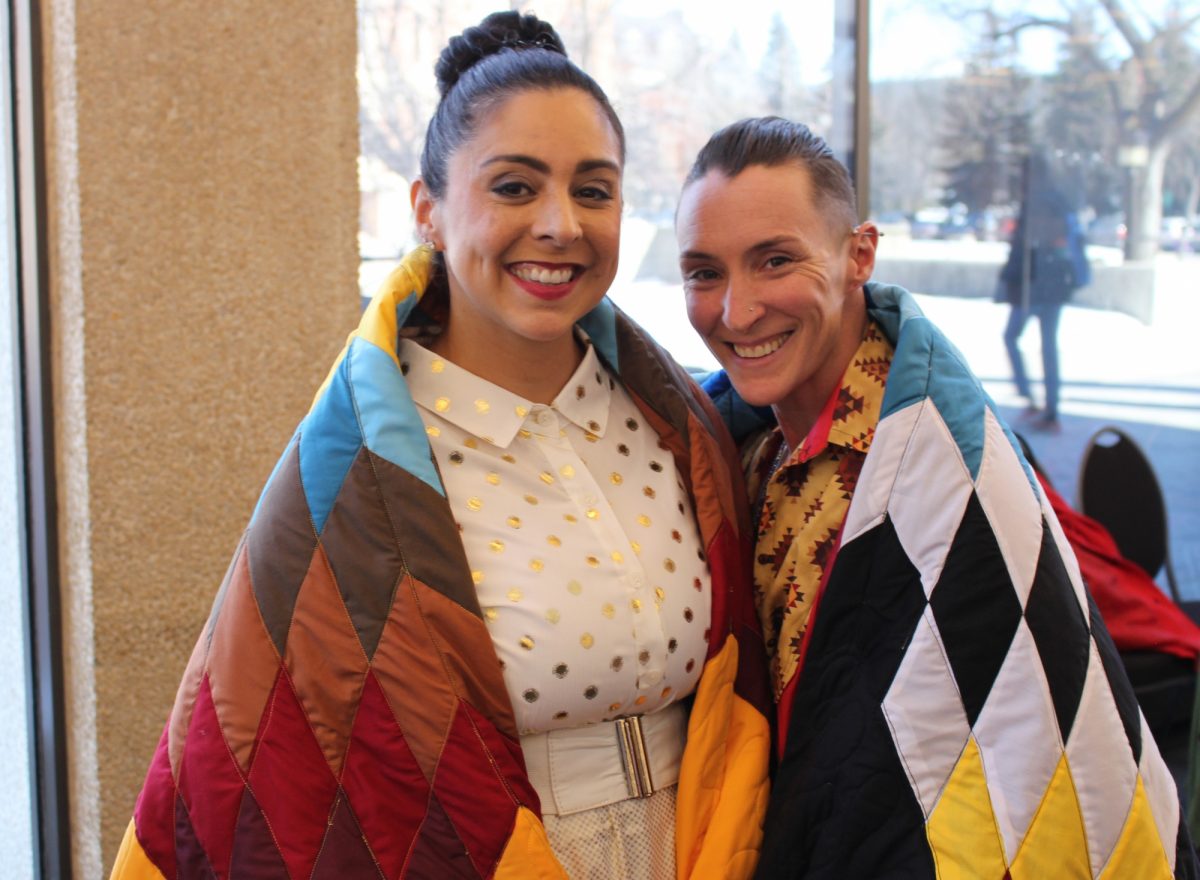 Couple shares honour at Indigenous awards ceremony
March 17, 2020 —
For two recipients of this year's Indigenous Awards of Excellence, the award had an added significance, as they were able to share their achievement with their spouse.
PhD student Amanda Fowler-Woods and Community Health Sciences associate professor Dr. Melinda Fowler-Woods were both recipients in student and faculty categories respectively.
"It means so much to me that I'm sharing this day with my wife and receiving an award like this on the same day as her," said Melinda Fowler-Woods, director of Ongomiizwin – Education in the Rady Faculty of Health Sciences. "This is very symbolic of what we've done and what we've built in this particular community. We lead our lives with ceremony and culture and will continue to do so. It's about our children that we have, our 13-year old and our two-year-old, and we want to carry it forward for them."
She received the faculty award in the Trailblazer category for a body of work that includes clinical practice, education and advocacy.
"Dr. Fowler-Woods is a mentor to Indigenous students as they develop into future health care professionals and she is a true advocate for their well-being and safety while in their programs," said Kimberly Hart, senior lead, Indigenous health student affairs, Ongomiizwin – Education, who presented the couple with their individual awards.
Hart noted several of the professor's innovative achievements, including the introduction of a medical school entrance interview workshop for Indigenous applicants at the University of Manitoba and the mentorship event Pimose ta, Let's Walk Together, which the couple worked on together.
"Acknowledging that traditional medicine and western medicine work hand-in-hand, Melinda's vision for this event was to support Rady Faculty of Health Sciences students with an opportunity to reflect and to consider ways to incorporate culture and ceremony into practice as health professionals," Hart said.
Hart also praised Amanda Fowler-Woods for her commitment to Indigenous health, including her assistance in the creation of the Prairie Indigenous Knowledge Exchange Network (PIKE-Net), for which she volunteered as a mentor.
"Amanda's experience and passion in the area of research with and for Indigenous communities epitomizes her as an excellent mentor for up and coming Indigenous health researchers," Hart said.
Both women felt honoured to receive awards that their mentors had received in the past.
"When I learned that I would receive this award, it felt surreal," Amanda Fowler-Woods said. "It inspires me to keep going. As an Indigenous student and researcher, I'm always pulled in multiple directions, but this gives me inspiration to keep going and know that I'm inspiring others."
The couple were two of 10 winners at the March 9 ceremony, all of whom were presented with star blankets, a traditional gift of honour. For the first time since the awards began four years ago, the student awards also came with co-curricular record recognition and a cash prize of $250 from Financial Aid and Awards.
Other recipients
Among the other Rady Faculty recipients were Debra Beach Ducharme, director of Indigenous health integration for Ongomiizwin – Education, who received a staff award in the Community Builder category, and fourth-year College of Nursing student River Steele.
Beach Ducharme works alongside Elders and Indigenous communities and experts to provide supports for students as they transition from the U of M community into health sciences programs in the Rady Faculty. She works closely with nursing programs and conducts sharing circles for over 200 nursing students each year. She thanked her ancestors and children for their inspiration and motivation.
"It was strong women that helped shape the future of our family. Their strength and wisdom and hard work brought our family to where we are today," she said.
She also thanked the College of Nursing for nominating her. "I really do believe the university is breaking down barriers and really making connections with our community," she said.
Steele, who won the Student Trailblazer award, played an important role in the organization of Orange Shirt Day – Every Child Matters, and last year donated a display of traditional Indigenous medicines to the College of Nursing.
"When I learned I was receiving this award, it was overwhelming, honestly," Steele said. "At first I was kind of saddened, just because there are certain people I lost in my life recently and they were the reason that I do a lot of the things that I do. That really emphasized the responsibility that comes with receiving the blanket."