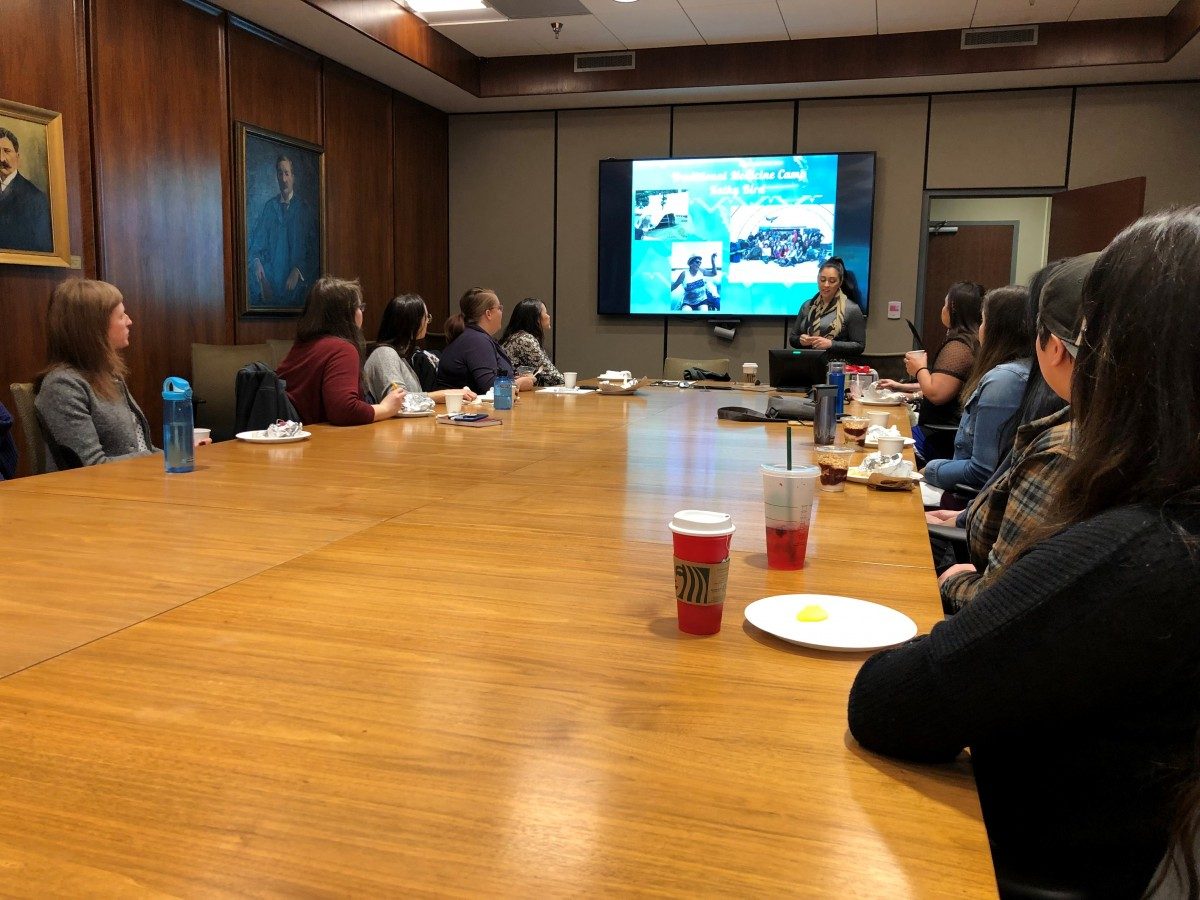 Connecting with Indigenous culture
April 3, 2019 —
Amanda Fowler-Woods stood at the head of a boardroom table and shared how she incorporates Indigenous culture in her life and her land-based learning journey.
The PhD student in the department of community health sciences, Max Rady College of Medicine, was one of five presenters who took part in the second session of the Pimose ta, Let's Walk Together interprofessional mentorship days on March 29.
Students from the Rady Faculty of Health Sciences were invited to the inaugural two-part initiative to make connections, build relationships and begin mentorship opportunities while learning about traditional teachings and Indigenous health. The sessions were organized by Dr. Melinda Fowler and the team at Ongomiizwin Education, which is part of Ongomiizwin Indigenous Institute of Health and Healing.
The first part took place March 9 at the Sandy-Saulteaux Spiritual Centre in Beausejour. The full-day conference was led by Elder Margaret Lavallee and Knowledge Keeper Dr. Marlyn Cook. It began with a pipe ceremony and included a teaching lodge, sweat lodge, sharing circle and feast.
The second session was scheduled over a half day on the Bannatyne campus, where along with Fowler-Woods, Dr. Lisa Monkman, Dr. Mandy Buss, medical student Fiona Vickers and master's student Nicki Ferland spoke about how Indigenous culture plays a part in their lives.
Fowler-Woods said that she hoped people were inspired by her presentation to find the time for Indigenous culture in their lives.
"We are busy, but this connection to culture and land is going to help us, and it's so important to find space for that in any way possible," Fowler-Woods said. "It could mean doing it on the weekends, evenings or on a summer vacation. I just wanted people to hear the message that even if you don't think you have time for it, there is time to find that space, and it will be worth it in the end."
Dr. Melinda Fowler, who is director of Ongomiizwin Education and holds joint appointments with the departments of community health sciences and family medicine, developed the idea for the sessions based on her experience in medical school. When Fowler was training in medicine at McMaster University, away from her family, she found a community within the Aboriginal Students Health Sciences Office and wanted to create a similar experience for students in the Rady Faculty of Health Sciences.
"It has always been on my mind since I graduated to be a mentor and to create safe spaces for younger learners that are coming to academic centres in order for them to have a family and a space to actually feel comfortable and be who they want to be," she said. "It's truly about walking together because that's what mentorship is about."
Like the session presenters, Fowler-Woods said that many younger Indigenous people are starting to connect with their culture.
"That makes a lot of sense for people whose parents and grandparents were told not to have their culture and it was taken away," she said. "So it does make sense that these are the generations that are starting to reconnect, and we have to learn how to reconnect because it's going to be different than it was in the past."