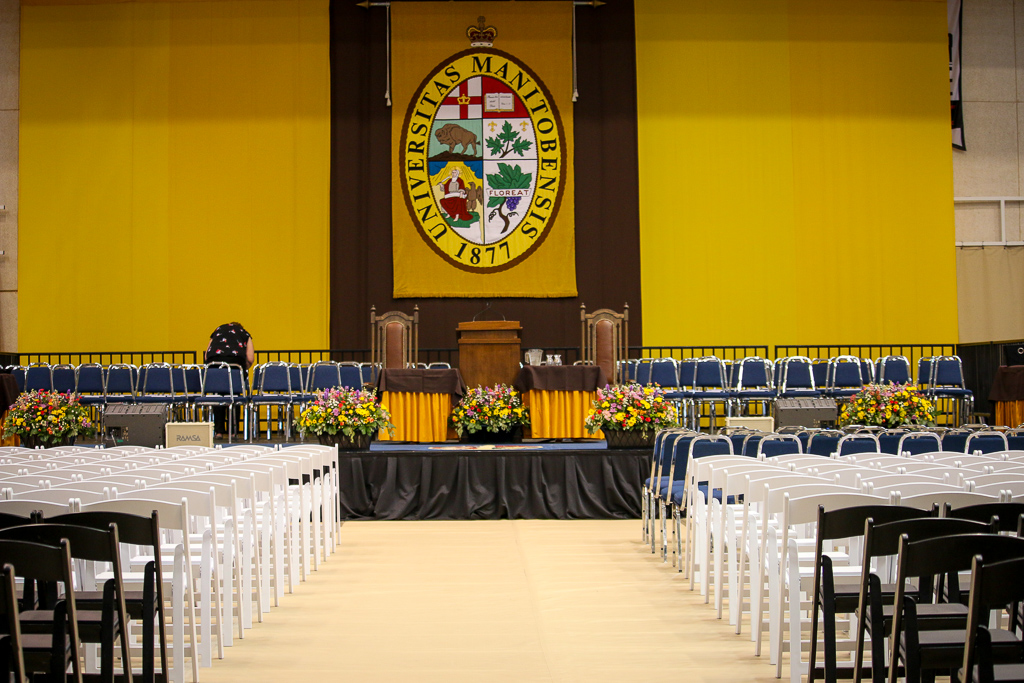 Convocation 2020 – Advocating for racial justice
June 26, 2020 —
Meet some of the incredible members of the University of Manitoba's class of 2020.
These students are advocates in the fight for racial justice. They will graduate during UM Virtual Convocation on June 29.
Sandy Deng – Bachelor of Social Work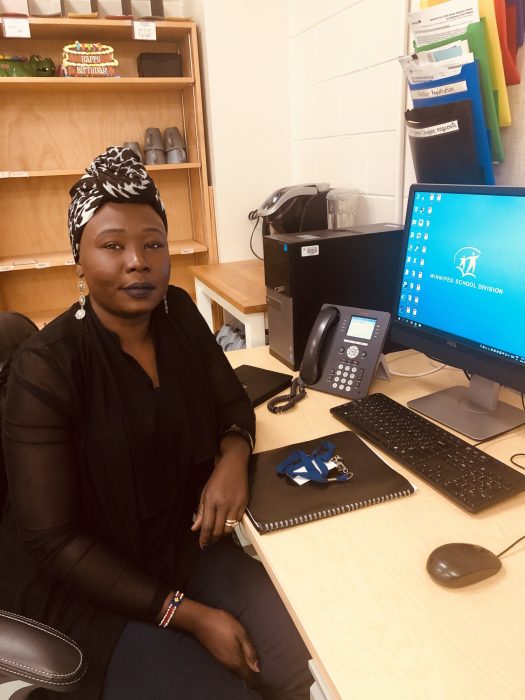 When Sandy Deng came to Canada from Sudan as a government sponsored refugee and as a young mother, she had only one goal in mind: to get postsecondary education, something her parents had impressed on her as a path to a better life.
But after being accepted into UM in 2001, with the demands of motherhood and making ends meet, Deng had to pause her dream and go to work full time as a single parent raising four children on a sole income. Yet she persisted, and after receiving both financial and personal support — especially from her parents — she was able to return to UM, even making it onto the Dean's Honour List in her first year of social work, after being away from school for more than 10 years.
Deng's passion for social work is particularly in the area of social justice and change. She explains: "I have a voice that I am not afraid to use to advocate for those who are on the margins of our society — those who have no voice."
Indeed, Deng displayed her passion when she spoke at the #Justice4BlackLivesWinnipeg rally a few weeks ago.
Now graduating from the UM Inner City Social Work program, Deng works for the Winnipeg School Division as an intercultural support worker, assisting newcomer families and their children. As for the future, she says: "I hope to be a school social worker, then get my Masters and doctorate to become a professor. There is a need for black female scholars in academia, especially in Canada."
Her advice for students is straightforward: "Be persistent and don't give up. Being in school is hard but keep on trying and have that goal in mind when facing obstacles. Imagine how proud you will be when you finish and get that degree."
Elsa Kaka – Faculty of Law, Juris Doctor
Born in Cairo, Egypt to South Sudanese refugees, Elsa Kaka grew up in Winnipeg, inspired towards a life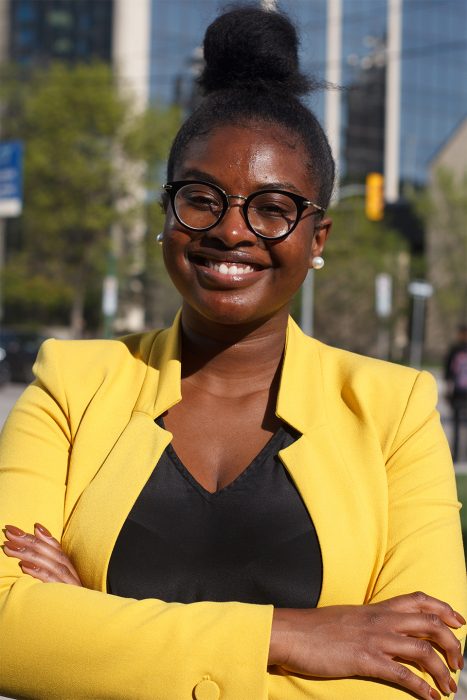 of advocacy by parents who challenged her to venture outside her comfort zone. Interested in social justice as a Westwood Collegiate IB student, she completed her BA (2017) at UM majoring in Anthropology and Women and Gender Studies, and found law to be a natural fit.
In Law, Kaka learned how to persevere. "I've learned that success and failure come hand in hand," she says. "I think it's made me less afraid of new and daunting challenges."
Having co-coordinated the Pro Bono Students of Canada, Manitoba Chapter and co-founded the Black Law Students Association, she plans to continue working in the area of Public Interest Law. She also co-hosts The Ordinary Black Girl podcast, a platform that centers conversations that are often pushed to the margins.
Her early lessons on embracing uncomfortable situations inform any advice she would share: "Law
students especially should not be afraid of being disliked," she says. "Effecting change often means being uncomfortable, advocating for marginalized groups. Tearing down systems of oppression often means doing the difficult work of checking your own biases and confronting your own wrongdoings. It is not something that happens overnight – it's likely work that you'll have to do for the rest of your life."
Chimwemwe Undi, Faculty of Law, Juris Doctor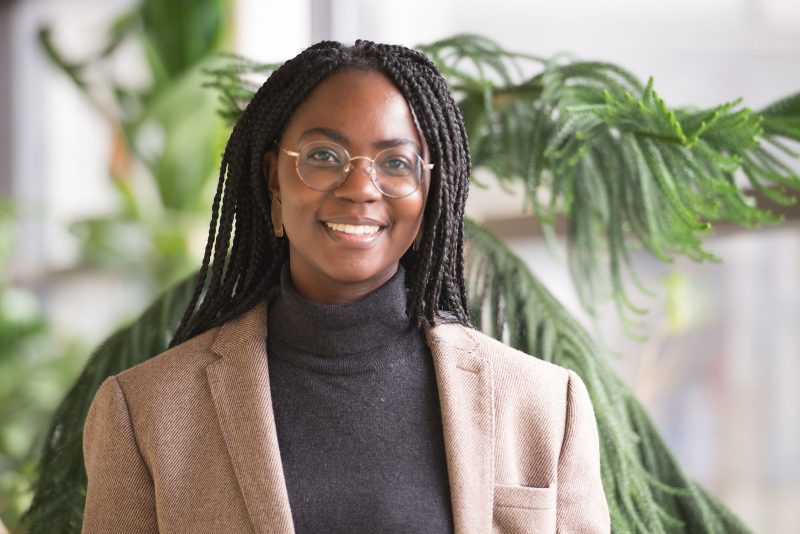 After graduating from Fort Richmond Collegiate, Chimwemwe Undi appeared to diverge from her goal of studying law by pursuing a BA (Adv.) in linguistics from UM, and an MA from York University, focusing on critical discourse analysis.
As it turned out, her unusual path was less of a diversion that it appeared. "I was fascinated with the use of language to establish and justify systemic inequalities," she says. "I hoped that the law would help me answer the questions that linguistics taught me to articulate."
After graduate school, Undi returned to Winnipeg to be close to her community. A poet with national and international publications and performances to her name, she is the recipient of UM's Emerging Leader Award (2015) and the Schwartz-Reisman Scholarship. While at Robson Hall, she chaired the Feminist Legal Forum, served on the executive of Outlaws (the 2SLGBTQ+ student group) and co-founded the Black Law Students Association of Manitoba.
Among her most valuable experiences in law school was working at the Public Interest Law Centre. "The lawyers at PILC are incredible mentors and people. It was a privilege to be a small part of making a real difference in Manitobans' lives." Beginning as a Pro Bono Students Canada volunteer, she went on to work on human rights and consumer rights files as a summer student and an intern.
Undi, who will article at Thompson Dorfman Sweatman LLP, is grateful for but critical of her time in the Faculty of Law. "Too often, issues of race and of Indigeneity were treated as political rather than legal and worthy of analysis," she observed. "When we treat the writing, teaching, enforcement and practice of law as 'colour-blind', we miss patterns necessary to inform reform and revolution. There's a lot of work to be done, and that's throughout the profession, not only at Robson Hall."
At its 2020 UM Virtual Convocation, the University of Manitoba will confer degrees, diplomas and certificates on 4,255 graduates.
Don't forget to check our UM Student Instagram to learn more about some of the students graduating June 29, 2020. You can also join the 'Convocation conversation' on social media by following #umanitoba2020.