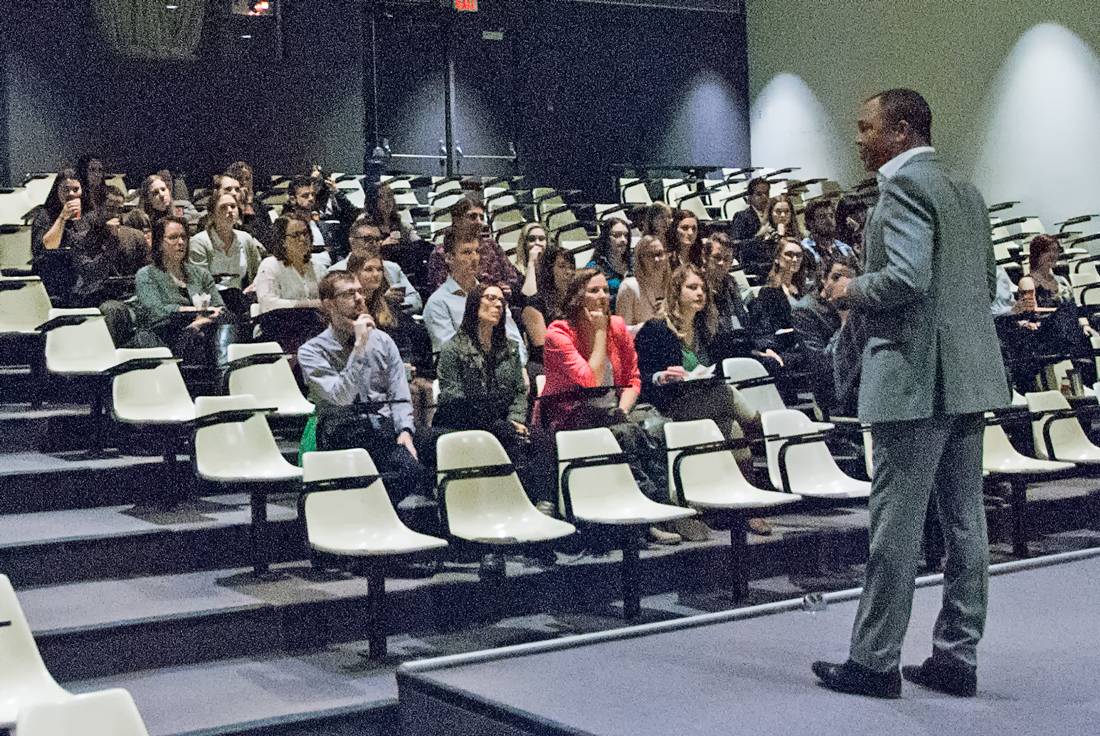 Connect with students through story: superintendent
March 3, 2017 —
Screenwriter Robert McKee once said, "Stories are the creative conversion of life itself into a more powerful, clearer, more meaningful experience. They are the currency of human contact."
For Louis Riel School Division superintendent Duane Brothers, learning the students' stories is one of the best ways for teachers to make meaningful connections with them.
The Faculty of Education alumni was the opening keynote speaker for EdCon, the faculty's job fair, demonstrating his point by sharing his own story with the audience of BEd undergrads.
"I am not going to talk about curriculum today, lesson planning or classroom management. I will try to get to the heart of what I believe is the nobility of our craft as educators … Education: The ends and means of modifying human behaviour."
Having taught at the early, middle-, and senior-years levels, Brothers reminded the teacher candidates, "Education is not just about helping people to get a job. We're developing citizens who can vote and contribute to society."
By learning their students' stories, teachers can make better decisions that will affect their lives, leading to better educational outcomes for their students, Brothers said.
"Everyone has a story… who knows what they are going through. Every day you will make a decision about how to make a difference in their lives."
Acting associate dean, Orest Cap said that Brothers' keynote gave teacher candidates a realistic picture of a teaching career.
"He referred to his personal story and I think that was an excellent example of struggles that teachers can go through in life, and how they can incorporate those experiences in the teaching dimension of their lives," Cap said. "It is not always rosy; there are bumps along the road."
Job fair coordinators Robyn Laramée & Stephanie Jacoby described Brothers' presentation as inspiring and motivational.
"When you talk to superintendents, many of them have had experiences as teachers and principals so they know what they're looking for and that insight is helpful," said Laramée.
The members of the faculty student council said they wanted EdCon to provide students with the opportunity to connect with the people who would be interviewing them for job opportunities.
"The job market is tight so if you can make an impression, it can help," said Jacoby.