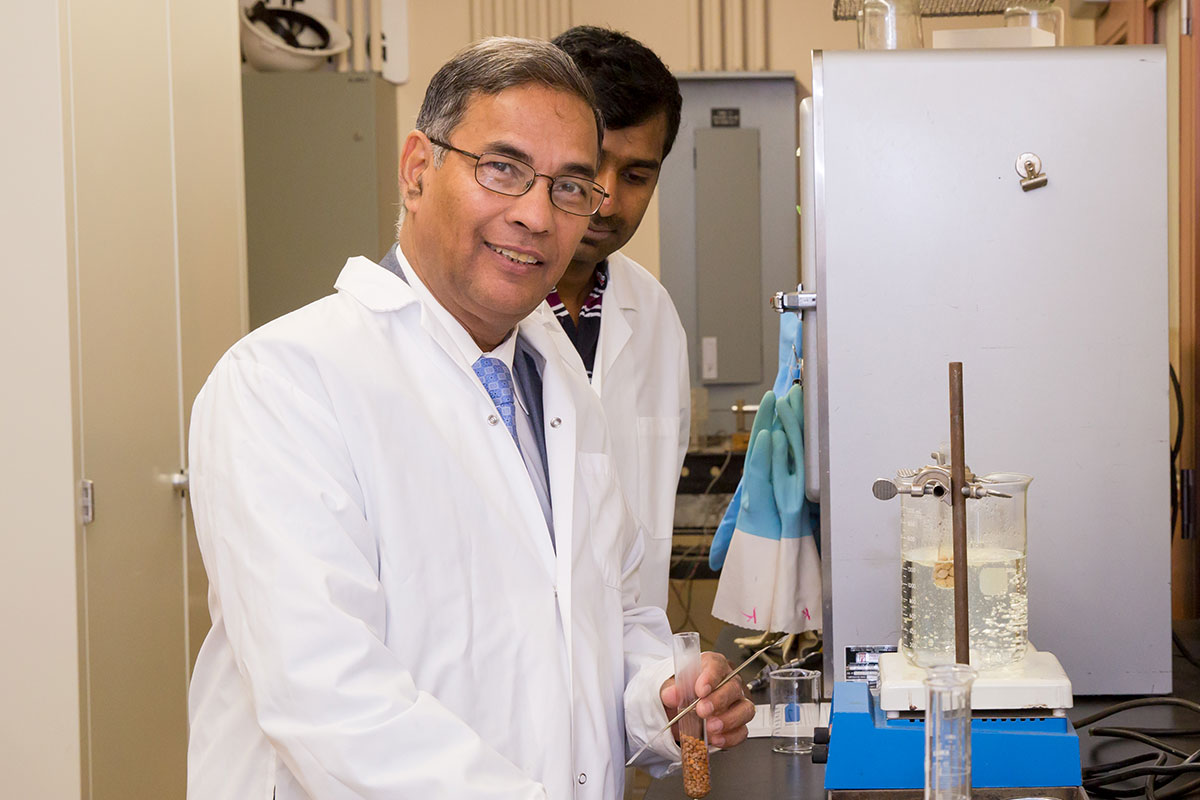 Celebrating the legacy of Dr. Digvir Jayas
Former UM vice-president appointed to National Research Council
October 11, 2022 —
This week we celebrate the legacy of Dr. Digvir Jayas as vice-president, following the conclusion of his 13-year tenure as vice-president (research and international) (VPRI), and prior eight-year term as associate vice-president (research).
Dr. Jayas' research career at UM is extensive, leading from a lifelong commitment to understanding causes of food spoilage and developing solutions for reducing grain losses to curtail global hunger through modernized grain storage systems. He is well known for cross-faculty collaboration, previously serving as associate dean (research) in the Faculty of Agricultural and Food Sciences, head of the department of biosystems engineering, and interim director of the Richardson Centre for Functional Foods and Nutraceuticals.
The success of this inter-disciplinary approach is on full display in the development of a grain storage robot called "Grain-o-bot", which monitors grain quality without cross-contamination and development of the concept of horizontal airflow drying that dries grain more uniformly and with less energy. Dr. Jayas remains grateful for the contributions of nearly 200 research trainees to his research program.
Dr. Jayas is a Registered Professional Engineer and a Registered Professional Agrologist and a UM Distinguished Professor of biosystems engineering. He previously served on the Natural Sciences and Engineering Research Council (NSERC) and held a Tier 1 Canada Research Chair in Stored Grain Ecosystems. Dr. Jayas continues to serve on the board of TRIUMF and now as a member of the National Research Council (NRC), two of the largest research support organizations for the research enterprise across Canada..
NRC represents the federal government commitment to improving the lives of Canadians through ongoing collaboration with industry and academia. The NRC Council reviews the strategic directions and oversees the performance of the organization. Dr. Jayas is one of three new members from across Canada announced by the Honourable François-Philippe Champagne, Minister of Innovation, Science and Industry on October 7.
"The appointment of Dr. Jayas to the NRC Council is exciting news for all Canadians," said UM president and vice-chancellor, Michael Benarroch. "I thank Dr. Jayas for his steadfast leadership as vice-president (research and international). Dr. Jayas helped to achieve record levels of research income for UM and initiated the Transformational Partnerships program to enhance collaborations with Manitoba industry. His boundless support for science and research at all levels brings great value to the National Research Council, and we look forward many more years of success with Dr. Jayas in his role as a UM Distinguished Professor."
A Legacy of Research Leadership
Under Dr. Jayas' leadership as VPRI, UM has enjoyed a nearly 50 per cent growth in research funding over the past decade. In 2020/2021 the total sponsored research income at UM was a record $231 million. This has been especially impactful in medical fields, where UM now ranks first nationally in both medical research income growth, and in not-for-profit research income as a percentage of total university research income.
This success stems from Dr. Jayas focus on youth engagement, and a streamlining of internal research funding through programs like University Collaborative Research Program and University Indigenous Research Program. "I am also proud of the initiatives I've launched that engage and support undergraduate research at UM," Dr. Jayas told ResarchLIFE in an interview earlier this year, "this includes the Undergraduate Research Awards, the Undergraduate Research Poster Competition as well as Science, Engineering and Technology Day [for high school students in Manitoba]."
Dr. Jayas is also honoured to have played an instrumental role in bringing the records of the Truth and Reconciliation Commission to the National Centre for Truth and Reconciliation (NCTR), by recruiting researchers and community partners to provide referrals in the bidding process. These records form the foundational support for research and truth-telling about residential schools and reconciliation efforts in Canada.
"Dr. Jayas' deep commitment to the principles of Truth and Reconciliation is foundational to the partnership between NCTR and the University of Manitoba," says Stephanie Scott, Executive Director of NCTR. "His guidance and support of the NCTR will not be forgotten in all our efforts to raise awareness of Truth and Reconciliation." Dr. Jayas continues in his role of support for NCTR as a member of the Governing Circle.
During his time in the Office of VPRI Dr. Jayas was honoured numerous times in recognition of his research and professional contributions. These include the 2008 Brockhouse Canada Prize from NSERC, the 2017 Sukup Global Food Security Award from American Society of Agricultural and Biological Engineers (USA), the 2019 Engineering Institute of Canada's K.Y. Lo Medal, and the 2022 Engineer Canada Gold Medal. Dr. Jayas is also an inductee of the Canadian Agricultural Hall of Fame, a Fellow of the Royal Society of Canada, and an Officer of the Order of Canada.
A Lifelong Commitment to Research Support
A long way from a vacation, Dr. Jayas has big plans for his current two-year administrative leave. "My plan is to graduate my current graduate students [eight in total], write a book, and organize the 2024 international Controlled Atmospheres and Fumigation in Stored Products conference," Dr. Jayas told ResearchLIFE.
Dr. Jayas has served on many boards and committees in addition to his ongoing roles with NCTR, TRIUMF, ArcticNet, and his new appointment to NRC. These include former roles with the Smartpark Advisory Committee, Cancer Care Manitoba, the Churchill Marine Observatory, the Composite Innovation Centre, the Centre for Innovative Sensing of Structures, Genome Prairie, GlycoNet, the Manitoba Centre for Health Policy, the National Coordinating Centre for Infectious Diseases, the North Forge Technology Exchange, Oceans Research in Canada Alliance Council, Research Improvements Through Harmonization In Manitoba, the Research Institute of Oncology and Hematology, and Research Manitoba.
Once his administrative leave is complete Dr. Jayas plans to resume teaching at the UM department of biosystems engineering, and to pursue plans for a new research program focused on training of graduate students. Dr. Jayas' great passion for student support led he and his wife Manju Jayas to establish a scholarship endowment fund at UM this year.
To celebrate the legacy of Dr. Jayas and support future generations of Manitoba innovators, consider contributing to the The Digvir and Manju Jayas Graduate Scholarship in Biosystems Engineering.
Research at the University of Manitoba is partially supported by funding from the Government of Canada Research Support Fund.