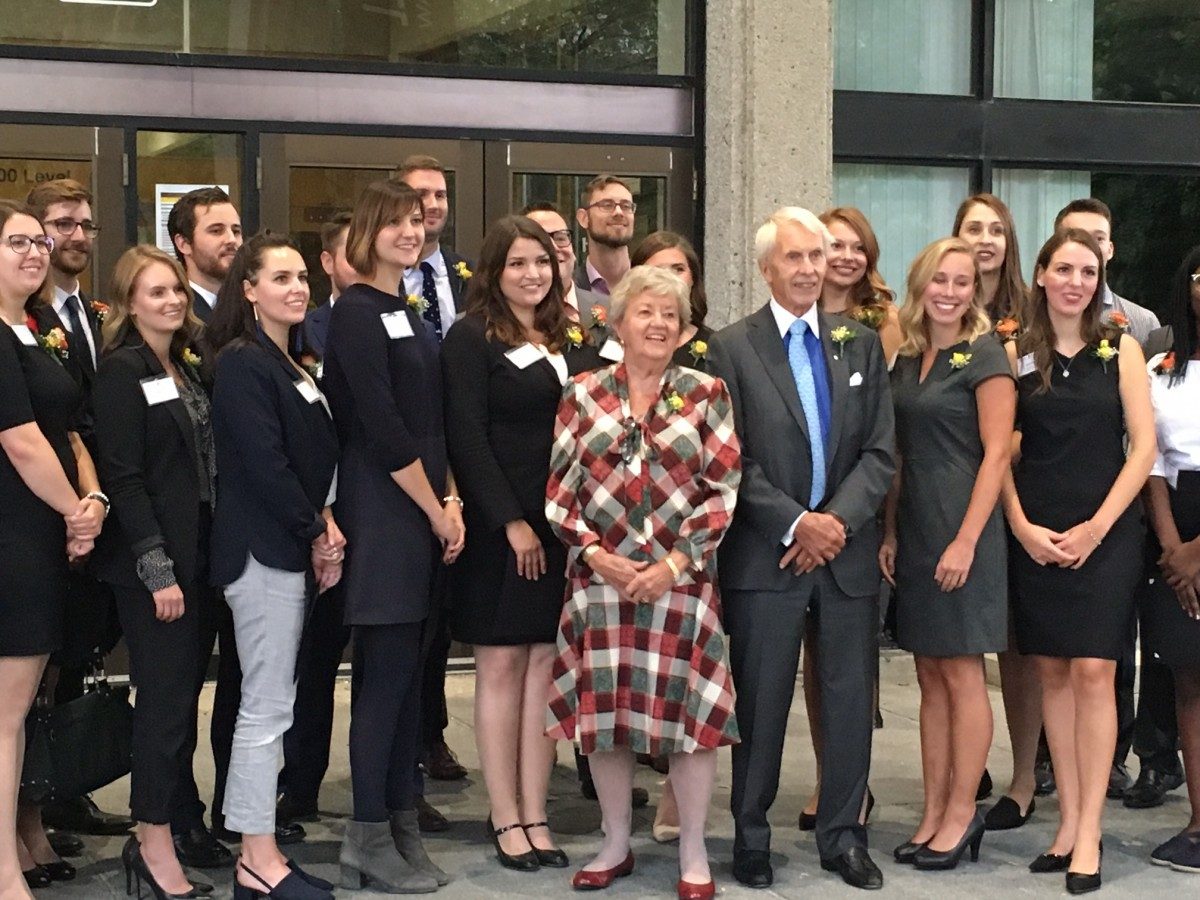 Celebrating Student Achievement
Faculty of Law annual student awards reception an opportunity for donors and students to meet
October 5, 2017 —
Every year the Faculty of Law celebrates student achievement with a formal gathering and reception held at Robson Hall. In keeping with this tradition, Drs. James and Sandra Pitblado visit Robson Hall to present Pitblado scholarships in person to the Dean's Honour Roll students, consisting of the top 10% of students. Other awards also presented at this special reception on September 14th included Graduate Fellowships, Entrance Awards, and the newly launched Schwartz/Reisman Scholarship. Guests included University of Manitoba President, Dr. David Barnard, on behalf of the Minister of Education, Mr. Reg Helwer, MLA Brandon West, Mr. Harvey Secter, Chancellor of the University of Manitoba, and many more distinguished University and Law community members, including Chief Judge Wiebe and representatives from the Law Society of Manitoba and the Manitoba Bar Association. The evening was a two-fold opportunity to firstly celebrate the achievements and hard work of students pursuing the study of law, and secondly, to show appreciation for the kind support of dedicated donors.
In his opening remarks, Dr. Barnard told the Pitblados, "You really have demonstrated commitment and inspiration to succeed," adding that the example they set by coming each year to personally present awards and meet with students as contributing "to a culture of excellence and a culture of philanthropy." Dr. Barnard encouraged the students to thank the donors who believe in their potential so much as to support them.
Mr. Reg Helwer, MLA for Brandon West, brought greetings on behalf of the Minister of Education and Training for the Province of Manitoba, and wished the students every success.
The first awards given were to several students pursuing LLM post-graduate degrees. When introducing Dr. Shauna Labman who presented the awards, Dean of Law Jonathan Black-Branch emphasized the fact that "we are a research-intensive University, growing in number."
Associate Dean Lisa Fainstein presented first-year entrance award scholarships, made possible by generous support from legal community members including individuals and law firms.
Students who achieved standing on the Dean's Honour Roll next were awarded Pitblado Scholarships by Drs. James and Sandra Pitblado themselves. Sandra Pitblado first expressed how proud they were of the students, and Jim Pitblado thanked the Government of Manitoba for continuing to partner with them to make the awards possible. He shared with the students that he and Sandra enjoy coming back to the University of Manitoba each year because "we have great faith that you'll accomplish much." Sandra added, "Go forward with much love from us."
The evening concluded with Dean Jonathan Black-Branch handing out the new Schwartz/Reisman scholarship, given to students both undergraduate and graduate, who are enrolled full time, achieved high academic standing, and have demonstrated recent community involvement and/or leadership.
Dean Black-Branch concluded the celebration by congratulating the students on their achievements stating that, "their families and friends should be very proud of their significant achievement", emphasizing the importance of "taking the time to celebrate the success of our students who have worked hard to achieve success in their studies [which they] will no doubt continue throughout their careers beyond their time Robson Hall. The fruits of their achievements will resonate well into the future as will the generosity of the benefactors who made these awards possible".
The celebration continued with a reception. A full list of awards offered by Robson Hall, Faculty of Law can be found on the website.