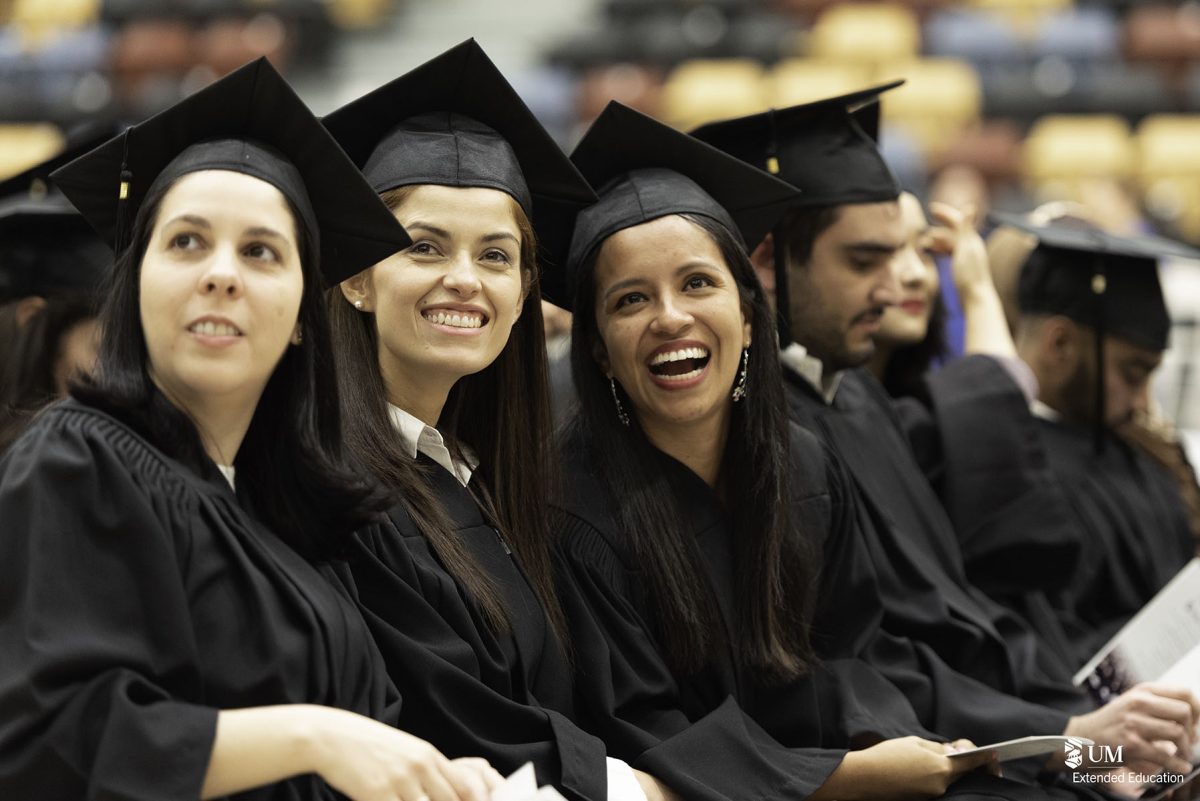 Celebrating LIVE with our grads
2019 Fall Extended Education Graduation
October 23, 2019 —
On Oct. 16, over 700 people gathered at Investor's Group Athletic Centre to celebrate the 2019 Extended Education Fall Graduation.
For the first time, Extended Education's graduation was held as part of of the University of Manitoba's convocation celebrations and livestreamed, with David Barnard, President and Vice-Chancellor of the U of M in attendance.
Over 300 graduates were honoured. Family and friends cheered their beaming graduates on as they made their way, in caps and gowns, to be presented with their credentials.
"I'm overjoyed," says Matt MacRae, Applied Counselling grad.
"I was in a severe car accident. I did years of rehabilitation. To go from having your legs (and your life) almost taken away from you to graduating. My mom and dad, they remember me in the hospital when I was fighting to live, let alone graduate from a program so they're absolutely overjoyed to be here in the stands cheering me on so it's a great day for everybody."
He recommends going back to school.
"Do it. It's one of the greatest things you will do in your life. It's a great community of teachers and students here, and I've made friendships that I will cherish my entire life. I use the information I've learned every day."
Applied Business Management graduate, Gurmehar Kaur, was also happy to celebrate her graduation.
"Yes, for sure, that was an exciting journey," says Kaur. "It means a lot of things to me because I was looking forward to coming over here to study this program and I have a lot of dreams that I want to accomplish."
She celebrated her graduation with her family including her aunt and uncle. Coming here from India, she says her aunt was a great support to her as she completed her studies, and her uncle was the one who told her about the program.
"The U of M is a great place and I will for sure go through with my masters here after some time."
David Mandzuk, Acting Dean, Extended Education opened the celebration. Greetings were provided by President David Barnard, Wanbdi Wakita, Access Program Grandfather-in-Residence, and Lasha Glennie from the U of M's Alumni Association.
15 programs represented
Fall graduates represented 15 Extended Education programs including classroom, online and intensive options.
Extended Education at the U of M is a leading provider of programs and courses designed for working professionals to keep learning and move forward in their career. Registered numbers of students are up over 70 per cent over the past three years, with over 11,500 students in 2019 and growing.
Over 156 courses this year including online options
With Extended Education, students build on their degrees, diplomas, and experience and earn a university credential. Over 156 courses were offered in 2019. A growing number of online programs serve students from across Canada.