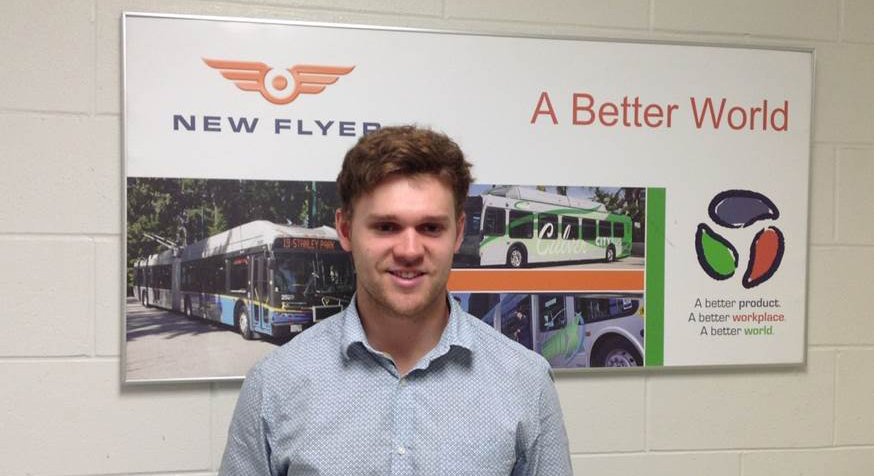 Celebrating Asper Co-op
January 5, 2015 —
The Asper School's annual Celebrating Co-op gala, sponsored by the Young Associates, took place on Thursday, January 29, 2015. Cameron Teschuk was named the 2015 Asper Co-op Student of the Year for his outstanding community involvement, academic performance, and workplace accomplishments as a People Services Specialist at New Flyer Industries.
During his co-op work placement, Teschuk played a vital role in implementing a new human resource information system and independently developed a step-by-step security systems manual for managers. He also created standardized regulatory reporting tools for the company's HR teams in the US and Canada, and trained the US teams to use the tools.
According to New Flyer, "At the interview, we explained that we would challenge him with tasks outside of his experience, with things he had never encountered before. He delivered like a veteran professional HR specialist with many years of experience. He came in a student, but more often than not, became a teacher and a leader within our team."
Teschuk maintains a 4.16 GPA and has received numerous scholarships for athletic and academic achievement, leadership, integrity and community outreach. He's a CIS Academic All-Canadian, and a defensive back and team captain for the U of M Bisons football team.
Acuity HR Solutions, a Winnipeg HR consulting and recruitment firm, received the 2015 Co-op Employer of the Year Award. The company was praised for providing its co-op employees with "freedom and trust" to handle major projects independently, and for inspiring a philosophy of human resource management benefitted enormously from the service and excellence.
The Asper Co-operative Education program – the largest program of its kind at the U of M – placed 230 students with jobs at more than 80 leading-edge companies this year. Asper Co-op provides students with paid, real-world work experience before they even graduate. Over 97 per cent of Asper Co-op students are hired within three months of graduating.
Co-op Advantages
Rachel Poppe, a fourth-year Asper student, completed her third co-op term at Acuity in a position that immersed her in the day-to-day realities of employee recruitment for Acuity's clients. She says she benefitted enormously from the program's ability to bridge theory and practice. "Courses were a lot more meaningful because I already knew what was being talked about in class. And when I went back for another co-op term, I could apply what I'd learned in class to real-world situations – including some I hadn't read about in textbooks."
Acuity's founder and president, Brad Lutz, has worked in human resource management for nearly 20 years. "From an employer perspective, co-op students are simply miles ahead of everyone else," he says. "They have both the technical and practical background employers are looking for. They know what it means to work in an office environment. They perform like people who already have three to five years of experience." Lutz says he's hired many Asper Co-op students into full-time positions over the past five years. He was so impressed by two – Jaysa Toet [BComm(Hons)/13] and Devan Graham [BComm(Hons)/11] – that when he decided to launch Acuity two and a half years ago, he hired them to help grow the company.
Asper Co-op would like to thank the Young Associates for their generous support of Celebrating Co-op.