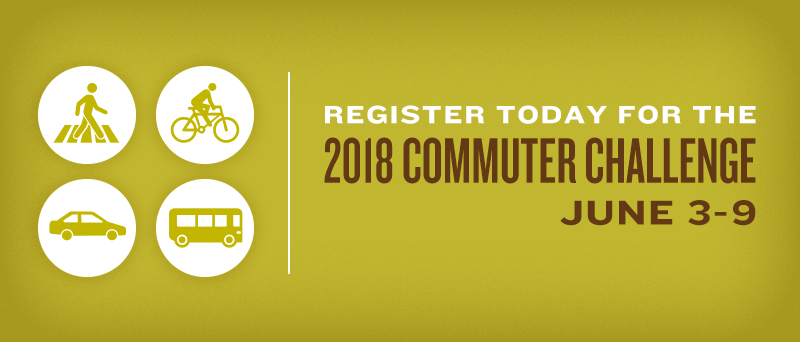 Commuter Challenge: Tips for Success
June 4, 2018 —
This week, commuters across Canada are signing up for Commuter Challenge 2018, a week-long event encouraging businesses, organizations, and individuals to ditch the car and choose more sustainable commuting options. The University of Manitoba is encouraging all staff, faculty, and students to participate this year. If you haven't registered yet, there are a bunch of reasons to consider participating! All you have to do is consider biking, walking, bussing, or carpooling the week of June 3-9, logging your commute, and you will be entered to win some super awesome prizes!
Perhaps you've been thinking about signing up this year, but still aren't quite sure you can confidently travel sustainably. Maybe you've been looking at the bike in your garage and don't know if it's rideable after the winter. Alternatively, maybe transit may be your choice, but you do not know what route (or routes?) to take. If this sounds like you, then this article aims to help!
Carpooling Tips
Considering getting together with another University of Manitoba community member to share the ride for the week? Great! Don't know who this person may be? We can help! The University of Manitoba has a subscription to Go Manitoba, which assists individuals from organizations across Manitoba in connecting and sharing their commute. All you have to do is sign up, and GoManitoba will highlight individuals that are nearby heading in the same direction as you. Coordinating is simple, as individuals can discuss options for meeting location, time to meet and leave, and even driving habits. Need even more incentive to give carpooling a try? Share a parking space with a carpooling buddy, and the University of Manitoba will divide your parking space fees!
Transit Tips
The University of Manitoba Transportation Hub provides many resources to help you try transit as a commuting option. Before hopping on the bus however, make sure to grab a Peggo card from Answers or online. Cards can be filled at Answers, 7-Elevens or Shoppers throughout Winnipeg and do not expire. Cards are $5, and that amount can be reclaimed if you register with the City!
Once you have your Peggo card or UPass, it is time to find your route. Navigo is the City of Winnipeg's official Transit Route planner, but there are many transit apps you can find that will assist in directing you to routes and times. Note that during the summer, bus routes are different due to less demand on campus.
Cycling Tips
Cycling to and from the Fort Garry or Bannatyne campus is surprisingly easy and fun to do. Finding the right route, however, can be a bit of a challenge. The City of Winnipeg has released a new Cycling Map to help with this. The map is great for locating nearby bike paths and recommended routes.
After planning a route, it's now a matter of ensuring your bike is ready to ride. UMCycle can help with this. They are open most business days, including Saturdays, during the summer, and are there to assess and repair any issues you may have with your bike. It is recommended if you haven't ridden your bike in a while that you take it in for a tune up.
Walking Tips
Walking is one of the easiest methods of commuting. A good pair of shoes can be all you really need! If you live within walking distance of Fort Garry or Bannatyne campus, this may be the week to give walking a try.
To be successful, the first tip is planning some routes. Walking has the best chance for diversity in paths to traverse, which encourages ongoing use, so mix it up and get to know your neighbourhood! Once some paths are scheduled, the next important step is to ensure adequate time is set for walking. Choose to plan conservatively, especially on the first few walks, and schedule your mornings and afternoons around the walk.
—
Commuter Challenge is an excellent opportunity to try something new, and the incentives for doing so are quite excellent! If you haven't yet, be sure to sign up and give a new mode of transportation a try!