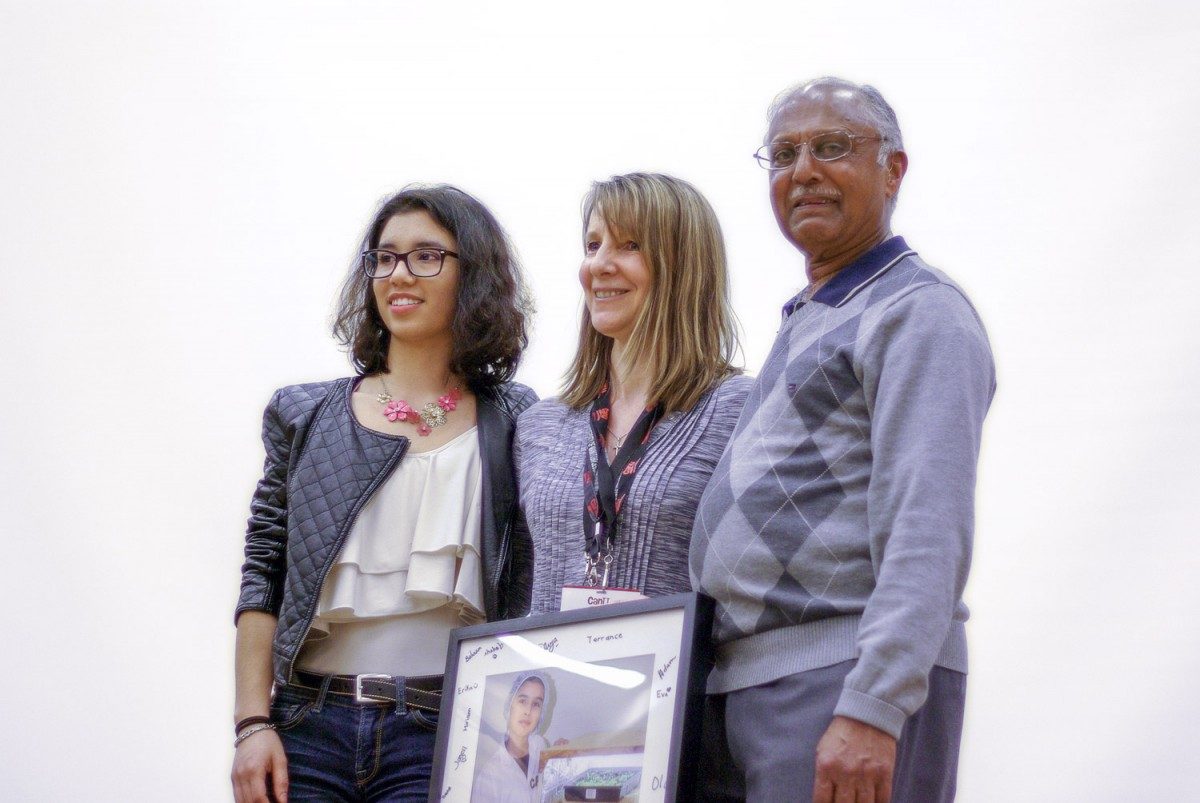 CanU recognizes outstanding volunteer
Program co-founder 'humbled' by award honour
April 11, 2018 —
When Rita Courchaine thinks about the impact of CanU, she recalls a shy young newcomer to Canada, and her dramatic transformation during her time in youth mentoring program.
Mentors were struggling to engage the girl in activities until she discovered arm-knitting, a technique where the knitter's arms replace the needles. By the end of the evening, she had completed a scarf with enough enthusiasm for the craft to change programming at her school.
"She was so excited about this opportunity, that she went back to school and taught some of the other students how to arm knit," Courchaine recalls, adding that excitement among the students inspired school officials to bring in sewing machines, offering other skills training as well.
Courchaine's own enthusiasm for CanU as a founding member, board member, financial manager, organizer—and many other volunteer roles—has culminated in the organization presenting her with its Ernie Friesen volunteer-of-the-year award.
With characteristic modesty, she says she is proud to be a part of a team that promotes sports, nutrition and education for young people.
Since her involvement as a co-founder of the program in 2010, she has seen CanU grow to helping more than 500 youth in 40 schools though 70 programs, led by more than 600 university and college student volunteers, from its inception as a pilot when it served 15 youth across three programs in as many schools.
"Year after year, they come back and they are in different roles, doing different things. Just watching their confidence grow; it's amazing," says Courchaine, who has played a key role connecting the organization with educators such as Associate Prof. Michelle Honeyford and Strini Ready, awarded the Order of Canada for his advocacy for children, education, social justice.
Courchaine was also CanU's connection to the Faculty of Education itself, which offers initiatives such as CanU Academy, where BEd students mentor youth, developing programming around subjects like musical, theatre, science, and creative writing, among others.
CanU founder and volunteer executive director, Roger Berrington, appreciates Courchaine's far-reaching influence on both the youth and volunteers running the program.
"Perhaps no one has had a greater impact on CanU kids and volunteers than Rita Courchaine. For for the past eight years, Rita has done every volunteer job imaginable—from being the first
CanU mentor to being the volunteer financial manager—with incredible generosity and joy. Rita humbly and graciously does whatever it takes to make a positive impact on others," Berrington said in an emailed statement.
Reflecting on her role, Courchaine sees herself as one among many within the organization and the community, including the board, organizations like the Winnipeg Foundation, staff and university volunteers, schools and community partners.
"None of it would happen without so much incredible collaboration. It's an honour but it's humbling to get the award, because I'm just one small piece of a huge puzzle of support working together," she said.
"It's incredible. I'm blessed to be a part of something that's just making a difference in so many lives."