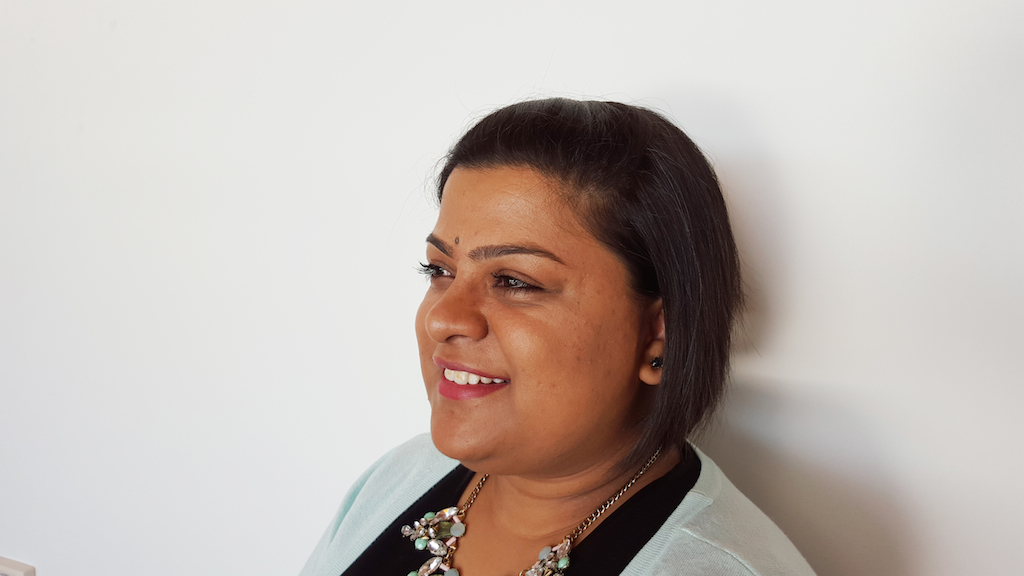 CANDID: Meet Jyoti Balhara
April 8, 2016 —
Jyoti Balhara's charm is magnetic, and naturally effortless. You instinctively want to befriend her. Perhaps because she's a self-declared and unabashed chatterbox, or perhaps because she's infectiously passionate about science and discovery.
Balhara is one of the roughly 3,800 students are enrolled in the University of Manitoba's Faculty of Graduate Studies. UM Today wanted to know more about why she left India for Canada to do groundbreaking work on asthma at the U of M.
PhD candidate: Jyoti Balhara
Studying in: Department of Immunology, Faculty of Health Sciences
Advisor: Professor Abdelilah Soussi Gounni
UM Today: Where are you from?
Jyoti Balhara: I was born in Northern India, in Haryana province, which is close to Delhi. But Delhi has expanded so much you could even say I am from Delhi.
When did you come to U of M?
I moved to Winnipeg in 2009 and I haven't been to any other city. I came here to pursue my master's degree.
Back home I did my bachelor's in biotechnology. It was a new discipline in India and I think mine was the second batch in our university to take it.
Then I did a master's in biomedical sciences from Delhi University. After I finished my master's, I was carefully looking at labs that were pursuing research in asthma throughout the world, and then I was introduced to Dr. Gounni's lab by a senior of mine. I applied and got admission and now I'm here.
Why asthma research? And how did you end up choosing the U of M?
There's a story why I wanted to work on asthma.
My mother suffered from asthma for a very long time. You could say since I was born. So the time I spent with her I have seen the pain that she was going through—nights when she would stop making that snoring sound, the sound that said she was struggling to breathe, I'd wake up to see if she was alive. It really scared me. And that made me realize that asthma is a disease like any other chronic disease: it not only affects the patient, it affects the whole family. It's chronic. It's there forever.
And I saw that my mother was basically resistant to every drug that was given to her, which is common with asthmatics—they tend to become resistant to medications.
So that encouraged me to think about pursuing a career where I could find new ways to either treat or diagnose asthma. Or if I'm not able to do that, then at least I should be able to help someone who is doing that.
So when I finished my master's in India I was looking for labs doing research in asthma—the kind of research I could understand. I didn't want to go to one that was doing high-fi work. I wanted something practical, something I could relate to my mother or someone else I witnessed.
So when I was told about Abdel's lab I read some of his papers and I was like, "Yes! I know what they are doing and I do have skill sets to do the kind of research they are doing. Let's try it."
And the best thing about Canada is that you are a free person here. No one is asking you to stop doing something that you were already doing in your country. So that freedom was an important factor for me while I was choosing what country to go to.
Freedom as a researcher?
Freedom as a researcher. Freedom as a person. I can practice my language, I can wear my clothes, I can practice my faith. It's a very liberal country. The multiculturalism was absolutely a selling point. And, additionally, Canada has showcased exceptional performance in science and technology, especially in life sciences. So altogether it was the best choice for me and my family.
In a nutshell, what is your research?
Currently, I'm looking at an immune system molecule and how it is involved in the development of asthma, and whether or not it can be exploited as therapeutic or a diagnostic tool.
The molecule I'm working on is interesting because before we started working with it in asthma, it was shown that this molecule was involved in fertility in females. So this molecule was actually helping to make a mesh in ovaries where a fertilized egg can come, sit and grow.
What's the molecule doing in asthma?
What we extrapolated from ovaries, is the kind of bedding it is making inside of ovaries, probably it is making the same kind of bedding in the lungs and other tissues as well and that is how it is stabilizing the structure of tissues.
In asthma, this molecule is increased in humans. Based on our mouse studies we have identified that if this molecule is absent, allergic inflammation—the one seen in asthmatics—is significantly increased.
Is it doing that in healthy people too, just in more moderate ways?
It is everywhere in your body. And it is always doing this good thing. It's giving structure to things. In the lungs, it is probably doing the same thing but in addition to this function, this molecule is also regulating the immune system. And that is amazing. I mean, something was discovered in ovaries and now we are exploring what it can do in other parts of the body. That is amazing.
Your excitement about this isn't going to come across in text. You get really excited about this, don't you?
I do. My research challenges me. It surprises me every time I analyze my data. Because how I look at my data is, let's say I am told that I should look at one cell type. Well, I'm curious. I have the devil's mind, so I'm going to look at it, but since I'm already sacrificing my mouse, I feel that I should also look at other cells or tissues. And when I do so, I find interesting, sometimes unexpected things. If I'm able to connect the expected results and that unexpected results, that is the best-case scenario.
You definitely seem driven by the scientific hunt for discovery, but is your mother part of your motivations still to this day?
She motivates me but not in terms of science. She is an inspiration for me because what I am doing right now, I was motivated to do that after I saw her. To help her. But this is not from her alone. I think what I read recently is that every tenth person is asthmatic, or something like that. It's not just my mother—it could be anyone. It's not just my story. And I think most people in the life sciences are motivated by stories like this.
What did you want to be as a child?
I wanted to be either a lawyer—I'm a chatterbox—or a journalist: I'm a shameless creature, I'm not afraid or shy to approach people and ask questions and I was always like that. That's what I wanted to be but as I grew up I took biology in Grade 11 and 12 and biotechnology was a new field and I thought, 'Wow, I have an option that is different from medicine!' So that's how I got into it.
My father is a lawyer. So he's a chatterbox like me.
My mom is a housewife but she was an entrepreneur for some time.
And you have a little boy, right?
Yes, I have a three year old. He's a little monster. He's so full of energy.
How is it being a PhD candidate and a mother of a young child? How do you balance that?
I think that is what a PhD teaches us. When we are in graduate school, especially in the PhD program, we are pushed to do multitasking. And that was an additional task so I was okay with it. It was hard. But I think I managed. My husband helps me a lot.
On the other hand, my son is the best kid I have ever seen. He's three. He's like an atom bomb, but trust me, I have never had a sleepless night with him—he is a good sleeper.
I'm not a good sleeper. I'm a very light sleeper. Even a pin dropping—I'm the first one to wake up.
That was the thing: when I was little kid back home in India, when my grandparents got sick they would come and stay at our home while they took treatment at the hospital. And I was the one who'd sleep with my grandparents because every time they coughed or needed something, I was the first one to wake up because I was such a light sleeper. So it was my job to take care of them.
Do you have any hobbies?
I wish I could have some extra time for hobbies. I used to do a lot before my son was born, but I still sometimes nowadays do craft work. I used to do lots of at embrodery, and embroidery. I make greeting cards for events we have in the department too. And I do some painting. I'm not a good fine artist though. I once I wanted to paint a buffalo and I ended up making a pig. So I'm not a good fine artist.
In my free time I volunteer too. I am an asthma ambassador and I spread awareness about asthma, factors affecting it and ways to manage it—in a very informal manner. I also volunteer to organize Ramp Up weekend, an initiative by StartUp Winnipeg. The aim of this event, which takes place twice a year, is to promote startup culture in our town.
Nowadays, I also host a radio show once a week where I basically try to connect hindi-speaking listeners with our city. Science, innovation and technology are my main focus because that's where I come from.