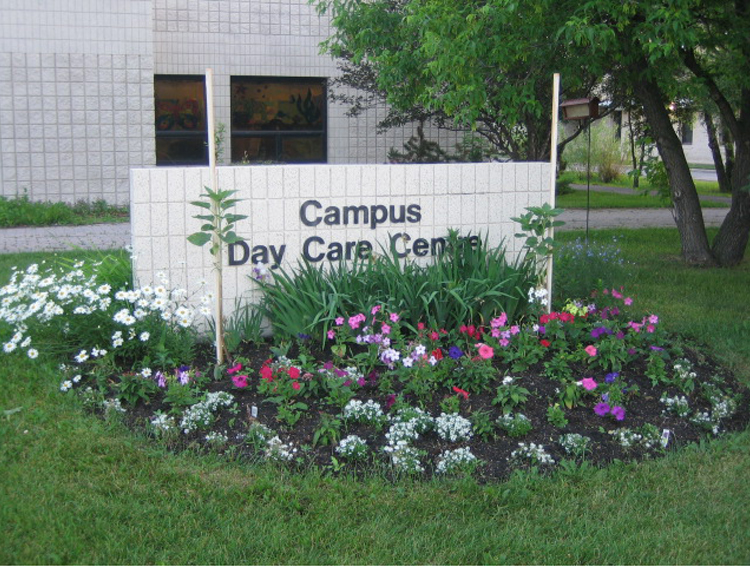 Campus Day Care Centre expansion to begin with Government of Manitoba support
March 9, 2017 —
The University of Manitoba applauds today's announcement that the Government of Manitoba will move forward with capital funding of $600,000 to expand the Campus Day Care Centre and create 52 new spaces to support students, faculty and staff.
"Providing affordable childcare is critical to helping our students succeed," says Susan Gottheil, Vice-Provost (Students) and co-chair of the Childcare Initiative. "Increasing student, staff and faculty satisfaction with their learning and work environment is a pillar of the U of M's strategic plan, and the Province's support of these young Manitobans furthers the University's ability to help them thrive."
The announcement made by Families Minister Scott Fielding on March 9 comes less than a year after the University of Manitoba Graduate Students' Association (UMGSA) donated $300,000 and the University of Manitoba Students' Union donated $2.4 million to the Front and Centre campaign to support this childcare expansion.
Indigenous students will have priority access to the newly created spaces. The Campus Day Care Centre is also working to weave traditional teachings into its curriculum, preparing the next generation to continue the process of reconciliation, which is a core value of the University of Manitoba.
"Childcare is a fundamental aspect to achieving our education. This is a huge barrier many Indigenous families face as a large number of us have children before seeking post-secondary education," says Kristin Flattery, parent and co-president of the University of Manitoba Aboriginal Students' Association. "I feel the initiation of this daycare is honouring of reconciliation and will help advance Indigenous students forward in their educational career in a very positive way. Tears were brought to my eyes upon learning that Indigenous traditional knowledge and methodologies would be incorporated into the children's daily lives. I cannot thank the University and everyone who made this possible enough. This daycare will not only make a huge impact in our Indigenous students lives, but also, create a beautiful bond with our non-Indigenous families as well."
Work on expanding Campus Day Care Centre is expected to begin in late spring or early summer 2017, with the additional spaces ready for enrolment for the 2018/19 academic year.
"This project supports our province's goal of modernizing the child-care system Manitobans rely on, while increasing the number of spaces accessible to the parents and children who need them," said Minister Fielding of his government's support of the U of M's Childcare Initiative.
This project was initiated by UMGSA members four years ago.
"My wife and I had all of our three amazing kids while I was in grad school," says Valery Agbor, former vice-president (internal) of UMGSA. "I am very glad that the Government of Manitoba, the U of M, and student associations all see this as a priority and are showing their continual support to build a vibrant university community."
These sentiments are echoed by the University of Manitoba Students' Union (UMSU).
"UMSU is excited to be working with the Province and the University to be able to contribute to this project," says Tanjit Nagra, UMSU president. "These additional childcare spaces mean that there is more flexibility for student parents and are evidence of a strong effort to reduce potential barriers to education.
Campus Day Care Centre opened at the University of Manitoba in 1974. A second facility, the University of Manitoba PlayCare Centre, opened in 1983, with an increase in capacity coming in 2012 thanks to an agreement with Makoonsag Intergenerational Children's Centre, a visionary community hub founded by honorary degree recipient Elder Stella Blackbird.
"We couldn't be more excited about growing our Campus Day Care Centre family and becoming a more inclusive community," says Dawn Montebruno, director of Campus Day Care Centre. "We have already started to consult with our Indigenous colleagues on ways in which we can apply traditional teachings into our overall curriculum and everyday activity, such as a tipi for our ground."
About the Childcare Initiative
The Childcare Initiative is the second phase of a project that began with a 2013 report prepared by a childcare working group comprised of students, staff and faculty at the University of Manitoba. In response to the report, the University committed to creating childcare options to support students, staff and faculty. A consultant was hired in 2014 to study child care at U15 (peer) institutions, review business models for delivering child care services, assess possibilities for University of Manitoba and make recommendations for action. With support from partners like the Government of Manitoba the University of Manitoba Graduate Students' Association and the University of Manitoba Students' Union, the U of M is moving forward on implementing the recommendations of experts and our community members.