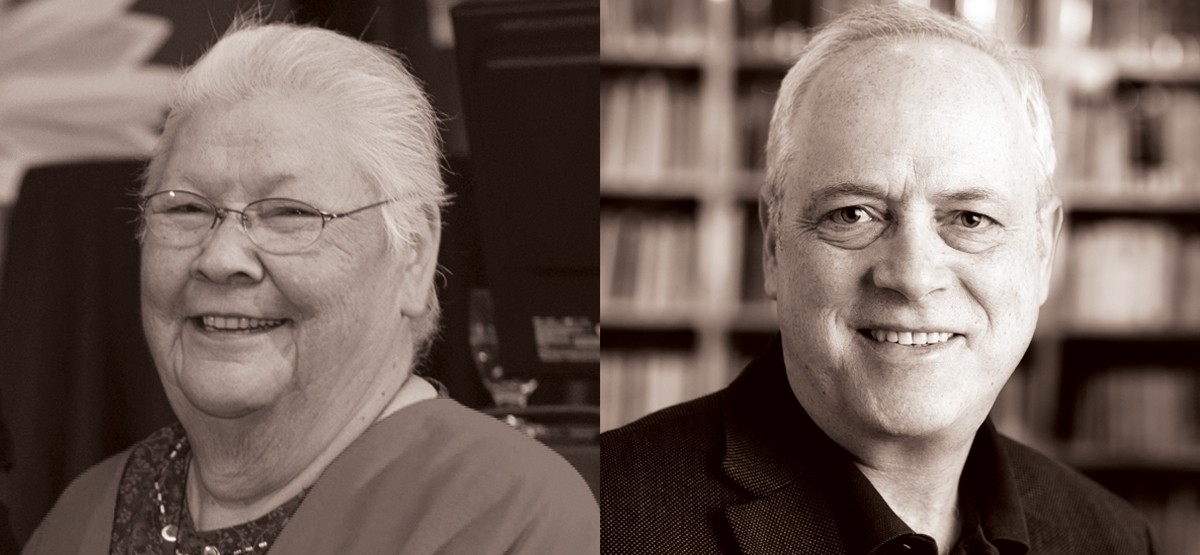 Changing the world with their ideas
May 28, 2015 —
At its 136th Annual Spring Convocation, the University of Manitoba will confer honorary degrees on two exceptional individuals: Elder Stella Blackbird and Mr. Steven Schipper.
Six sessions of the 136th Annual Spring Convocation at the University of Manitoba will be held from May 26-28; the morning session begins at 9:30 a.m. and the afternoon session begins at 3 p.m. Each session will be held in the Investors Group Gym. Each ceremony will be webcast live. Or follow events on Twitter and Instagram using #UMConvocation.
Elder Stella Blackbird
Never sit back and wait for your vision to materialize. You alone are responsible for making your dreams come alive. You need to talk about it. You need to fight for it. This is what challengers do. This is what visionaries do. This is what Stella Blackbird does.
Known as Red Eagle Woman of the Turtle Clan, Elder Blackbird is a loving mother, grandmother and great-grandmother who raised six children with her husband, Dan Blackbird. She was born in Saskatchewan and grew up at Beardy's and Okemasis Willow Cree First Nation near Duck Lake. She attended St. Michael's Residential School, but left at 15 to join her sister's family at Keeseekoowenin Ojibway First Nation in Manitoba, which has remained her home.
Elder Blackbird transforms lives and communities throughout our country by serving others as an Elder, Medicine Teacher and Traditional Healer. For nearly half a century she has been on a healing journey. As a Residential School Survivor, Elder Blackbird has a clear dream: Never again will a First Nation, Métis or Inuit child have to feel the shame that she and others experienced in the Residential School System. Instead, children will freely and proudly embrace their cultures and identities.
Through ceremony, teachings and counseling, Elder Blackbird promotes positive change and cultural connection. She works to empower all people, cultivating their personal pride so they discover their potential and define their own futures. She supports her noble vision with bold, creative and immediate action.
Elder Blackbird saw the need for a childcare program grounded in traditional Aboriginal values. And so she started the Makoonsag Intergenerational Children's Centre in Winnipeg's North End. Her vision and action turned an old department store into a vibrant, culturally-rich building where generations of families come together to meet, play and learn.
As a Traditional Healer and Medicine Teacher, Elder Blackbird freely shares her vast knowledge with people of all nations from around the world. To this end, she co-founded the Medicine Eagle Healing and Retreat Place for youth, adults and families, on the sacred ceremonial grounds of the ancestors near Riding Mountain National Park. And her work with Parks Canada in reclaiming land and the right to harvest the traditional plants growing in parks, has set the standard for negotiations between the Government of Canada, Parks Canada and all First Nations within Canada.
Elder Blackbird has received numerous awards including the Caring Canadian Award from the Governor General, which recognizes her philanthropy and her never-ending efforts to cultivate understanding, acceptance, respect and love in Winnipeg and throughout our country. Elder Blackbird, like the wind, touches upon everyone at the same time.
Elder Blackbird is strengthening this nation by bringing its peoples together, empowering all of us to build collaboration, trust and understanding. She exemplifies what can be achieved when we share our gifts freely. The University of Manitoba is honoured to celebrate Stella Blackbird with a Doctor of Laws, honoris causa.
Steven Schipper
What do celebrated actors Keanu Reeves, Kathleen Turner, William Hurt and Judd Hirsch all have in common? They were each coaxed, enticed and ultimately persuaded to bring their talents to Winnipeg through the enthusiasm and passion of Steven Schipper.
Mr. Schipper is just coming out of his 25th year as Artistic Director to the Royal Manitoba Theatre Centre. During that quarter century, he established the artistic excellence and fiscal stability for which the Royal MTC has become known — a notable achievement given the company's considerable duress at the time he took the helm. To commemorate his dedication, in 2014, the theatre centre renamed its endowment fund The Royal MTC Endowment Fund in Honour of Artistic Director Steven Schipper.
As Artistic Director, Mr. Schipper is a tireless champion of the theatre who has cultivated interest in his audience for both classic and contemporary works; in 2013, he staged the world premiere of Gone with the Wind to much acclaim. His depth of commitment to the arts and artistry are unparalleled. While aware that talented Hollywood names draw attention, Mr. Schipper is also a keen promoter of Manitoba actors, ensuring audiences experience and appreciate the talent that exists in our own backyard.
Steven Schipper uses theatre to change the world. This is what creators do.
Through his vision and quiet determination, he has dramatically transformed the theatre community in our city and province, so it is our good fortune that Mr. Schipper chose to practice his craft here. Today, the University of Manitoba is pleased to honour him with its highest award.
He has also been celebrated as the recipient of the David Peacock Award and as a member of the Order of Canada, recognizing his contributions to Canadian theatre.
This passionate born-and-bred Montrealer is now a passionate Winnipegger. Mr. Schipper trained at McGill University, Bishop's University and the National Theatre School of Canada. He has served as associate director at the Stratford Festival and has directed almost three dozen plays, including world premieres by local and Canadian playwrights. But Mr. Schipper remains dedicated to grassroots theatre: he conceived and directed The History of Manitoba from the Beginning of Time to the Present in 45 Minutes, an award-winning play that tours Manitoba high schools. He also volunteered to direct a summer production of Little Red Riding Hood for the Manitoba Theatre for Young People's Aboriginal Training Program and directed an all-female production of Les Miserables at Balmoral Hall, setting the classic story in our own city.
Under his artistic direction, the Royal MTC has solidified an international reputation and expanded its purview and audience through popular enterprises such as the annual Fringe Festival and Master Playwright Festival. Mr. Schipper's innovations include an annual regional tour, much-lauded youth programming, and audience/actor/production panels and in-house tours, all garnering audience involvement and enthusiasm.
The Globe and Mail described Mr. Schipper's revival of the Manitoba Theatre Centre as "one of Canadian theatre's most striking success stories," and in 2010, after years of bold action by Mr. Schipper and the theatre's general manager and support team, the Manitoba Theatre Centre was recognized with a Royal designation, becoming the Royal Manitoba Theatre Centre.
Every great play has a cast of characters who are dedicated, invested and passionate. In this regard, the Royal MTC has a stellar cast and Steven Schipper plays the lead role. The University of Manitoba is proud to shine a well-deserved spotlight on a visionary and champion whose accomplishments we celebrate today with an honorary degree.