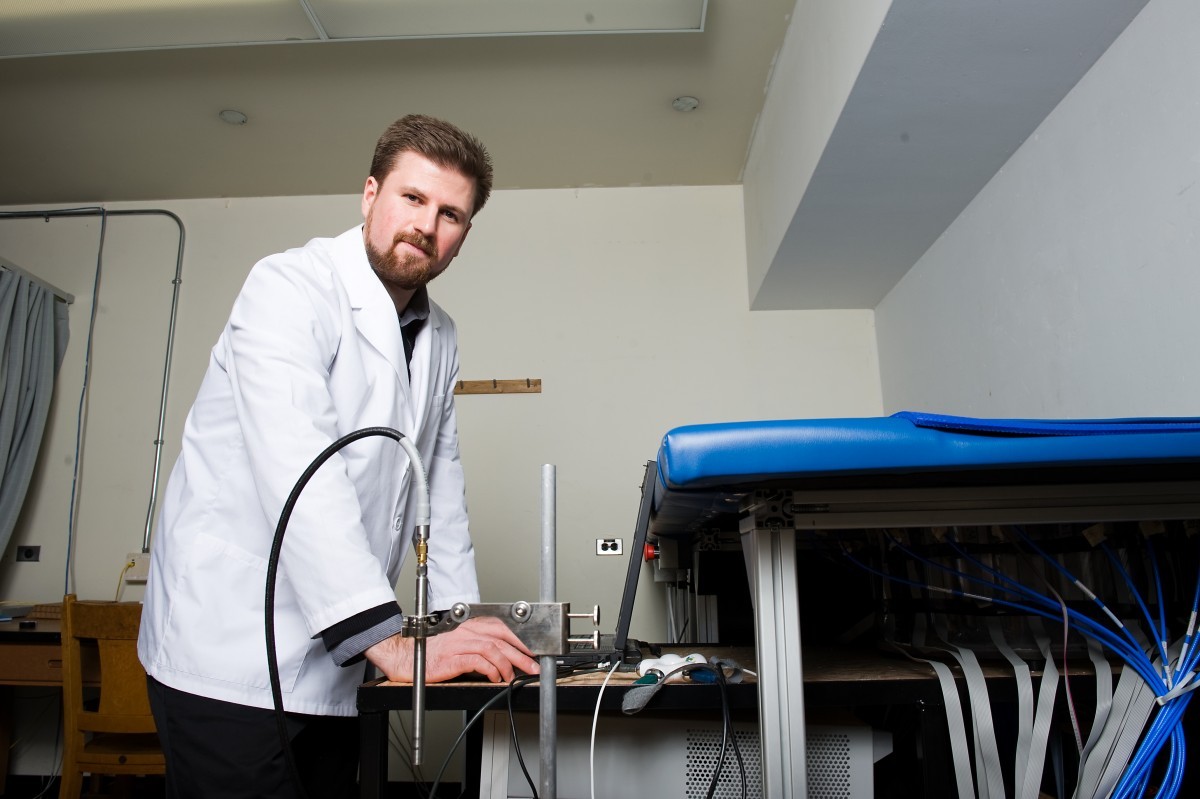 Cameron Kaye, an innovator in biomedical technology
Celebrating U of M Graduate Students
January 12, 2015 —
University of Manitoba graduate students do meaningful research that shows us time and again: discovery happens here. We have 47 doctoral and 90 master's programs that give students — like Cameron Kaye — the opportunity to change the way the world thinks.
For Cameron Kaye, advancing cancer research is a mission close to his heart.
His mom was diagnosed with thyroid cancer over a decade ago; the indolent but deadly disease was unresponsive to conventional treatment, spread to her lungs and took her life in the summer of 2013. Kaye felt frustrated that modern medicine hadn't progressed to the point that doctors were equipped to save her.
"They shrugged their shoulders," says the 31-year-old graduate student. "I always went into medicine thinking that maybe I could make some sort of contribution. To see if we could find something that would help my mom — that was in the back of my mind."
The biomedical engineering MD/PhD student will graduate both as an engineer and doctor, able to not only treat cancer patients with leading-edge equipment but design the technology behind it. "I like the challenge and I love learning new things, and this program has definitely offered me those," he says.
Kaye works under Joe LoVetri, head of electrical and computer engineering in the Faculty of Engineering. He is now collaborating with other engineering and physics students — supervised by professors Stephen Pistorius and Can-Ming Hu — to do human trials of new microwave imaging systems to detect breast tumours that would complement the conventional mammogram. This technology — which could be scaled to the size of a backpack — offers a safer option for detection than the mammogram since it uses low-power microwaves instead of X-rays. It is also less expensive, more comfortable for the patient, and more mobile. These characteristics make it ideal for use in remote areas of the North or in developing countries that lack efficient health-care systems.
"For women in communities that lack the resources for proper breast screening programs, we could catch things before they get too advanced," Kaye says.
To get to the human trials stage is a rewarding feat, he notes.
"It's nice to see our work being applied, to have a real-world application. You can see it progressing to the next stage."
Kaye considers his PhD advisor a great mentor. It was LoVetri who encouraged Kaye to merge medicine with engineering. "He showed me his lab and it was very cool stuff," Kaye recalls. "I had never heard of microwave imaging in any biomedical context at that point. I realized right away it was something not a lot of people were working on and it was cutting-edge."
Kaye was among the first students to pursue a PhD in biomedical engineering at the U of M. In 2013, he received the prestigious Vanier Canada Graduate Scholarship — an award, valued at $150,000 over three years, that recognizes world-class grad students from across the country. His advisor's lab and research collaborators have also been supported by a number of other organizations, including the Canadian Breast Cancer Foundation, Grand Challenges Canada and CancerCare Manitoba.
He says his accomplishments always made his mom proud. "She encouraged me to do whatever made me happy."
Interested in pursuing graduate studies at the University of Manitoba? LEARN MORE