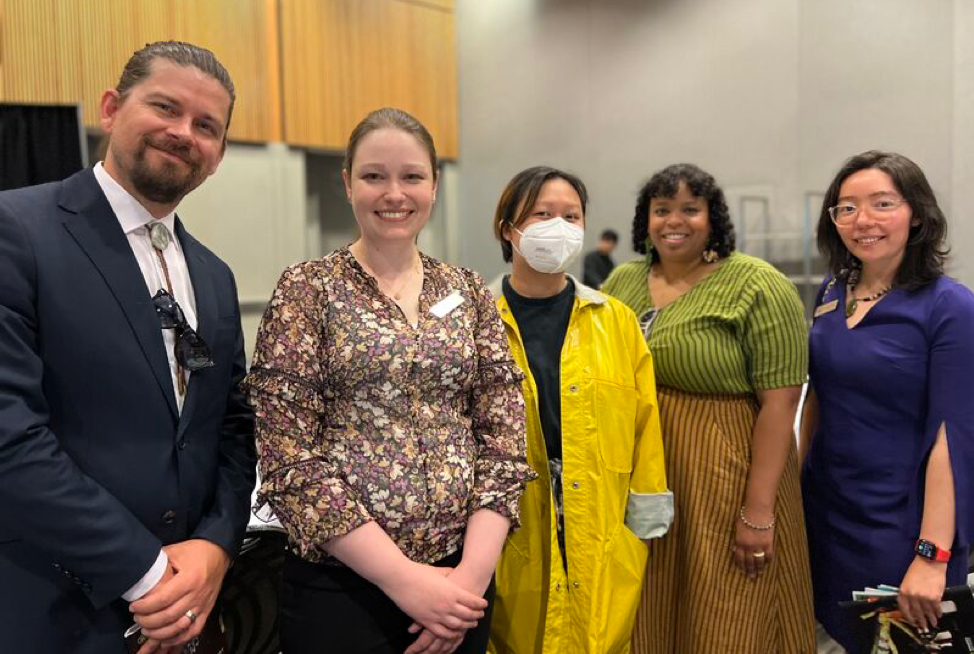 Business Law Clinic Students at Mayor's Luncheon for the Arts
Learning about local artists' legal needs
July 4, 2023 —
As students from the L. Kerry Vickar Business Law Clinic stepped into the RBC Convention Centre on June 1st, 2023, the atmosphere seemed to buzz with creative energy. The room was filled with dancers, actors, playwrights, poets, filmmakers, and musicians: all celebrated guests at the annual Mayor's Luncheon for the Arts.
Since 2007, the Mayor's Luncheon has been dedicated to honouring Winnipeg's remarkable artist community – a community that has given rise to our city's title as the "cultural cradle of Canada". This year, the Winnipeg Arts Council and Mayor Scott Gillingham announced the winners of the three Winnipeg Arts Council Awards, as well as an inaugural award for Career Achievements in the Arts. The event also featured stellar performances by The Little Opera Company, members of the Winnipeg Jazz Orchestra, and Chimwemwe Undi, the Winnipeg Poet Laureate for 2023 and 2024. The law students were delighted to have Chimwemwe seek out their table to say hello. In addition to being a poet and spoken word artist, Chimwemwe is also a University of Manitoba Faculty of Law graduate (JD/2020) and a current Associate at Thompson Dorfman Sweatman LLP.
The L. Kerry Vickar Business Law Clinic at the Faculty of Law was privileged to sponsor two talented artists at the Luncheon: Anna Binta Diallo and Natalie Mark. Throughout the event, second-year law students Kassandra Taverner and Lisa Haydey had the opportunity to speak with these artists to learn more about their work and the need for artist-centered legal services in Manitoba.
Artist Profiles
Anna Binta Diallo
Anna Binta Diallo (she/her) is a visual artist and an Assistant Professor at the School of Art at the University of Manitoba. She uses painting, drawing, collage, design, and video to explore themes of memory and nostalgia to create unexpected works about identity. Her 2022 installation, Shapeshifter, was commissioned by Nuit BlancheToronto and immersed visitors in sculptural works featuring imagery from diverse archival sources. Looking at one of Anna's sculptures is like gazing into a kaleidoscope: beautiful and stirring, with new layers of detail and meaning unfurling the longer that you engage.
To visit Anna Binta Diallo's website, click the link below.
Natalie Mark
Natalie Mark (they/them) is a multi-disciplinary artist with an extensive illustration and cartooning practice that spans digital work, comics, and zines. Natalie's recent projects include exhibiting at the Vancouver Comic Arts Festival, where their display visually popped with swirls of blue risograph ink, bold comic covers, and bright, playful pins. Natalie strives to "create work that is both meaningful and serves my community, whether it's through the stories I tell, which do not make it into mainstream publishing, or the way I represent communities." In addition to self-publishing their own comics and zines, Natalie's work has also been featured by LGBTQ+ and BIPOC centric publishers, like Old Growth Press.
To visit Natalie Mark's website, click the link below.
Daniel Jordan
The Business Law Clinic also had the privilege of sharing their table with Daniel Jordan (he/him), a Winnipeg-based musician with over 15 years of professional experience. Daniel's talents encompass those of a skilled songwriter and multi-instrumentalist. He hones these skills by playing in several musical groups, one notably being Red Moon Road. Daniel's passion for music has led him to take on additional roles including as a side player, producer, engineer, and band leader for various events. His most recent album, Songs from the Inland Sea, honours the rich lore and history of Lake Winnipeg.
To visit Daniel Jordan's website, click the link below.
Artists Have Unique Legal Needs
One theme emerging from the conversations between the artists and law students is the need for better access to legal services for artists in Manitoba.
Natalie and Anna note the unique legal needs that arise for artists working in different disciplines, from Natalie's experiences with copyright and the "'small business' aspects of being a freelancer," to Anna's need for "drafting up exhibition contracts, …working with found imagery in the Creative Commons, or simply knowing what my rights are as an artist."
Another theme is the lack of suitable alternatives where affordable legal help is not available. Daniel speaks about relying on "handshake deals and email contracts" in the past. "Looking back", he reflects, "I see how vulnerable this left us to potential legal issues." Similarly, Anna observes that "searching online for answers can be helpful but often inconclusive."
Through their discussions, the law students gained a deeper understanding of the work required of the legal profession to enhance support for artists, as well as the ways this could enrich Manitoba's arts and cultural landscape.
When Manitoba artists can better protect and inform themselves, says Daniel, this will allow "for a proliferation of more art and a healthier artist economy in Manitoba."