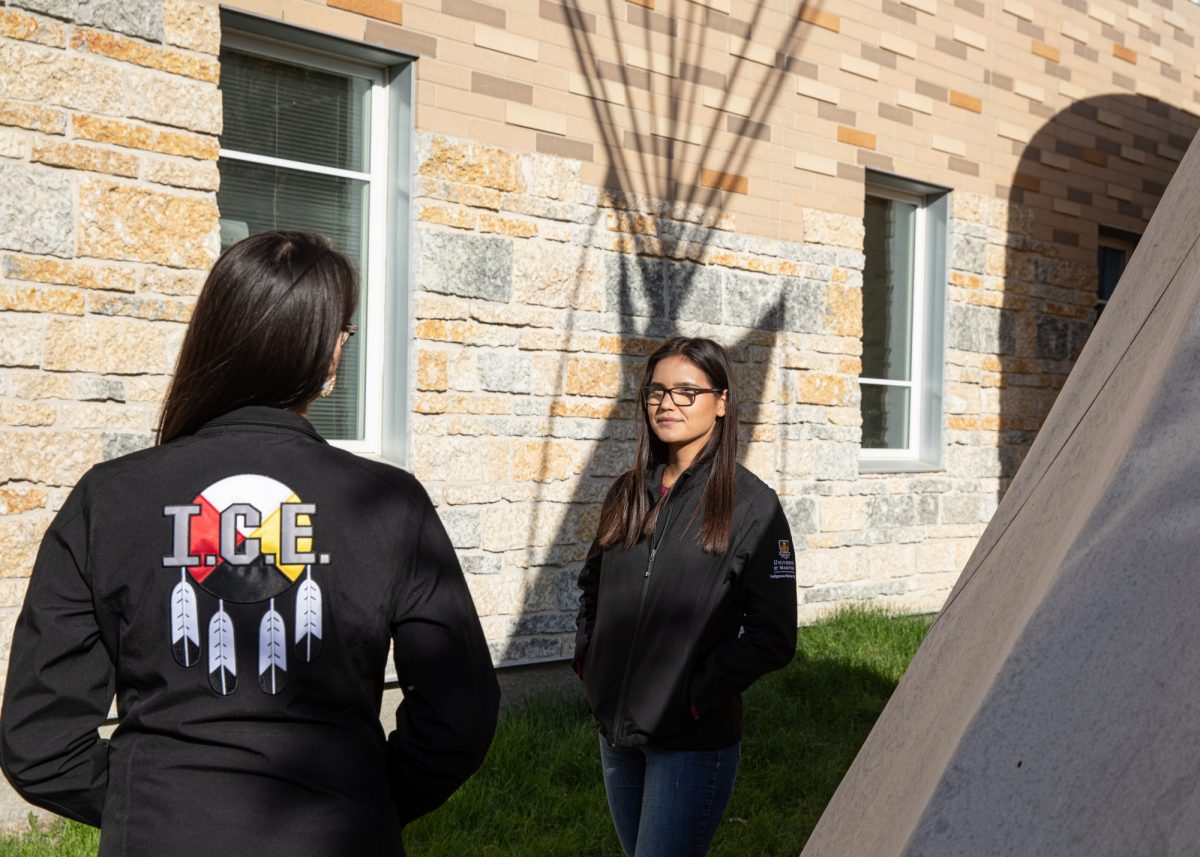 Building confidence and community connections for Indigenous students
Indigenous Circle of Empowerment applications are now open.
August 25, 2020 —
Carlie Kane, a fifth-year student in the Faculty of Arts with ancestral roots from Lac Seul First Nation in Treaty 3 territory, says joining the Indigenous Circle of Empowerment (ICE) program provided her with opportunities to build crucial relationships, improve her leadership skills and gain insights from Indigenous leaders and other guest speakers.
"As a whole, [the program] played a huge role in increasing my knowledge of my Indigeneity, which motivated me to look further into my own culture and history," Kane said. "ICE consistently motivated my personal goals, as working alongside others helped me see the value of hard work and perseverance."
Indigenous students interested in leadership, self-development and community engagement are invited to apply for the 2020-2021 Indigenous Circle of Empowerment (ICE). ICE, an approved Co-Curricular program, is designed for Indigenous students to discover their strengths, improve their leadership skills, grow their professional networks and, most importantly, connect and learn from each other.
The program provides opportunities for students to have important conversations with prominent Indigenous leaders from several sectors of our community on a multitude of issues; learn from Elders and Traditional Knowledge Keepers; participate in professional development workshops, including Speech Craft public speaking training with the Anishinabe Toastmasters; and volunteer in the community with other students while working on impactful projects.
Perhaps most importantly, many former ICE students have expressed a comfort in the connection built with other participants throughout the course of the program. In 2019-2020, students took part in a Warm Clothing Drive for Youth of St. Theresa Point with UM alum and member of the Order of Canada Strini Reddy, private tours of Manitoba Hydro and CBC, and learning from Elders.
"I will never forget my time in ICE, along with the people I was fortunate to meet and the teachings and valued knowledge I had the opportunity to learn," Kane said.
Upon completion of 2019-2020 ICE, here's what other students had to say about the program:
"Being a part of ICE for three years has had one of the biggest impacts on my university career. Through ICE I have listened and learned from so many diverse leaders' voices, and developed leadership skills that I can use to make an impact within my community as a physician. ICE has shown me that I can make a difference in my community as a strong Métis woman." – Gillian McIvor, Métis, Faculty of Science graduate now entering into the Doctor of Medicine program at Max Rady College of Medicine, Rady Faculty of Health Sciences
"To me, ICE has been the best program I've participated in my entire university career. It is a safe space for me on campus, where I can go and just feel supported no matter what's been going on that week. Also, the guest speakers [brought] in are phenomenal and so motivational, and you can take something out of every meeting." – Avery Hallberg, Métis, recent graduate of the Faculty of Arts
"Being in ICE this past year was such a transformative experience. This program has helped me forge my own path to become the leader that I want to be. I will forever cherish the teachings and memories that were made during my time in the program." – Mackenzie Chartrand, Ojibwe, entering her fourth year in Health Studies, Rady Faculty of Health Sciences
For more information about ICE, including the application form, please visit the website. You can also view a recent Instagram Takeover for another student perspective on the program.