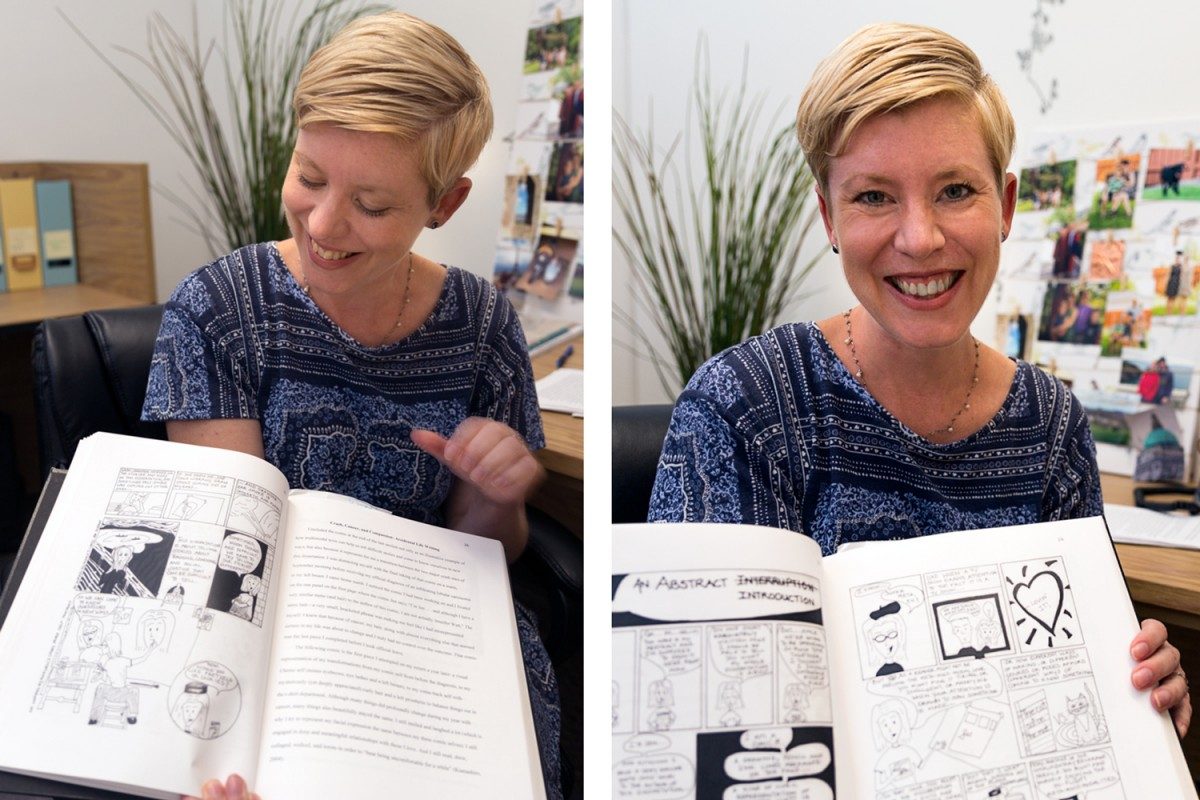 Bouncing back
Assistant professor shares lessons in resilience with teachers, students
November 21, 2017 —
Life was good. Life was going according to plan. And then sometimes, teaching gets messy, and life gets messy.
Her daughter was a year old when Dr. Jen Watt started her master's degree, an inquiry into professors' and students' teaching and learning experiences between first-year English classes.
Then she took a year off before starting what she would come to call her "accidental PhD."
"I really didn't mean to be studying what I studied. Inquiry takes you to a lot of different places," she says.
While teaching future high school teachers at the Faculty of Education, Watt kept hearing stories about homophobia and transphobia again and again. She recognized it as a teachable moment and, being an ally of the LGBTTQ community, decided to address the issue in class.
"I thought things went well, and then the next day a student asked: Are we going to talk about this at all?" Watt says. "They wanted an opportunity to respond to this lesson."
As a second-time sessional instructor, Watt felt vulnerable, but we went for it, bringing the class into a sharing circle. ". . . and all of a sudden, I'm crying. It was kind of this bizarre moment, but it was transformational, so I wrote about it in my doctoral candidacy exams."
Teaching gets messy.
In her writing, Watt explored the tensions in moment of crisis when teachers and students face assumptions. She didn't expect the response she received.
"My committee said: This is rich, important work. This should be your area for your dissertation," Watt says, adding from that point, her PhD became more of a self-study.
Watt changed her plan, restructured her research, and had nearly completed her dissertation when she got the unexpected news: She had breast cancer.
Life gets messy.
Through the year-long treatment plan of chemotherapy, radiation treatments and recovery that followed, Watt continued to write, convinced helped to facilitate her healing process.
"When I returned to research, I wanted a more compassionate, mindful way to teach and learn and be," Watt says.
It's at this point that Watt turned to an arts-based, life-writing process, creating a multi-modal text, spanning a number of genres.
"I wrote a play, I wrote comics, included photography, letters, there's emails in there, I made collages," she says, adding that life writing allowed her to explore four strands or themes that were braided in her dissertation that include practising vulnerability, practising discomfort, practising mindfulness and practising compassion.
"It's very emotional. And that's part of the point," she says. "There's a myth that, if you just plan correctly or if you come up with the perfect lesson plan, then your lesson will meet your objectives and it will be easy and perfect. Whereas teaching is about interacting and learning. It's messy and it's … It's emotional work. That's what it is."
"When I returned to research, I wanted a more compassionate, mindful way to teach and learn and be."
Watt says that life writing's many modes of expression freed her to explore the themes of her dissertation in deep and rich forms of expression that other forms of writing lacked.
"Teachers at all stages in their careers are going to face crises sometimes. We all have more moments where we crash. We all have moments where things don't turn out the way we thought they were going to or the way they were planned," Watt says, adding that teachers carry a heavy burden.
"We carry a lot of discomfort. We carry a lot of vulnerability. And we need ways to be compassionate."
Watt defended her dissertation last November, winning a Distinguished Dissertation prize. She graduated in February and completed her convocation walk in May.
And on the evening of Wednesday, Nov. 22, Watt will be recognized at a reception for receiving a Certificate of Excellence in Teaching for senior years by the Education Student Council. Dr. Richard Hechter will be recognized for middle-years teaching and Dr. Wayne Serebrin, for early years. Dr. Krystyna Baranowski is honoured for receiving a Students' Teacher Recognition Award.
She has since been hired on a term position as assistant professor in language and literacy at the graduate and undergrad level. She is also coordinating a new First Nations master's-level, language-and-literacy cohort. Using life-writing techniques, she says the first courses teach students to ground themselves in their own stories, using methods she learned in her doctoral work.
Is it more about teaching or more about counselling?
"It's more like: how can we be self-compassionate? How can we be our own counsellors? It's teaching resiliency with students, and how do we become resilient as teachers, too?" Watt says.
Life is good. And the journey continues.