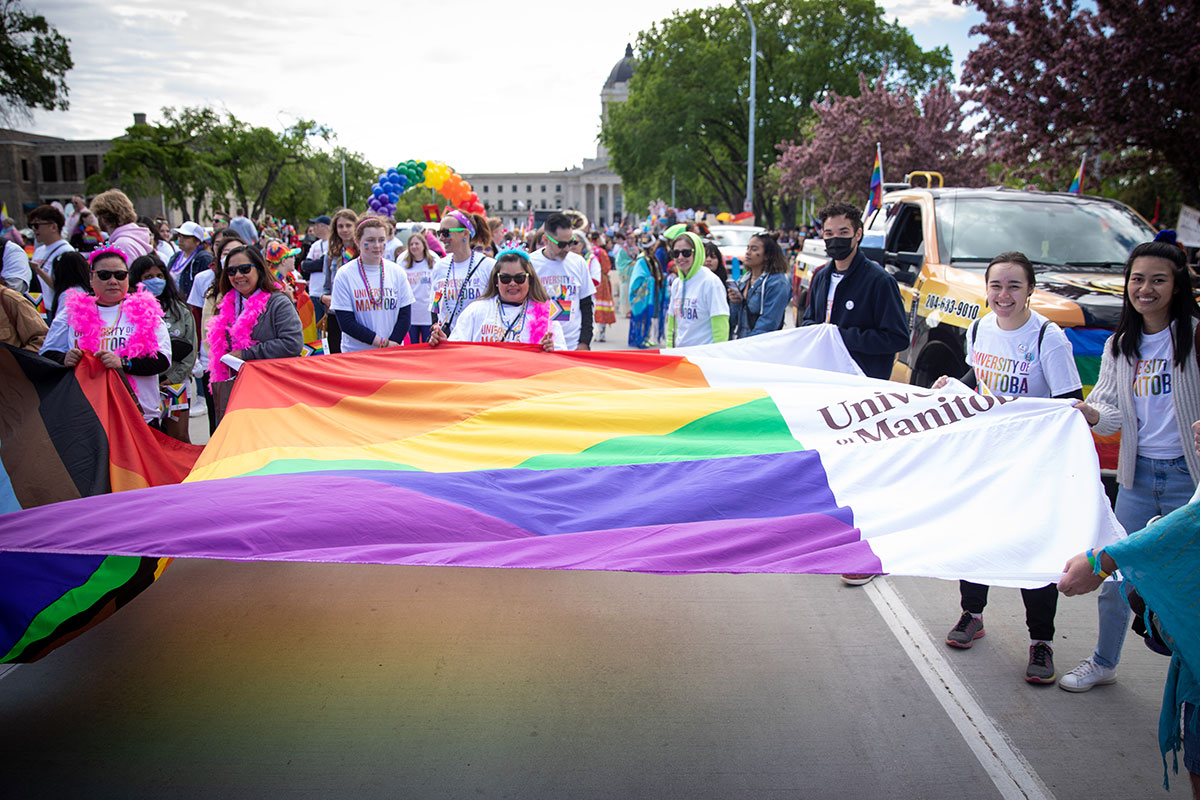 Best Diversity Employer award reflects ongoing equity, diversity and inclusion work at UM
UM was one of 75 Canadian organizations in 2022 recognized by Mediacorp Canada Inc. for leadership in creating inclusive workplaces for employees
July 12, 2022 —
Earlier this year, the University of Manitoba earned the designation as one of Canada's Best Diversity Employers for 2022. UM joins 74 other Canadian organizations recognized by Mediacorp Canada Inc. for this designation – which highlights the creation of inclusive workplaces for women, racialized persons, persons with disabilities, Indigenous people and 2SLGBTQIA+ persons.
"The University of Manitoba is pleased to be recognized for the work done to date to advance diversity and inclusion in our community," says Dr. Tina Chen, Executive Lead (Equity, Diversion and Inclusion) at UM. "At the same time, we know this is an ongoing process, and that meaningful and sustained transformation requires centering equity, social justice and anti-oppression."
One of the main points of recognition for UM was the establishment of equity, diversity and inclusion (EDI) committees within work units and faculties. These groups meet regularly to help establish, communicate, promote and foster inclusion and diversity in the workplace. Dr. Chen's appointment as the inaugural Executive Lead for EDI at UM provides further leadership on these efforts, bringing together an institutional network of EDI efforts and providing vision for the work being done.
"A key aspect of the UM EDI Strategy is to promote understanding of system inequities and barriers, and to take action to dismantle barriers," says Dr. Chen. "In this way, we seek to build a new foundation on which to build an increasingly diverse and inclusive UM community."
EDI initiatives part of strategic path forward
Some of the recent and ongoing initiatives include THRIVE programming. Centred around mental health, wellness and centring on EDI, the THRIVE learning and wellness event took place in May and brought faculty and staff together to discover new resources, tools and supports to help work effectively and stay healthy.
On a policy level, UM has set out a strategic path through the President's Task Force on EDI. In response to the final report and recommendations, EDI and accessibility are a strategic priority. Institution-wide policy review, establishing working groups and embedding equity impact analyses across the university are all underway.
These committees include the Anti-Racism Task Force. Established in March, the goal of this task force is to acknowledge that UM is part of Canada's colonial history and to ensure over time, that the university becomes a place where everyone has equal opportunity to thrive and achieve their fullest potential. The group includes diverse members from across UM who have been advancing racial justice and decolonization through their leadership, experience, subject matter expertise and community involvement.
Other initiatives include seeking to address ableism on campus. Through a review of physical spaces on campus, EDI committees are seeking to go above and beyond minimum standards, ensuring persons with disabilities can navigate the university effectively.
Recognized for engagement
Also in its recognition of UM as a Best Diversity Employer, Mediacorp Canada Inc. cited the university's unique Success Through Wellness Grants, which are provided to students and staff who propose projects that engage the campus community in fostering positive mental health and well-being. UM's strategic priority to create pathways for Indigenous achievement – including Gaa wii ji'I diyaang, a council of Indigenous and non-Indigenous peoples walking together and helping to create a community – was also praised.
The 2022 Best Diversity Employers award is a part of Mediacorp Canada Inc's announcement of Canada's Top 100 Employers. Read more about the editorial competition here.