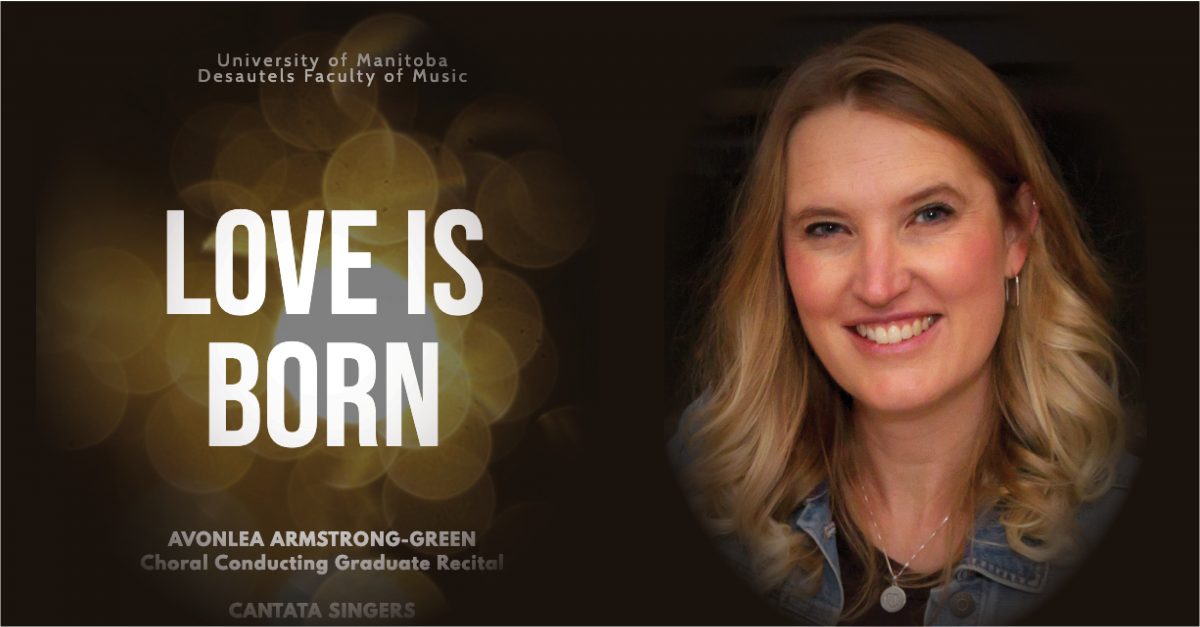 For Avonlea Armstrong-Green, 'Love is Born'
2020 DFOM graduate Avonlea Armstrong-Green is a master of conducting, and a master of multitasking.
May 26, 2020 —
NOTE: We in the Desautels Faculty of Music are incredibly proud of our students. While COVID-19 is sidelining in-person commencement ceremonies around the globe, we want to find alternate ways to celebrate our graduates and give them the recognition due to them. Until we can gather together to properly applaud the years of study and practice that have led to this milestone, please join us in congratulating our 2020 Desautels Faculty of Music graduates.
Today we celebrate Avonlea Armstrong-Green!
Beginning a masters program is a huge milestone for students. It is often an all-consuming endeavor, and a labour of love. However, when 2020 DFOM graduate Avonlea Armstrong-Green began her studies, she had a different type of labour at the forefront of her mind.
"I began my program in September of 2018, and had a baby on October 15," says Armstrong-Green, who has now earned her Master of Music in Choral Conducting.
In addition to taking care of a newborn, Avonlea was already the proud parent of a teenager. The needs of the two age groups are very different, and handling either a newborn or a teenager, let alone both at the same time, is no easy feat. Adding a master's degree program to a life already packed with responsibility is simply superhuman.
"It was kind of crazy to be figuring out life with a newborn while studying, and I'm grateful to all the faculty who were so gracious and supportive of me managing both!"
Music education is in her genes
For Armstrong-Green, who hails from Killarney, Manitoba, music and education were a calling.
"I think music and music education were the only option for me," she says of her choice to pursue music as a career.
"Besides acting on Broadway which wasn't going to happen!" she adds, laughing.
"There are many teachers in my family, so it seemed obvious that I would become a teacher, though this almost made me NOT want to, since it was what everybody else had already done," she says.
"Music was such a part of life growing up, so being able to combine the two was ideal."
Before coming to the Desautels Faculty of Music, Armstrong-Green earned her bachelor's degree from Brandon University, where she was a piano major (an instrument she has played since grade 2), sang with the Chorale, and played trombone in the university's jazz band and wind ensemble. Clearly, she knew a thing or two about managing a busy schedule, even before becoming a parent!
In the DFOM, where she was awarded a Manitoba Graduate Scholarship, Armstrong-Green honed her skills as a conductor working with the Women's Chorus and the University of Manitoba Singers.
Credit Recital
Due to the disruption caused by COVID-19, the Desautels Faculty of Music had to cancel all of its remaining events for the 2019-2020 season. In addition to final ensemble performances, about 40 student credit recitals were cancelled, including those of graduating students, whose final credit recitals serve as a sort of capstone project showcasing what they have learned throughout their studies. Fortunately, Armstrong-Green had scheduled her final credit recital for the 2019 Fall Term, prior to the pandemic's arrival.
The credit recital was titled "Love is Born," and featured a program that Armstrong-Green curated and conducted for the University of Manitoba's Cantata Singers. The program included a piece that would become her favourite piece learned in the faculty: the Magnificat in B-flat Major, by Francesco Durante.
Faculty mentors
Throughout her studies Armstrong-Green is thankful for the faculty members who taught and mentored her.
"I'm grateful to Elroy Friesen, Catherine Robbins, and Mel Braun for their mentorship; they inspired me and invested in me with time, care, and expertise!" she says.
Her mentors feel the same.
"Avonlea is a very fine singer and music educator, always curious, always open to learning," says Desautels Faculty of Music Voice Professor Mel Braun.
"We worked on her singing, exploring solo voice, choral singing, and choral voice teaching. Avonlea was an apt, eager pupil, happy to build her singer's toolbox, happy to apply all this new information to her work with high school choirs. Her thesis on the issues surrounding cultural appropriation in choral music was thoroughly researched and thoughtfully presented," he adds.
"Avonlea is going to be a leading educator and choral musician for decades to come. Manitoba is lucky to have her," Braun adds.
Advice for incoming DFOM students
When it comes to giving words of advice for incoming DFOM students, Armstrong-Green puts on her educator hat.
"Well, the teacher in me says…work hard, submit assignments on time, take advantage of all the opportunities you are given, and soak up all the quality teaching you can while you are in the program," she says.
Next Steps
With master's degree in hand, Armstrong-Green has returned to her position teaching at Sturgeon Heights Collegiate in the St. James-Assiniboia School Division.
"I teach Concert Choir, Vocal Jazz, Musical Theatre, and Family Studies at the school, and also direct the St. James-Assiniboia Senior Divisional Choir," she says.
"I hope to apply many of the concepts I learned at the U of M with my own students!" she adds.
Seriously, Avonlea, we know you're Wonder Woman, but just HOW do you even have the energy to do so much multitasking?!
Acknowledgements
Armstrong-Green would like to offer the following thanks to those who have supported her:
"Thank you to my graduate cohort – it was so great meeting you all and I'm sorry we didn't get to say goodbyes! Thank you to my friends and family for your constant support, especially to mom and dad for the prayers and meals, and to Joel for being my sounding board, proof reader, 'it's time to take a break' Netflix-watcher, encourager, and parenting/life/music partner extraordinaire. Thanks also to Rylan and Crosby, who I love beyond measure and who are God's greatest gifts to me."
Congratulations, Avonlea! We are incredibly proud of you! After the pandemic ends, we hope you will schedule a much-deserved vacation, maybe on a beach somewhere where your only multitasking will involve soaking up the sun with a refreshing drink and a snack in hand!