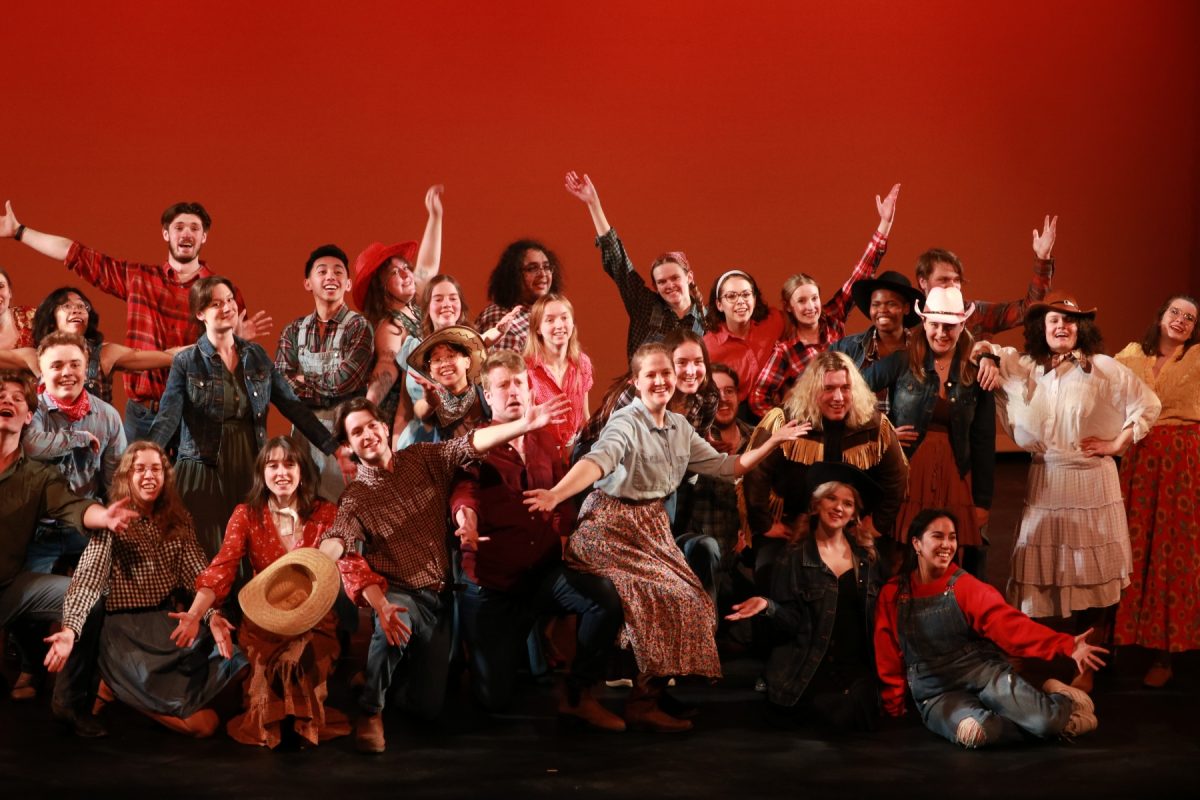 At the University of Manitoba, music is for everyone!
UM students in all academic disciplines can liven up their academic schedules with interesting courses from the Desautels Faculty of Music
July 13, 2023 —
The Desautels Faculty of Music is known as one of the premier music faculties in Canada, and has trained thousands of professional musicians, but did you know that non-music majors can elect to take a variety of our courses, as well?
Are you interested in gaining basic competency in music theory, learning the art of jazz, diving into the history of musical theatre or pop music, performing with our ensembles, or exploring the many different types of music in the world and their importance to culture and history? Do you want to moonlight as a rock, pop, or indie musician while training to become a doctor?
There's something enriching for everyone in the Desautels Faculty of Music!
Ensembles
UM students are welcome to audition for our many ensembles, both instrumental and vocal.
Our ensembles perform prolifically throughout the year, both on campus and in venues throughout Winnipeg, and teach students to be confident, skilled team players. They are the perfect way for a UM student to build their community, make friends, and build on their love of music. In our ensembles, students find themselves performing with the Winnipeg Symphony Orchestra, belting out musical theatre tunes, taking part in cabarets at the Little Brown Jug, exploring a wealth new music from Canadian composers, or mastering the classics.
Auditions for these ensembles occur just before the opening of the academic year. Ensemble audition information and sign-ups can be found on our website. All are welcome!
2023 Fall Term courses
While planning their courses in Aurora this year, UM students are invited to check out our courses in music theory, jazz, and music history!
MUSC 1010 (A01) – Music Matters: Excursions in Western Musical Culture
Dates/Times: Tuesdays and Thursdays, 11:30am-12:45pm
Credit hours: 3.00
Instructor of record: Colette Simonot-Maiello
Why do we categorize music, and why might that be problematic? How are terms like "world music," "folk music," and other labels inadequate? Who is Ludwig van Beethoven and is he really "the greatest composer who ever lived?" How does music help to tell stories in movies and television? What role has music played in protest movements like the American Civil Rights movement, Quebec's Quiet Revolution, and Idle No More? What does the architecture of opera houses tell us about opera history? What is all the fuss about opera, anyhow?
Desautels Faculty of Music associate professor Dr. Colette Simonot-Maiello will answer all these questions and more in Music Matters, an exploration of different types of music from a variety of different cultural and historical contexts, from blues to opera to klezmer and more.
"We will approach case studies from aesthetic, social, and historical viewpoints, not only paying attention to what the music sounds like, but also to its social function, and what meaning it might convey," she says.
"I'm really looking forward to teaching this class!" Simonot-Maiello says.
"Most of us don't get a lot of opportunities to think deeply about what music is or what its purpose is. I hope this class gives students the chance to think about music in a whole new way!" she says.
MUSC 1030 (A01)- The History of Musical Theatre
Dates/Times: Mondays, Wednesdays and Fridays, 10:30am-11:20am
Credit hours: 3.00
Instructor of record: Donna Fletcher
This perennial favourite of music students and non-music students alike explore the development and history of musical theatre, from the early days of Vaudeville and burlesque all the way to the grand Broadway spectacles of today.
Taught by Desautels Faculty of Music instructor and director of the University Musical Theatre Ensemble Donna Fletcher, this course will reveal the origins and development of modern musical theatre through the study of influential artists, movements and major figures.
In addition to Fletcher's work in the Desautels Faculty of Music, she is also a sought-after director of professional musical theatre productions, and as Artistic Director of Dry Cold Productions has been responsible for the Winnipeg premieres of The Prom, Sweeney Todd, Nine, The Addams Family, The Light in the Piazza, A Man of No Importance and The Bridges of Madison County for Dry Cold Productions. In 2012, she became the first Manitoba born woman director in Rainbow Stage's history, directing Annie! Many of Fletcher's Musical Theatre Ensemble students have gone on to professional careers and have won the top musical theatre trophies at the Winnipeg Music Festival, including Keely McPeek who was in MTYP's provincial tour of Frozen River; Grace Budoloski & Alex Menec who were both seen in the national premiere of The Prom; Sarah Luby who appeared in RMTC's Into the Woods; Colleen Furlan, Elliot Lazar & Jean van der Merwe who are a part of the 2023 production of Rent at Rainbow Stage, and Julia Davis, who will be performing as Ariel in this summer's Rainbow Stage production of The Litte Mermaid. Clearly, this is an instructor who knows her stuff about musical theatre, and she generously shares her expertise and passion with others.
For students looking to shake up their schedules a bit, if Winnipeg Theatre season programming allows, this class will even feature a special musical theatre field trip!
NOTE: The fun and learning will continue for non-music students in Winter Term 2024 with assistant professor Andrew Deruchie's Introduction to Popular Music (MUSC 1020) and assistant professors Melody McKiver and Lori Blondeau's new Collaboration in Indigenous Sound and Visual (MUSC 3820 – T34). Stay tuned for more details on these cool courses!
Micro-Certificate in Songmaking
And now for something completely different. New for 2023, the Desautels Faculty of Music is offering an innovative program to teach musicians of popular genres all the skills they will need to pursue a career in music. If UM students are looking to move their bands out of the garage and into performance venues, this program will give them the bump they need to go from so-so to pro.
"Students in the program will learn foundational skills in songwriting, basic computer programs, audio production, and the music business from industry professionals. Through these experiences, they will develop the skills to grow in their music-making in bands or as songwriters while gaining insights into navigating the music business," says Ed Jurkowski, dean of the Desautels Faculty of Music.
Read all about the Micro-Certificate in Songmaking and see the dates for the 2023-2024 courses in the recent announcement about the program. This program is designed to fit with the schedules of both students a working people alike, with coursework offered in the evening and on weekends! Students can apply for the Micro-Certificate in Songmaking by following the application directions on the UM Explore page.