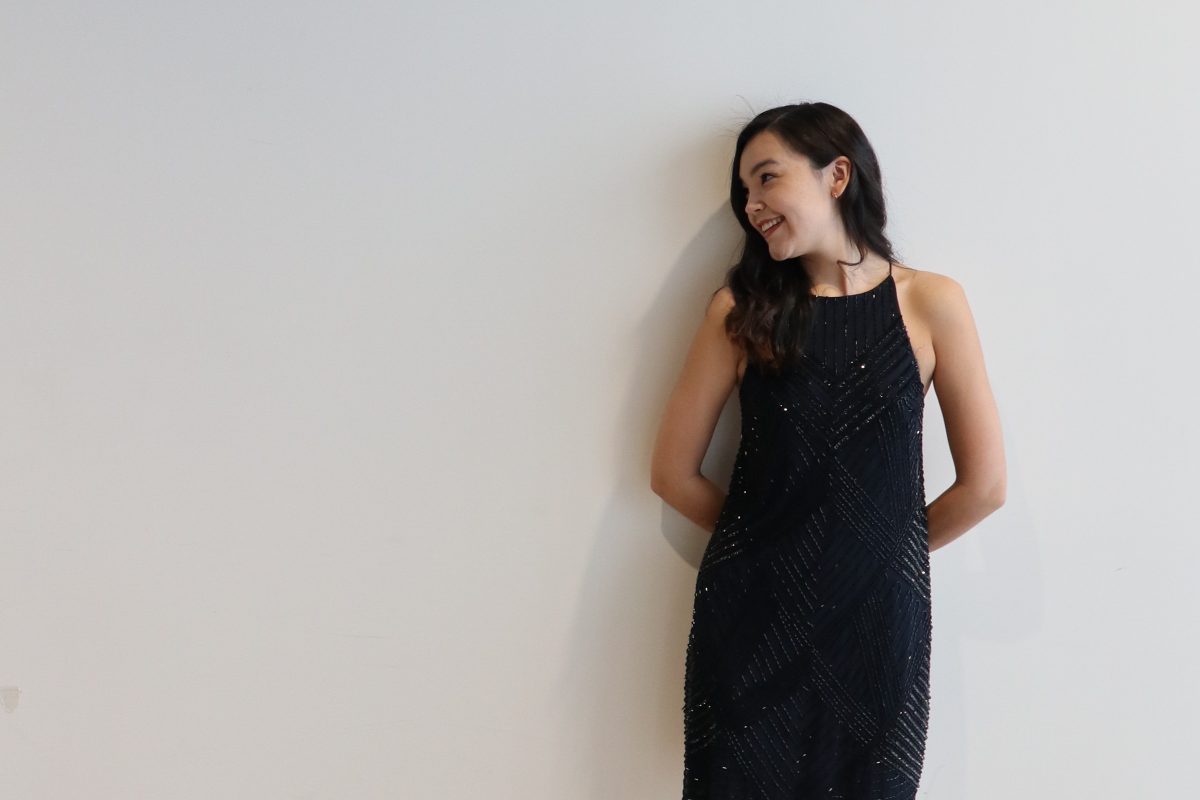 Julia Davis' confidence is truly well-earned
2020 DFOM graduate Julia Davis chose the path less traveled, and picked up endless awards along the way.
November 5, 2020 —
NOTE: We in the Desautels Faculty of Music are incredibly proud of our students. While COVID-19 is sidelining in-person commencement ceremonies around the globe, we want to find alternate ways to celebrate our graduates and give them the recognition due to them. Until we can gather together to properly applaud the years of study and practice that have led to this milestone, please join us in congratulating our 2020 Desautels Faculty of Music graduates.
Today we celebrate Julia Davis!
For Julia Davis, her passion for music has existed since she was little.
"From a young age, it was very clear to me that music would always be a big part of my life," Davis says.
"My love of singing started shortly after learning to talk. I joined the Pembina Trails Voices Choir in the first grade and started piano lessons shortly after. I was quite shy as a child, so singing and performances really helped me find my confidence," the Inuit singer and actress says.
Even with that burgeoning confidence, however, she was still unsure about pursuing music as a career.
"I was nervous about what a career as a musician could mean, and thought about trying something with a clearer path," Davis says.
Despite her reservations about what the future would hold, Davis decided to audition for the Desautels Faculty of Music.
"Once I started studying at DFOM, I knew that this was the career path for me, whether or not it was going to be easy," says Davis, who has now earned her Bachelor of Music in vocal performance.
In the faculty
Davis, a soprano who hails from Winnipeg, immediately started turning heads with her voice. Singing with both the University Singers and the Musical Theatre Ensemble, she was also active in competitions around the city, including the Winnipeg Music Festival (WMF), Manitoba's largest and most prestigious classical music competition.
In 2019, she was the runner-up for the Tudor Bowl trophy, the WMF's highest award for vocalists, and was the runner up for the 2019 Manitoba Registered Music Teachers' Association scholarship.
Also in 2019, Davis was chosen to serve as one of the Winnipeg Symphony Orchestra's soloists for its 2019 Holiday tour!
As an encore, in 2020, Davis won the coveted Gilbert and Sullivan Trophy, which is "awarded for the most outstanding performance in a competition of winners of the Gilbert & Sullivan classes," according to the WMF.
She managed to accomplish all of this while also earning her place on the DFOM Dean's List for the 2019-2020 academic year!
Faculty mentors
A natural talent with a drive to succeed, Davis has worked hard in the faculty. She found two faculty mentors who have helped to light her path.
"Tracy Dahl has been my voice teacher over the past four years," says Davis.
"She has been the most supportive, kind and helpful mentor to me. My voice has grown immensely since studying with Tracy, but my confidence as an artist has grown even more."
For her part, Dahl, a voice instructor in the DFOM and Davis' Major Practical Study (MPS) instructor, has equally glowing things to say about Davis.
"Julia Davis entered my studio now five years ago," says Dahl.
"She was shy and respectful. She had a sparkle when she sang musical theatre and integrity when she sang her classical repertoire," Dahl says.
"When Julia makes a vocal discovery there is this charming reaction. It is utter surprise but all in a mild-mannered way," Dahl adds.
"She is such a gracious singer and competitor. I will long remember her successes in the studio as the happiest times in my week," says Dahl of her joy in teaching Davis.
"The lovely lyric quality that was being developed is still ringing in my ears. I know she is excited to go forward in musical theatre with engagements with the RMTC. We are very proud of her growth and commitment to that over her undergraduate degree!" Dahl adds.
"Donna Fletcher was my instructor in the Musical Theatre Ensemble, and I am extremely grateful for all of the support and guidance she has shown me over the years," Davis says of her other faculty mentor.
"Julia is the beautiful calm in the centre of a storm – the luminous rainbow providing light after a hard rain," says Donna Fletcher, a DFOM MPS instructor and the director of the University of Manitoba Musical Theatre Ensemble.
"I had the pleasure to work with Julia for 4 years and was always so impressed by her silent strength, her deep work ethic and the joy that radiated from her in every rehearsal. Julia thrives on challenge and worked with care and extreme diligence to exploit everything that the programme at the Desautels Faculty had to offer," adds Fletcher.
Davis' work ethic and spark led Fletcher to select her to serve as the student assistant for the Musical Theatre Ensemble.
"[Julia] was delighted to throw herself into her role in the programme heart and soul," says Fletcher of her assiduous assistant.
"I adored her infectious laugh, the way her brow would furrow as she grappled with an idea and the abandon with which she would take the stage – always fearless!"
"I was very happy to take on the job of [Fletcher's] assistant last year, and through that I gained a greater appreciation for all of the hard work she does for her students," Davis says of the experience.
"Both of these women have been amazing mentors to me over the years, and I don't know where I would be without them," says Davis.
Credit Recital
Due to the disruption caused by COVID-19, the Desautels Faculty of Music had to cancel all of its remaining events for the 2019-2020 season. In addition to final ensemble performances, about 40 student credit recitals were cancelled, including those of many graduating students, whose final credit recitals serve as a sort of capstone project showcasing what they have learned throughout their studies. Unfortunately, Davis' recital was among the cancelled.
"I was very excited about the pieces for my fourth year recital," says Davis.
"The lineup included Brahms, Handel, Duparc, Hahn and Liszt. It also included an arrangement of Quelle plainte en ces lieux m'appelle by Rameau, arranged for Marimba and Soprano by Cameron Denby, and Mr. Tambourine Man by John Corgliano, which is a song cycle based on seven poems by Bob Dylan," she says of the program she had curated.
Though disappointed that she didn't have the opportunity to take the stage a final time in the Desautels Faculty of Music, one of her proudest moments in the faculty came during her third-year recital in 2019, a performance she will always remember.
"The final set on my third year recital was A Sarah Binks Songbook by John Greer," she says.
"It is a very theatrical and playful piece, and so fun to learn. When I got up to perform it on my recital, it was such a memorable experience for me. It felt like all the work I had put in throughout the year all came together so nicely and I could just have fun with it," she says of the day.
Acknowledgements
Davis would like to thank the following people for supporting her throughout her university career:
"I would like to thank my teacher, Tracy, for all of the guidance and wisdom that I will carry with me in whatever comes next. I would like to thank my family – Mom, Dad, Sophie, Claire, Nana, Grandpa and Grandma – for coming to every show and supporting me no matter what. I would also like to thank my first music teachers, Kelly Robinson and Holly Harris, for giving me an amazing foundation to embark on a career in music. I owe them so much for the phenomenal training and support they have given me that has carried me through this degree. "
Next steps
"I am absolutely certain that Julia will become quite a strong force in the Winnipeg Music Theatre scene," says Fletcher of Davis' future.
"Pre-pandemic, Julia was cast in the lead role of Leisl in The Sound of Music for RMTC/Citadel," explains Fletcher.
"For such a young woman just out of school this was a huge accomplishment. Though COVID put this dream role on hold for Julia, I know that a pandemic will not slow her down. The magic of the promise that she clearly possesses will clearly make this dream and many more a reality," Fletcher says of Davis' promise.
Though some of her engagements have been postponed or cancelled due to the pandemic, Davis is optimistic and preparing for the future.
"This year I am continuing to study music, focusing on musical theatre. This includes taking acting, singing, and dance classes with the Village Conservatory for Musical Theatre," she says.
"Next May, I will be attending the Opera NUOVA summer program in Edmonton. I also hope that in the next couple years I am able to travel, since the [University] Singers trip to Europe was cancelled last spring," she says of her plans.
This past September, Davis also collaborated with Winnipeg musician Cameron Denby to record and produce Act 3, Scene 8 of J.P. Rameau's Hippolyte et Aricie, featuring some very soothing video of local wildlife, which can be heard HERE.
"I, much like many other artists during this time, am not sure what the future holds but I hope to always find a way to keep creating and doing what I love," she says.
"Julia is such an open spirit with a wonderful heart – always lifting up everyone around her with grace and kindness. Her intelligence as a young performer was always so exciting for me to have the privilege to work with," Fletcher says, in closing.
We know that once the world opens back up, Julia Davis will be the face we see and the voice we hear on stages across the nation.
Congratulations, Julia!