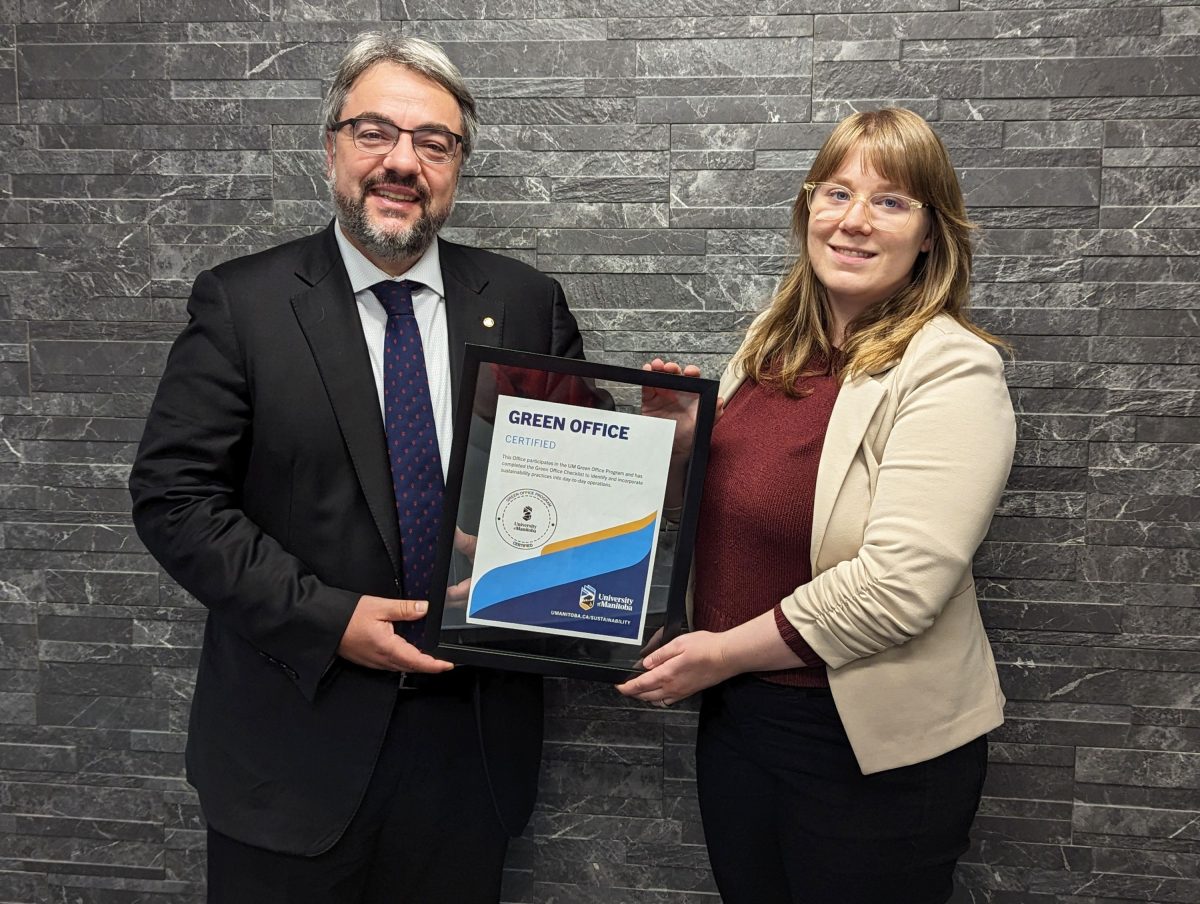 Asper School of Business marks sustainability month reflecting on a year of progress
Sustainability highlights in the Dean's Office, the Drake Centre and online
October 24, 2023 —
The Asper School of Business is championing sustainability with a series of initiatives engaging staff, faculty, students and alumni. In light of UM's Sustainability Month, Dean Bruno Silvestre is excited to highlight Asper's commitment to sustainability in business education.
"At the Asper School of Business, we aim to encourage a sustainability mindset in our students, faculty and staff, and weave sustainability into our academics, business relationships and organizational culture. Approaching business challenges with a sustainability mindset offers a framework to generate economic growth, social justice and environmental stewardship," says Silvestre.
Dean's Office receives Green Office certification
The Asper School of Business Dean's Office has received Green Office certification from the UM Office of Sustainability. The Green Office Program measures progress and impact across various operational areas such as waste, energy and social sustainability, while offering information and resources towards continuous improvement.
Whitney Crooks, acting director, Office of Sustainability, describes the goals of the program while recognizing Asper's progress so far.
"The Green Office Program supports units to incorporate green practices into their day-to-day operations that contribute to the achievement of UM's sustainability and climate action goals," says Crooks. "The Office of Sustainability would like to congratulate the Asper School of Business for becoming 'Certified' as a Green Office at UM."
The Asper Green Office Team is an employee-organized group that provides sustainability resources for the Drake Centre. They have introduced office composting and personal protective equipment (PPE) recycling in the Dean's Office, while providing general recycling information, organizing awareness events and holding fundraisers for environmental causes. The Drake Centre's third floor study area bins now feature a compost slot where contents from smaller compost bins around the building can be disposed of with ease.
Alexa Harwood-Jones, Asper Green Office Team lead, inspires passion for sustainability while fulfilling her duties as a graphic designer.
"Since starting the team on my own, we have expanded to include representatives from various units at the Asper School of Business," says Harwood-Jones. "My goal with the Asper Green Office Team has been to engage our community with sustainability, through events and initiatives like repurposing outdated Asper merchandise or starting up a Wednesday Walking Club for faculty and staff. It's great to see how far we have come in a year and think about the progress we will continue to make."
SETing the table
A specially commissioned picnic table now sits in front of the Drake Centre, highlighting and celebrating sustainable business and the Social and Ecological Thought (SET) research group at the Asper School of Business. Nestled among the trees planted by the group over a year ago, the thoughtfully designed communal table brings visibility to sustainable business practices and research.
"It is my hope that students taking a break from their busy day, or colleagues in need of an informal meeting spot, can enjoy the outdoors and reflect on how they can have a positive impact in the world by prioritizing people and planet," says Bruno Dyck, Norman Frohlich Professor in Business Sustainability.
The table was custom built by a local craftsman and features a plaque that underscores the Asper School of Business' commitment to sustainability.
Keeping up with Asper sustainability
The Asper School of Business has launched a dedicated webpage to showcase sustainability, documenting eco-literacy academic programs, sustainability-focused research and green community initiatives. The Sustainability at Asper webpage captures the latest news articles and classroom and staff engagement activities, as well as the various awards and honours received by the School's faculty and staff.
Highlights on the page so far include: