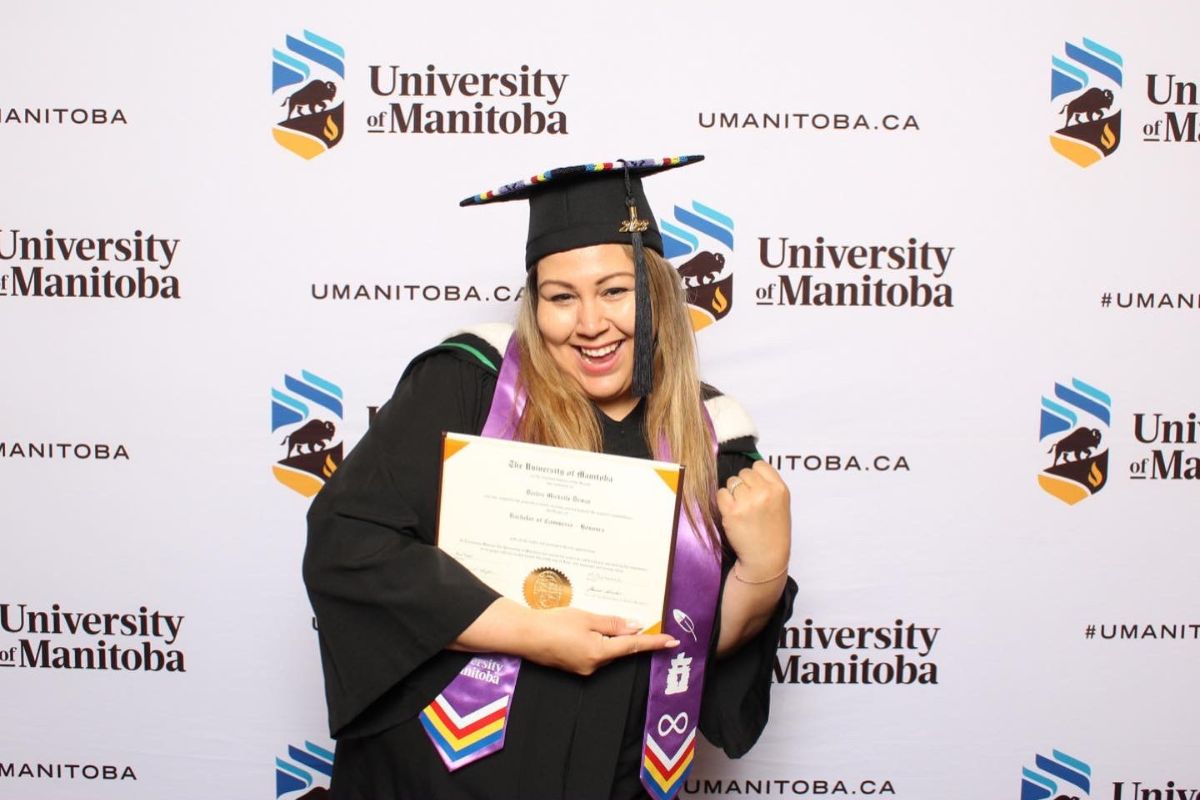 Asper BComm grad celebrates convocation, a time to reflect and embrace possibility
Deidre Dewar's unique undergraduate journey and promising future
June 12, 2023 —
"I always dreamed I would get to this moment and feel this sense of accomplishment."
Deidre Dewar joined the Bachelor of Commerce (BComm) program at the Asper School of Business as a mature student and a mother. This spring, she joins the Asper Class of 2023 at convocation.
Her undergraduate career began five years ago at Red River College Polytechnic. Through the Joint Articulation agreement, she was able to continue her studies at UM.
Dewar's journey actually began much earlier with that ever-present dream and her unwavering passion for learning. A degree was more than a credential to her, and as she moved through life's challenges and competing priorities, it took on more meaning.
As a child, Dewar observed her mother completing her bachelor's degree, and in June she becomes the second in her family to do the same. She hopes to carry on this tradition, setting a strong example for her children, giving back to her community and inspiring other First Nations women.
Dewar reflects on her achievement, what it meant as a dream and how it is opening doors for her now.
"I wanted to pursue self-determination to secure a better quality of life for myself and my family—to be a role model for my kids and show them that persistence and dedication can help you achieve your goals."
Dewar made sacrifices to complete an undergraduate program while balancing family life. Ultimately, her family's support and the years she spent working before returning to school were what helped her succeed.
"When I was younger, the first time around, I didn't have a lot of security or as many supportive people around me. This time, I do, but it took time to set that up for myself," she says.
Early mornings getting her kids ready for daycare before class and late nights studying math were manageable thanks to this support and her conviction that the sacrifices would be worth it.
Dewar also came into the program with an eye for possibility, an ability to imagine success for herself and take advantage of every learning opportunity.
At Asper, she joined the President's Student Leadership Program (PSLP), surrounding herself with a diverse group of student leaders from a range of backgrounds.
"PSLP was amazing," she says. "It was an exploration of leadership at all levels, and Dr. Suzanne Gagnon was an integral part of that journey."
Gagnon, Leadership and Organization Director at the Burns Leadership Institute, introduced Dewar to the Women's Entrepreneurship Knowledge Hub (WEKH) at Asper and WEKH Indigenous Lead Ashley Richard. Dewar eventually secured a research assistant position at WEKH and worked on their See It Be It campaign which increases visibility and representation of women entrepreneurs.
Dewar is also a graduate of Indigenous Business Education Partners (IBEP) at Asper, where she accessed tutoring and career services.
"The team at IBEP were great mentors, and they helped me see what's out there, including jobs that are more equity seeking or Indigenous-friendly. There are larger institutions that I never thought I could work at, but IBEP was very supportive, bringing those employers in and empowering me to see myself in those roles."
Dewar's experiences with PSLP and IBEP expanded the boundaries of what she believed was possible for herself; they revealed more paths forward than she had expected.
As she reflects on graduation, Dewar is in no rush to choose which path to follow. Instead, she is embracing this feeling of possibility and taking time to celebrate her achievement.
"I went to the Graduation Pow Wow and celebrated with other Indigenous graduates. I am glad to wear my ribbon skirt and practice my cultural identity through graduation. Asper has helped me be more confident in my cultural identity as well as my business skills."
She has a few new dreams for her future—while she might pursue entrepreneurship on the side, she is currently considering graduate studies. She might even like to teach one day.
"Right now, I'm taking it all in, all the years of hard work, all the patience, all the sacrifice," she says.
She has arrived at the moment she always dreamed of, and that arrival brings a sense of purpose. "I don't yet know exactly what that purpose is, but it's coming together—it's manifesting," she says.
Dewar worked for years to secure something more important than a singular purpose. In committing to learning, making sacrifices and embracing her story—challenges and all—she found possibility.